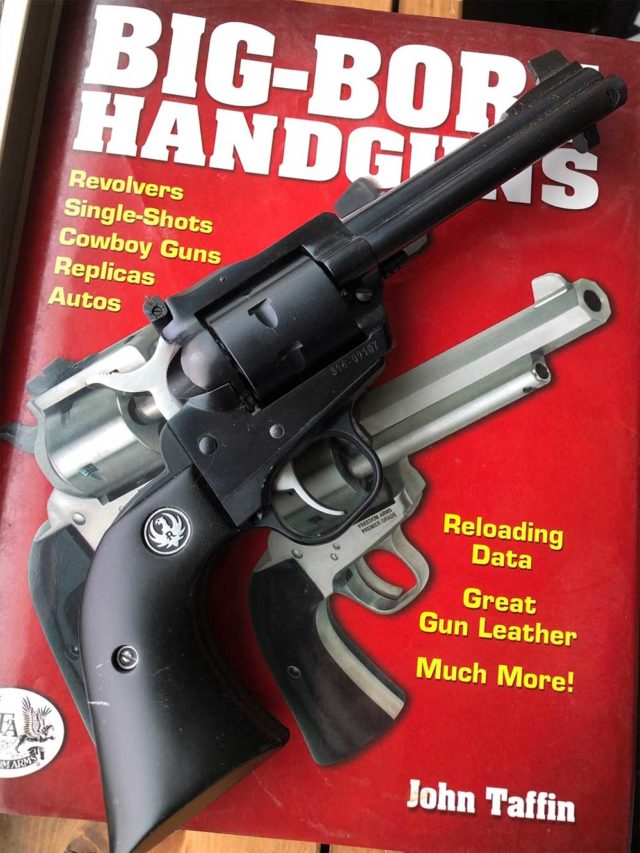 Years back, the great John Taffin began a quest for the "Perfect Packin' Pistol," the ultimate do-it-all always-on-your-hip pistol.
Here's how he described it in AMERICAN HANDGUNNER a few years back:
"Too many decades ago, I coined the phrase "Perfect Packin' Pistol". Over the years many dedicated sixgunners have taken up this phrase, often shortened to PPP, to indicate what may be the most useful handgun in one's working collection.
Basically a Perfect Packin' Pistol is a handgun — either sixgun or semi-auto — with an easy handling barrel length between 4″ to 51/2″ chambered in a cartridge capable of handling anything you may run into. It's packable, portable and potent. It may be chambered in anything from .22 LR up to .500 Wyoming Express. While the former may work well in several parts of the country, the latter would certainly be most desirable in Alaska where you'd encounter something able to bite, claw or stomp."
Of course John launched us all on our personal quests. I've had a few over the years and still default to my magnificent Hamilton Bowen .44 Magnum bird's head gripped Vaquero.
I may have found something that brings me even closer to John's definition.
We've talked about the Lipsey's Ruger Single Seven .327 Magnum, designed with input from the inestimable Richard Mann, who is currently in Africa thumbing his nose at me.
https://www.lipseys.com/itemdetail.aspx?itemno=RUSSM-4-327
https://lipseysguns.com/lightweight-ruger-single-seven-all-black-and-all-business-with-added-features/
I liked the gun a lot right out of the box. For a start, Richard has caused me to spend a little more time with the .327. I was hot on it for awhile and cooked up some good loads for the Ruger Blackhawk I have, but as I have the attention span of 2-year-old after a binge on Black Rifle Coffee, I drifted on a bit.
The Single Seven is, at 31 ounces, pretty light for a single action revolver. The finish is beautiful, a black six gun with hand-filling black micarta grips. The barrel is just right at 4 5/8-inch, and it had a good trigger pull right out of the box.
HOWEVER, I am NEVER satisfied! Richard spec'ed XS Sights, with a deep-V rear and big dot front. I have those sights on other guns, but I flat didn't like them on this one. I changed out the rear for a standard Ruger sight I had laying around the shop and got a new front sight from "2 Dogs" on the Lee Martin single action forums:
http://rugerforum.com/phpBB3/viewtopic.php?t=266978
Remembered I mentioned the trigger was good…but not great? A little voice in my head kept mentioning "Ken Griner…Ken Griner…"
Evil Roy/Gene Pearcey introduced me to Ken years ago, and he has done the work on my cowboy competition guns. So I boxed up the Single Seven and sent it to Ken.
It just came home this week, and it is…in a word…perfect. The trigger pull is now 2 1/2 pounds of everything one would hope a trigger can be. Everything about the little gun is now smooth as silk.
Add a touch of Buffalo Bore,and…a perfect packing' pistol?