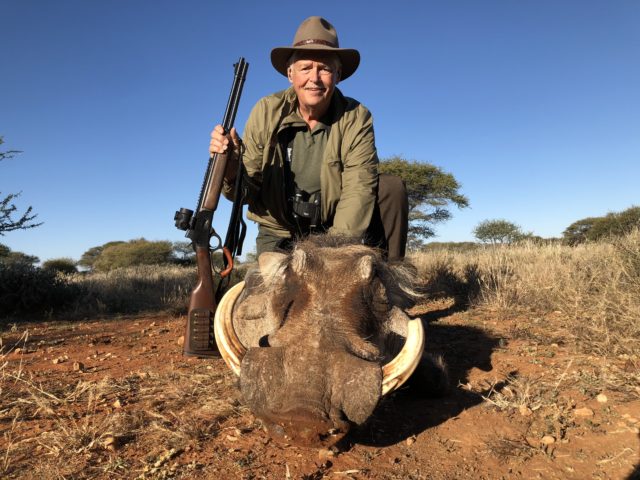 Le's start an argument :
If you are a successful hunter, an animal dies. It isn't "harvested;" it isn't "taken out;" "it isn't "culled;" it isn't "managed;" it isn't whatever feel-good euphemism dredged up by the sporting press. The animal dies, and we as the hunter killed it.
And there is in fact nothing at all wrong with this. In case you missed "The Lion King," in which case I'm pretty sure you do not have kids, here's the money quote:
Mufasa: Everything you see exists together in a delicate balance. As king, you need to understand that balance and respect all the creatures, from the crawling ant to the leaping antelope.
Simba: But, Dad, don't we eat the antelope?
Mufasa: Yes, Simba, but let me explain: When we die, our bodies become the grass, and the antelope eat the grass. And so, we are all connected in the great Circle of Life…
Well, that's pretty simple, right?
And yet I know hunters who argue over even that. Don't say "kill;" say "harvested," or the anti-hunters will be all over you. Remember, we don't "hunt," we "manage" or "cull." And heaven forbid we — especially if "we" includes huntresses — show any photographs of us with dead animals, lest the entire Internet fall on our head and we be ruined…ruined, I tell you!
Don't believe me? Read this.
Hunting in the world is at a critical turning point. In the United States, even with the growing influx of women hunters and the steady triple of "locavore" hipsters headed into the woods, the number of hunting licenses continues its steady decline (hunting participation peaked in 1982, BTW).
The question is what is to be done.
Oddly enough, it's a question we've answered before, except in a different context. The shooting side of the equation faced almost exactly the same circumstance more than a decade ago. Of course our blood enemies still hate us, but a decade ago we shooters were wildly divided — AR versus traditional, shotguns versus pistols, tactical vests competition, .50BMG against everybody else…you name it, and we could find the battlefield. Over a period of about 12 hellish months, all that changed. Against seemingly impossible odds, the industry and the culture pulled together. We may not be bosom buddies, but we do understand the simple equation that an attack against one is an attack against all.
For some reason, that equations seems to escape the hunting community…or communities, I guess I should say. The animosity between the warring groups is incredible. And it seems to split a little finer every week. I was going to list who hates whom, see if I could figure out a spreadsheet, but I realized that would, in fact, stoke the fire.
Instead, I'm going to offer a wild and crazy statement that I've said before, but somehow gets lost in the Spin Cycle:
I support all legal forms of hunting!
Pretty simple, huh? If it's legal, I'm okay with it. Can you guess what word is missing from that simple statement? How about "ethical?"
Why would that word be missing? Without wading deeply into the weeds of the entire philosophical history of Western Civilization, it would probably be fair to say that "ethical behavior" is behavior consistent with a person's sense of right and wrong. The operative words here are "a person's sense." While we may agree on the broad strokes — say, that killing your neighbor's spousal unit and barbecuing him or her on a spit is generally bad — the finer points of ethical behavior are personal.
Being true to my own sense of right and wrong is very important to me, but as it turns out, I am not you. Nor am I Jim Shockey or even my dear friend Richard Mann. I am a trophy hunter who chooses not to hunt cats (or certainly elephants, although that's a bit like saying I won't hunt brontosauri). I do not feel the necessity to either explain my choices to you or insist that you honor them in any way. In fact, some of my very dearest friends hunt both cats and elephants. In terms of my ethics, I ask nothing of you.
As Marcus Aurelius wrote in his Meditations, "If you are pained by external things, it is not they that disturb you, but your own judgement of them. And it is in your power to wipe out that judgement now."
This, I believe, leads us to a way to not only co-exist, but to come together as a culture to face our very real enemies head on. I support legal hunting, and I would like to suggest that you at least consider doing the same. I'm not asking you to agree with it — maybe the idea of hunting high fence makes you physically ill and crossbows are indeed a Spawn of Satan. Rather. Accept that both high fence and crossbow hunting are legal, and maybe it's best to set aside our judgements — note that I didn't say "change" — and stand together against our very real enemies, who would indeed end all hunting and confiscate your guns to boot. The battle has been joined, and, quite honestly, we need you. Think about it.