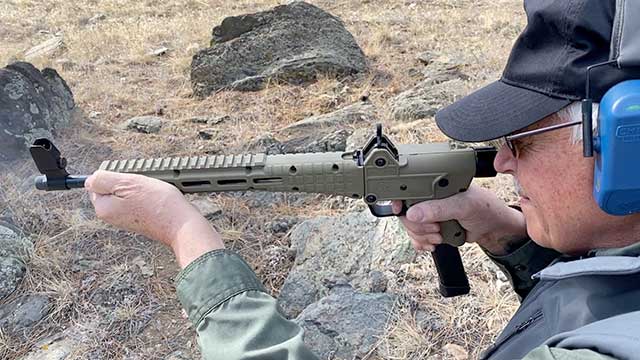 I am trusting that all of you have seen the TRIGGERED on long gun options when traveling by car. It's been a subject I've talked and written about a lot over the years, and the original idea from from my friend and mentor Walt Rauch after 911.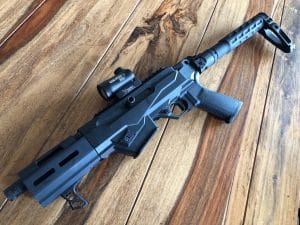 Walt was in Texas, if I remember correctly, when the Towers fell. With all flights cancelled he immediately took his rental car and drove to his home in Philadelphia. Because he'd been on a short trip, all he had in the way of weaponry was a .38 Special J-frame snubby revolver (knowing Walt, probably more than one) and one reload.
"I will never be caught out like that again," he told me. "And neither should you."
Of course, this was after a whirlwind trip I took to Washington D.C. that got extended to Virginia. I hadn't been able to take a gun into D.C. and, anyway, I thought I'd only be there overnight. Instead, I rented a car and drove out to Virginia. I picked a name chain hotel in what I thought was a good neighborhood. Boy, sometimes first impressions can be really deceiving!
So once I got in my room and yelled through the door that I wasn't interested in any "companions" of indeterminate sex, I called Walt, explained my unarmed situation.
"Jump in your car," he suggested. "Drive to the nearest convenience store with good lighting. Buy food for you and two cans of oven cleaner for unwanted visitors. And try not to be such an idiot next time."
I have strived to not be such an idiot. With the COVID emergency/fire drill, we are all doing a lot more driving. In general, on driving trips, I take a Glock 19 for EDC, a spare snubby and some type of long gun that uses Glock magazines. Lately, it has been a Ruger BC Charger 9mm pistol caliber pistol fitted with a folding brace. It goes everywhere with me in a backpack or a slingpack. This is a major paradigm shift, it you will, for the people who pooh-pooh the idea that you can carry a long gun with you.
Ever since Clint Smith tripped off the "Urban Rifle" craze some years back, there has been some level of controversy around the idea of having a rifle in your car, which you will reach by fighting your way back to said carjwith your handgun. To the best of my knowledge, such an event hasn't happened, although we have increasing uses of the AR platform guns in self-defense. It is a profound mistake to store any gun — handgun, rifle, grenade launcher, whatever — unsecured in a car. Theft of firearms from cars are literally one of the top ways guns move into the underground black market.
It has only been recently that we've seriously considered carrying the long gun with us. We sense that the threat has changed, and in every case as the threat changes, the response to the threat changes. A long gun allows you to push the "threat horizon" further way from you, or allows you to engage a target more successfully at greater distances.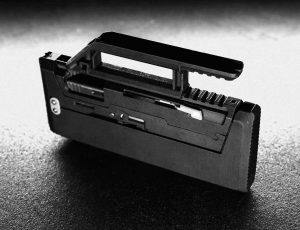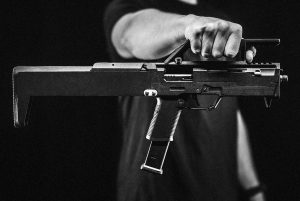 Since recording the show, our friends at MagPul have done something that MagPul is hugely good at, roiling the market with the announcement of a spectacular product just on the horizon. While it's not as cool as a vintage VW bus with a top-mounted minigun and an "emergency marijuana" dispenser, the FDP-9/FDC-9, developed in conjunction with Glockmeister Zev Technologies, is pretty close.
The new Glock-based pistol and SBR grew out of a "proof of concept" project by MagPul in 2008, a tiny, folding machinegun dubbed the FMG-9. It never made it to production, but I got to handle the proto when MagPul was still in Boulder, CO, driving the hippies crazy. It was an "OMG BUY ME NOW!!!" product, but it faded into the mists.
Well, it's back. This from the MagPul press release:
"In 2019, ZEV Technologies® released their OZ9 modular pistol, which is compatible with Glock-style operating systems, using a unique receiver block that's independent of the pistol's grip and allows users to change grip frames to suit their needs.
Shortly thereafter, Magpul and ZEV began working together to bring the folding gun concept to life using a proprietary variant of the ZEV OZ9 operating system and a Magpul chassis. Since then, we've been refining designs and obtaining required legal approvals. The result: The ZEV Technologies Folding Defensive Pistol-9 (FDP-9) and Folding Defensive Carbine-9 (FDC-9), both offered in 9x19mm.
The intent, with preliminary ATF approvals in place, is for ZEV Technologies to offer the FDP-9 firearm as a complete, large-format pistol. From there, the purchaser can enjoy the firearm as a self-enclosing large-format pistol. They may also choose to file the appropriate ATF Form 1 and, after approval, purchase a conversion kit to legally assemble it into the FDC-9. It will then be classified as a short-barreled rifle (SBR) and subject to all NFA laws. Although not certain at this time, the FDC-9 might also be offered straight from ZEV and would transfer to the purchaser as an SBR on an ATF Form 4 through their local dealer. The FDP-9 and FDC-9 will not be available from Magpul; they will be available from ZEV Technologies and through distributors and dealers that carry ZEV Firearms.  
This wee beastie will not be available until 2022, but it is obviously the Belle of the Ball for this non-SHOT SHOW year.
In the TRIGGERED I talk about the KelTec SUB2000 9mm folding carbine. The one I have predictably uses Glock magazines, but the little carbines can be adapted for almost any common magazine.
My friend Kevin Creighton on his "AmmoMan School of Guns" column posted a really interesting one this week, suggesting something I had overlooked — use a Glock (or another) pistol fitted with a brace:
"What you lose in speedy deployment with a Glock brace is made up for in additional effective range. Fast, repeatable 25 yard shots are easy to accomplish with a brace on your pistol, and hits out to 100 yards or more are also very easy to accomplish."
He's right. A few years back I went through a class with Mikey Hartman, pretty much your basic legend in the Israeli Defense Forces, and his guys, clearing rooms and shooting targets that kinda spewed faux blood when you hit them…okay, Big Fun.
Hartman is also the CEO of C.A.A., which made the first "chassis system" for the Glock pistol, the Roni and the subsequent next generation, dubbed MCK. To prove that the chassis system made a real difference, we ran through drills first with G19s, then with the pistols inserted into the chassis, which has been fitted with red dot sights and were duly registered SBRs.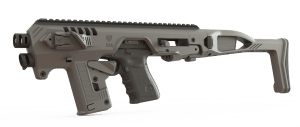 When the distanced moved out to 50 and 100 yards, I think we were all surprised about how quickly we could make hits with the little Franken-Glock.
It worked, but it was expensive. This is not the first (or maybe even the second) time this has been tried. If you go back and look at some of Gabe Suarez' work, he experimented with the Endo adapter fitter with a pistol buffer tube and a Shockwave pistol brace and seemed to have some pretty good luck with it. From one of his articles:
"A 9mm with a stock will be lighter, recoil less, and have far less blast than a comparable 5.56. Thus across a room, a face shot right now, is easier with a 9mm than with a 5.56. Another factor is weapon support. Most people on earth carry a Glock 9mm. The pistol in their belt can easily become the "solution weapon" with the addition of a stock (yes…I know…"arm brace"). And the man so equipped does not need other magazines with other ammo. His carry magazines work just fine and the manual of arms is the same."
An article from Short Barrel Shepherd in the same time frame (2016) comes to similar conclusions:
"If you're interested in trying this Glock pistol PDW concept, this seems the be the most convenient way to go about it."
My friend David Fortier, writing for FIREARMS NEWS, comprehensively looked at the Glock/9mm PDW issue with the Flux adapter:
"The 'Grail' I was looking for would need to be compact enough, less than 12 inches in OAL, to store easily in a bag small and unobtrusive enough not to draw unwanted attention. Based on previous experience, I did not desire to always be saddled with something the size of a messenger bag. My goal was to find something small enough to fit into a bag of such reduced dimensions no one would suspect it of being capable of concealing a PDW. Close in importance to size is weight. The chosen piece, with associated optic, white light and loaded magazines, needs to be light enough to not become an undesired burden as you go about your day. If it adds too much weight and bulk, it will be left behind, simple as that."
Like Kevin's overall impressions, David's were very positive. My issues with the Flux Brace are that while it is an elegant solution, it is expensive and pretty much always sold out.
While we're discussing elegant and expensive, I would be remiss in not discussing the USW Glock adapter from B&T. The one I handled and shot was good enough to break your heart, pretty much what you might say about the entire B&T line. I should probably note that there is no brace option…this turns your Glock into an SBR. I suggest you take Fortier's path and register a Glock lower as an SBR, which is a handy thing to have around when testing Glock PDW alternatives.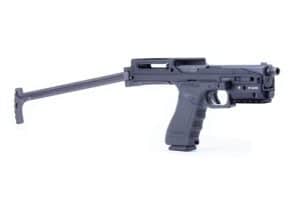 I did ask the B&T guys a couple of years ago whether they had ever considered a brace version for the American market. They told me that they had spoken with ATF, so don't expect one in this lifetime.
I also need to mention the elephant in the room, the ATF's stated intention to shove all pistol braces onto the NFA. Their Christmas "letter" has been temporarily withdrawn, but that doesn't mean that such an option is not on the table. I also need to mention that state laws vary about carrying a loaded firearm in the car…and that's "vary" as in vary a whole bunch. In some states, it's illegal to carry a loaded rifle in the car, so an AR pistol would probably be legal, but a loaded AR not. It's up to you to figure out the laws…don't shirk!
As we mentioned above, the upcoming MapPul/Zev super Glock seems intended from the get-go (as we say in Tennessee) to be either a very funky pistol or an SBR.
Interesting enough, SBRs used to be an amazingly small niche item, but with the ascendancy of the AR-15 platform as the number one competition and hunting gun in the U.s., the interest in SBRs have soared. IT's not a big deal to make or buy one, aside from filling out a lot of paperwork, paying the $200 tax and waiting…waiting…waiting. The positive of a registered SBR is you can add and use a stock. The drawback is the ATF's byzantine (and what ATF function sin't byzantine?) application to take the SBR across a state line. The form is 5320.20 and it's not complicated, but it has to be filed in advance and approved by ATF. Current waiting time is about a month, but the world is changing right now, and I suspect not for the better.
I have a Recover Tactical "stabilizer" (above) on the way here, and I think I'm going to follow Mr. Fortier and register one of my Glock frames as an SBR. That way, if I win the lottery, I can get one of the B&T USW adapters!