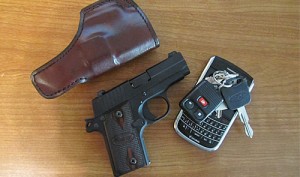 August is a wonderful month here in Arizona as our much needed Monsoon season is fully underway. This means we have warm weather interrupted by late afternoon and evening thunderstorms, bringing us moisture and a break in the heat.
Starting July 29th, a new law sometimes referred to as "constitutional carry" goes into effect in Arizona. Arizona has always been an "open carry" state, meaning that carrying a firearm in plain view is legal. Now, with the new law, a permit is no longer required in order to carry a firearm concealed. As with open carry, there are some restrictions on concealed carry. You can't have a firearm in your possession if drinking in a bar or restaurant, you can't carry into businesses who post their premises with a "No Deadly Weapons Allowed" sign, and you can't enter schools and certain government offices while carrying, among other restrictions.
So, basically, what we have here is a new situation in Arizona where open carry and concealed carry without a permit will be looked upon in the same way as far as the law is concerned. Permits will still be issued for those wanting them and there are some advantages in maintaining a permit, such as legal carry in reciprocal states. The language in the law indicates that taking just about any kind of firearms training, including classes at Gunsite, will satisfy the training requirement for those wishing to obtain a permit. Gunsite will continue to offer concealed carry classes for those interested in obtaining a permit and learning about lawful carry and the basics of gun ownership and use.
Arizona now joins Vermont and Alaska in allowing concealed carry without need of a permit. We hope this new Arizona law, along with recent Supreme Court decisions, will be the beginning of a movement across the nation to remove restrictions on gun ownership and carrying by honest citizens.
We have been working on the 2011 training schedule and it is almost ready to be published. If you have an interest in training dates for next year, or wish to enroll in classes for next year, give us a call at 928.636.4565 and we will take care of that for you.
There are a couple of interesting trends in the firearms industry being manifested recently. One, that we have already commented on, concerns the demand for concealed firearms and defensive ammunition. The other is the increase in the number of parents bringing their children to training classes and matches, buying them firearms and shooting equipment and preparing them to be able to defend themselves. This could be because of the infamous school and college shootings and it could be because people are facing a somewhat uncertain future and wish to be prepared. Regardless, this seems like a good trend. What better gift can a parent give to a child than the ability to defend themselves and live without fear? And, although Gunsite is a firearms training school, the real product we sell here is the peace of mind that comes from knowing you can defend yourself and your family and don't have to live in fear. If this sounds like something you may be interested in, come see us.
DVC,
Ed

Ed is the operations manager at Gunsite. Ed retired as a Field Operations Supervisor with the US Border Patrol in 2001. In his 30 years of law enforcement experience he has served in a variety of patrol, investigative and training capacities and has been a federal and state certified firearms instructor for more than 25 years. Ed has been a Gunsite instructor since 1991 and a Rangemaster since 1997. He teaches Pistol, Carbine, Rifle, Shotgun and Specialty classes.