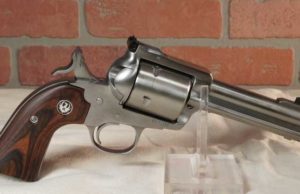 00:01:03
MICHAELBANE.TV - Blog
For you big boomer fans out there.... this is a stainless steel Ruger Super Blackhawk in .480 Ruger.
The Hellcat is designed specifically for every day carry with Adaptive Grip Texture and high visibility sights.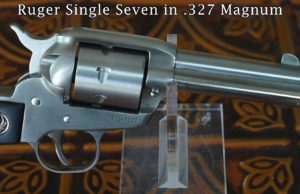 00:01:04
MICHAELBANE.TV - Blog
For you single action fans out there.... this is a Ruger Single Seven in .357 Magnum. It has a birdshead grip frame, 3 3/4" barrel, black laminate grips, un-fluted cylinder.
Mickey Schuch talks with Outdoor TV Star, adventurer and author Michael Bane.
At the request of their customers, the Texas manufacturer of high-end, compact handguns rolls out their most affordable models yet.
The Survivor is a large caliber, gas operated handgun with interchangeable barrels that make it fast and simple to switch between calibers or barrel lengths.
Boyds has recently released a bottom metal that allows the Boyds stocks to accept the Ruger American rifles with the AI-Style magazines.
The May 2019 NSSF-adjusted NICS figure of 910,910 is an increase of 0.7 percent compared to the May 2018.
Norris shot his Wilson Combat® custom built GLOCK® 9mm with a red dot sight in the Carry Optics class.
Down Range Radio is now available on Radio.com which is your top free radio app for Sports, Music, News, Talk listening. Stream over 300 radio stations and 1,100 podcasts. Live, Anytime, Anywhere.