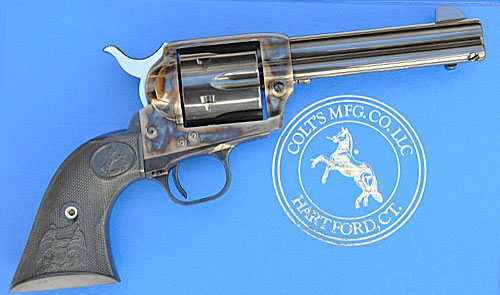 Practicing my quick draw became an obsession. The big showdown was coming up on Saturday evening and I had to be ready to out draw Marshal Dillon at the start of Gunsmoke. Back in the days before DVRs and digital television there were no do-overs, just one chance to make my play and see if I measured up. So I practiced and practiced with my fast draw rig and Fanner 50 toy six-gun. I don't think I ever beat Matt Dillon, but from those childish days until today I have been addicted to single action revolvers.
A while back I was visiting with Colt's Mike Guerra when the subject of Single Action Army (SAA) revolvers came up. I told Mike I was lusting after a SAA chambered in .45ACP and Mike allowed as how the Colt Custom Shop would be happy to build one for me. You might ask why I wanted a revolver chambered in a cartridge normally found in semi-automatic pistols, and that would be a fair question. After all, most Colt Single Actions these days are chambered in .45 Colt because it's the traditional caliber and the one most popular with Cowboy Action shooters. In my case, it came down to ammunition availability, present and future, and .45ACP was a better choice.
The Colt SAA has been in more or less continuous production in Hartford, Connecticut since 1873. First marketed as the Peacemaker, it has been produced in hundreds of variations of finish, caliber, barrel length and models and is, without question, the iconic American cowboy gun. The Colt Peacemaker, Single Action Army, or Model P is one of the most copied handguns of all time, with versions made by dozens of companies. Today, Colt offers the SAA in blued or nickeled finishes and with a choice of barrel lengths of 4 ¾", 5 ½" and 7 ½". Standard calibers are .357 Magnum and .45 Colt. As in my case, if you want other calibers or features they can be discussed with Colt's Custom Shop manager, Brent Turchi. Genuine ivory grips are available, as are custom touches ranging from having your name engraved on the revolver to partial or full coverage engraving and gold inlays. All it takes is time and money, but in the end you can have a personalized heirloom and work of art.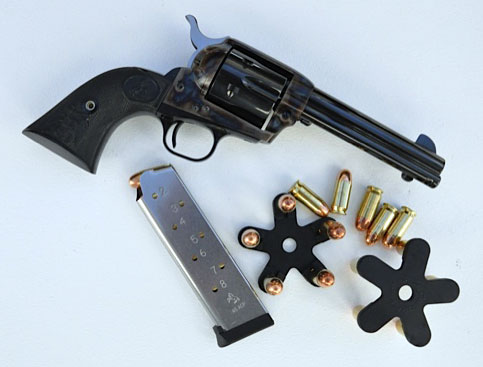 In due course my SAA arrived and I have to tell you I'm enthralled with it. Fit and finish are perfect, with a color case hardened frame and the deep, shiny bluing Colt has always been known for. Although friends and colleagues argue endlessly about which barrel length is best my choice is the 4 ¾ inch version because it looks just right to me with the ejector rod even with the end of the barrel. In days past this version of the Peacemaker was often referred to as the Gunfighter model – can't imagine why that would appeal to me. The timing on my pistol is perfect, the trigger breaks at just under 4 pounds and it balances beautifully for one-handed shooting. Handling the big Colt is an entirely sensual experience. Slowly cocking the hammer produces four distinct clicks that spell C-O-L-T. Turning the cylinder evokes clicking the dial on the bank safe in the Tombstone Wells Fargo office. The cylinder sings when you spin it.
At The Range
Colt single actions and similar revolvers are best carried with 5, rather than 6 rounds in the cylinder, with the hammer-mounted firing pin placed over an empty chamber. To load the SAA pull the hammer back two clicks to the half cock position allowing the cylinder to rotate freely. Open the loading gate and load a round into the first chamber, skip the next chamber and load the next four chambers before drawing the hammer back to full cock. With the gun pointed in a safe direction while maintaining control of the hammer, press the trigger to lower the hammer on an empty chamber. Load one, skip one, load four, is the sequence.
Although I have practiced gazillions of quick draws with single actions I NEVER, repeat, NEVER do so with a loaded revolver. It's a prescription for disaster and not worth the risk. As with any gun, treating the SAA with respect, following the safety rules and thinking about what you are doing are the keys to success.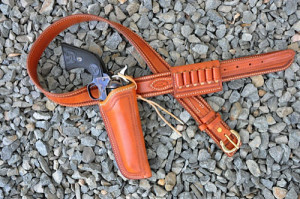 I don't intend to use the Colt as a defensive or hunting revolver so I haven't tried any of the hot ammo in it. Standard 230 grain full metal jacket (FMJ) shoots great in the Colt and hits pretty close to point of aim. At 25 yards the revolver shoots a bit left, and this can be adjusted with different ammunition, turning the barrel or tweaking the fixed sights, but I'm going to leave it alone – it's close enough as it is. I have a small stash of Remington 185gr. FMJ match wadcutter ammunition that's been stored for a long time. Happily, it is an accurate and mild load to shoot in the Colt. My fun sessions with the SAA usually involve shooting on steel, two-handed, at 25 yards then I move up to about 7 yards and have fun making quick one-handed shots, cocking the pistol with the thumb as it turns up in recoil. Sticks and cans tossed up on the range berm aren't safe, as I'm finding I can bounce them at will.
Reloading the Colt can be done with loose rounds carried in the pocket, from cartridge loops on the belt, or thumbed into the cylinder from 1911 or other .45ACP pistol magazines. Tuff Products make rubber strips holding ammunition for reloading revolvers as well as a star shaped device designed specifically for single actions. Field holsters, cowboy setups and Cowboy Action rigs are available in finishes from plain to fancy. I've been carrying my SAA in a version of the classic Tom Threepersons holster made by El Paso Saddlery.
If you haven't shot for fun in awhile, especially with a single action, maybe you should. If my experience is any indication, you're going to have a great time.
About the Author: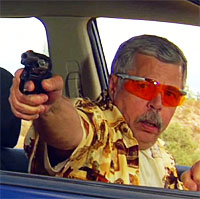 Ed Head is a regular on Shooting Gallery and Down Range TV. He has worked for almost 30 years in law enforcement, first in the United States Air Force and then with the United States Border Patrol, retiring as a Field Operations Supervisor. During his Border Patrol career, Ed worked in a variety of patrol, investigative and training capacities. Ed has an extensive background as a firearms instructor, having trained thousands, ranging from beginners to police, military and special operations personnel. Having taught at Gunsite for 20 years, Ed first trained there under the world famous shooting school's founder, Jeff Cooper, then later ran the school as the operations manager for more than five years. Ed lives in Chino Valley, Arizona, where he continues to teach and write.