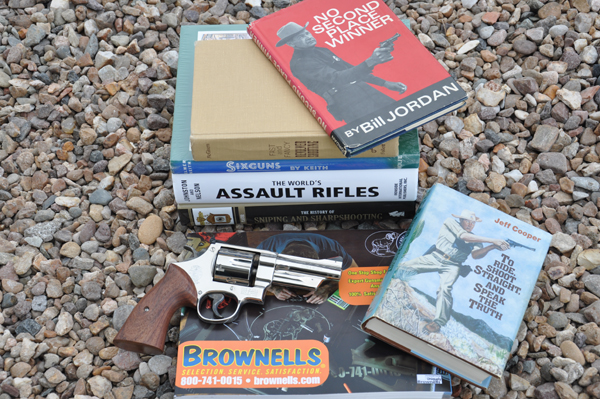 Conscientious students often ask me for reading recommendations to further their knowledge and understanding of the subject, that being personal defensive firearms and training. It's a pretty big subject I have been studying for many years and I admit not having read everything there is on the topic. Still, I suppose it's appropriate to pass on references to some of the texts I think might be of interest to students.
No list of relevant texts could possibly be complete, and new ones are coming out every day, so for the purposes of this discussion I'm going to limit my recommendations to what I consider to be classics and modern necessities. All should be available with a little searching online.
1. Anything written by Jeff Cooper, the father of modern firearms training. I've likely read 98% of his large body of work and have found almost all of it to be useful, entertaining and extremely well written. If you're going to read only one Cooper text it should probably be To Ride, Shoot Straight And Speak The Truth.
2. Sixguns by Elmer Keith. Anyone who aspires to pistolero status needs to be well versed in the words of the father of the Magnum revolver. From the history of handguns to their use as fighting and hunting tools, Sixguns is a treasure trove of wonderful stories and history and it has just been re-published in soft cover.
3. Fast And Fancy Revolver Shooting by Ed McGivern is the seminal text on the combat handgun. Besides being an incredibly impressive exhibition shooter, McGivern carefully studied the physiological and psychological aspects of shooting and was involved in creating the foundation for modern police firearms training.
4. No Second Place Winner by Border Patrol Agent Bill Jordan was the first modern text to directly address gunfighting with the handgun. Jordan was responsible for a number of innovations in training, holsters, handguns and accessories and the dry humor of his writing style still makes me smile. The book also contains a series of photos showing Jordan, wearing duty gear and Border Patrol dress uniform pulling off a draw, with reaction time, in 27/100th of a second.
5. The History Of Sniping And Sharpshooting by noted sniping authority John Plaster covers much more than the title describes. It's really a history of the rifle and how the rifle, in the right hands, has changed warfare and history. Anyone who wants to understand the rifle, and all forearms instructors, should read this book.
6. The World's Assault Rifles by Gary Paul Johnston and Thomas B. Nelson isn't light reading but, rather, the ultimate reference on the subject of assault rifles, including many you have probably never heard of. From their history, to production dates and variations, this book covers the subject in detail.
7. The Blue Book Of Gun Values by S.P. Fjestad comes out annually and I usually buy it every couple of years. Having the Blue Book at hand is a great source of reference material, production dates, variations and values of just about any reasonably modern firearm. Like The World's Assault Rifles, you can spend hours just leafing through it and reading about guns that catch your eye.
8. Hatcher's Notebook by Julian S. Hatcher is the definitive source for information related to ballistics and ballistics calculations. Old school, in that it was written in the period before the modern "revelation" in handgun ammunition research post 1986 (the FBI shootout in Miami), Hatcher's book is one you will want to keep at hand for reference because, although you can change bullet shapes and calibers, you can't change physics.
9. The Brownell's Catalog comes out annually and contains just about every gun part or tool you can imagine. Originally conceived as a catalog for gunsmiths, it has grown to include so much more it defies description. Great to browse through and an essential source of parts, tools and gear, the Brownell's Catalog is a must – and Frank and Pete Brownell are two of the nicest people you could ever meet.
10. Guns, Bullets and Gunfights by Jim Cirillo, master gunfighter of the NYPD stakeout squad, and Paul Kirchner's Jim Cirillo's Tales of the Stakeout Squad are essential gunfighter reading. Cirillo, possibly the last of the great pistol fighters, studied what it took to prevail in close range lethal encounters then put his knowledge to the test in one gunfight after another.
If you haven't read them, these texts will suffice to get you started. Stay tuned and I will suggest others from time to time.
DVC,
Ed
About the Author: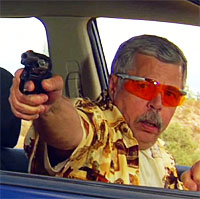 Ed Head is a regular on Shooting Gallery and Down Range TV. He has worked for almost 30 years in law enforcement, first in the United States Air Force and then with the United States Border Patrol, retiring as a Field Operations Supervisor. During his Border Patrol career, Ed worked in a variety of patrol, investigative and training capacities. Ed has an extensive background as a firearms instructor, having trained thousands, ranging from beginners to police, military and special operations personnel. Having taught at Gunsite for 20 years, Ed first trained there under the world famous shooting school's founder, Jeff Cooper, then later ran the school as the operations manager for more than five years. Ed lives in Chino Valley, Arizona, where he continues to teach and write.