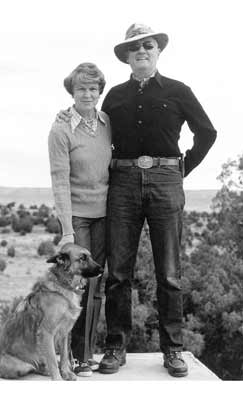 Let's talk for a bit about the phrase, "Larger than life."
First, we note the passing of Janelle Cooper, beloved wife of Col. Jeff Cooper, who himself cast off this mortal coil in 2006. The Internet was awash with sorrow about the gracious Lady of Gunsite, as it should be. I was at a gathering of some of the top media and industry people, and when the announcement of Ms. Cooper's death was read, there was a collective sigh. And tears, there were tears.
There was, indeed, a palatable sense of loss, beyond even the loss of a cherished friend. If there is a single word I could use to describe Janelle Cooper, over and above her place within our culture, it is "complete."  As was the case with the Colonel, Janelle Cooper was a person in full.
I always saw the Coopers as stars in some classic Hollywood movie, maybe a cross between the swashbuckling heroes of KING SOLOMON'S MINES in 1950 and Nick and Nora in THE THIN MAN in 1934. They belonged to another time, a time when education, erudition, grace and a sly sense of social commentary were the necessary skills of a cultured man or woman. An understanding of the roots of Western thought and culture were de riguer; so, in fact, was a knowledge of the game fields.
I think of it as a time before American culture exploded in the wreckage of the 1960s, before the sad successes of those who would Balkanize the United States. The 1960s stretch as a Grand Canyon across our culture. We Baby Boomers did, as we chanted, change the world, and in each case we made it a little, and sometimes a lot, worse. We created the newest iteration of the Children's Crusade, and we have all reaped the whirlwind.
My own voyage was less of discovery than rediscovery. I grew up in a world of Jeff Cooper, Robert Heinlein, Ernest Hemingway, a little Ian Fleming, a lot of William Faulkner — hey, I'm from Memphis, the beginning of the Mississippi Delta, which ostensibly begins in the lobby of the Peabody Hotel. Those writers, among others, helped me try to answer simple questions, "What is a man? How should I live my life?"
It was a world of competence; after all, specialization was for insects. A should be able to both handle dinner and a 30-06; be reasonably conversant with the writings of Marcus Aurelius and John Adams and still have a subscription to ARGOSY Magazine.
The year I graduated from high school, Dr. King was shot at the Lorraine Motel, and the fires started. My friend Martin and I broke the curfew and sneaked into the riot zones; it was the first time I heard gunshots fired in anger.
It's probably not worth an autopsy of the decade, of the war, of the riots, as that has been done and done and DONE. On the other side of it, though, where we live now, we have lost the vision of what we could, or should, be. Apparently, the affliction is permanent.
Jeff and Janelle Cooper were living reminders of a time and culture that we let slip away. They were in truth larger than life, outsized footprints across the veld of our own lives. They were, and shall remain, shining — and guiding — lights. They are missed.