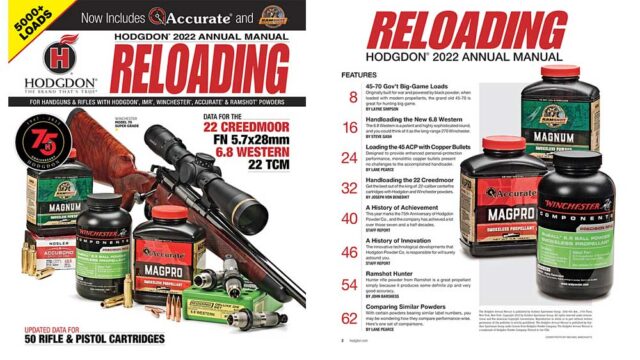 Hodgdon Powder Company, The Gunpowder People®, is pleased to announce the release of the 2022 Hodgdon Annual Manual (the 19th annual edition). This edition also celebrates the 75th Anniversary of the Hodgdon Powder Company.
In addition to data for Hodgdon, IMR® and Winchester® Smokeless Propellants, this manual now contains Ramshot and Accurate Powder data. In total, more than 5,000 loads are represented in this title, with updates for more than 50 rifle and pistol cartridges. Along with comprehensive load data, the 2022 Hodgdon Annual Manual offers authoritative articles by leading firearms industry writers, working with the editors of Shooting Times magazine. It also contains a special retrospective look back at the history of the Hodgdon Powder Company and Hodgdon innovations through the years.
"In a normal year, the Hodgdon Annual Manual is a big project to deliver for our customer, the enthusiast handloader," said Justin Schrader, lead ballistician for Hodgdon. "For 2022, we wanted to celebrate our 75th Anniversary, which is a major touchpoint for the organization. We also did a lot of work integrating the new Ramshot and Accurate load data with our existing data into an exciting, easier-to-read format for the 2022 Hodgdon Annual Manual. To do that, we expanded the book by 24 pages, to 192 pages total."
Customers can purchase the 2022 Hodgdon Annual Manual wherever popular magazines are sold or can order on the Hodgdon website at www.Hodgdon.com for $14.99 (shipping included).