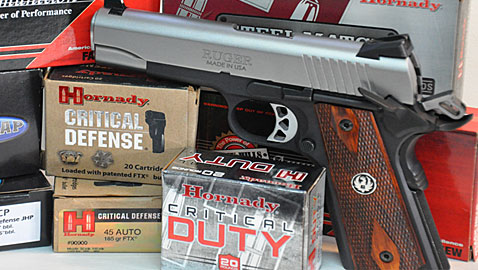 When you think about it we shouldn't be surprised Ruger has produced a Lightweight Commander version of their popular SR1911 pistol. After all, when the full-size SR1911 came out we were pretty sure a Commander size pistol was going to follow and a LW Commander makes sense as the next pistol in the lineup.  While the previous SR1911s are all steel – the slides and frames are made from stainless steel – the lightweight version has a stainless steel slide with a satin finish and a black anodized aluminum frame that creates an attractive two-tone appearance.
1911 pistols with aluminum frames are sometimes said to be most useful when carried a lot and shot only a little. This is because aluminum frames have established a reputation for cracking after firing a couple thousand rounds. These days that isn't the case, as newer aluminum alloys have proven to be durable and frames made with them hold up to firing very well. A case in point would be the first prototype of the Ruger LW, a pistol I fired extensively. The frame on this pistol wasn't anodized; it had a matte finish to match the stainless slide. As Ruger engineers continued to test fire and evaluate this pistol their analysis revealed microscopic gouges in the feed ramp portion of the frame that had begun to develop between 9,000 and 11,000 rounds of firing. The gouging, mostly caused by hollow point ammunition, was occurring where the bullet nose struck the feed ramp portion of the frame as the cartridge fed from the magazine. In semi-automatic pistols, the feeding cycle drives a cartridge from the magazine with considerable force and the feed ramp is the area that absorbs most of the punishment. Although the prototype pistol was still functioning perfectly and the frame hadn't cracked or failed the folks at Ruger decided the gouges in the feed ramp – that no shooter would be able to see or notice – were unacceptable so they devised a polished titanium insert for the feed ramp that eliminates the problem and should allow tens of thousands of rounds to feed without any problems.
Other changes in the production pistol from the prototype I shot include thin, checkered stocks with silver Ruger escutcheons. The stocks on the Ruger SR1911 pistols are some of the nicest I have seen and these are no exception.  Other than the frame, feed ramp insert and stocks, as far as I can tell the parts in the LW are identical to the parts used in the stainless Commander style pistol made entirely from American parts and machined and assembled at Ruger's Prescott, Arizona factory on state of the art machinery.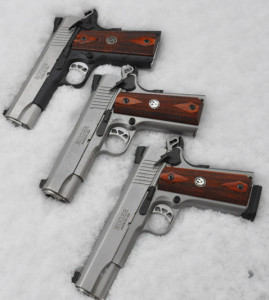 In addition to the first prototype pistol, I had the opportunity to shoot three pre-production pistols with about a dozen different brands of .45ACP ammunition and there were no malfunctions of any kind. Since receiving my sample pistol for this evaluation I have managed to shoot just about every type and brand of .45ACP ammunition in the ammo bunker and have yet to experience a single problem. The LW is reliable and shoots more accurately than I can appreciate. I wouldn't hesitate to carry it as a defensive pistol, the role it is designed to fill.

Ruger SR1911 pistols are classic 1911 designs. By that I mean they have no unnecessary parts like a firing pin safety or recoil spring guide rod. The pistols have titanium firing pins and heavy-duty firing pin springs to keep them from firing if dropped. When I detail stripped the pistol I discovered the mainspring housing is steel. Often, when putting together lightweight pistols, manufacturers will use aluminum or plastic mainspring housings to shave a little more weight. But, since the mainspring housing has to support a strong spring at full compression, these lightweight parts often fail. Wisely, Ruger decided to go with durability over saving a bit of weight. Another feature of the SR1911s related to durability is the integral plunger tube. Normally staked to the frame, plunger tubes have a habit of working loose but Ruger has eliminated this issue by casting the plunger tube as part of the frame.
Customers tell Ruger they like three dot sights so the LW comes with genuine Novak sights with three white dots. Because there are gazillions of sights and parts available for 1911s you can customize the LW to suit your needs and desires. My pistol shipped with three stainless steel 7 round magazines, the usual padlock, a barrel bushing wrench and a gun rug. The LW weighs 26 ounces bare, 29.3 ounces with an empty magazine and 33.5 ounces with eight rounds of 185 gr. hollow points on board. The trigger on my sample pistol breaks at 5 pounds, 6 ounces and after a bit of firing it settled in with no creep or over-travel.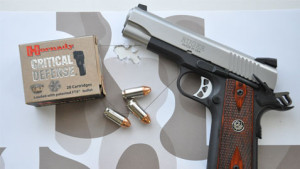 Shooting a LW .45 pistol can best be described as snappy. While not painful, the gun recoils sharply. I fired some of Mike McNett's heavy Doubletap Ammunition in the LW and have to admit it got my attention. Because the LW pistols are a little harder to control than the heavier, full-size guns, I prefer to carry them with defensive ammo with 165gr. bullets such as the Federal Guard Dog loads or 185gr. bullets like those used in Hornady's Critical Defense ammo. These loads have more velocity than the heavier bullet loads but feature less recoil due to the lighter bullet weights.
The folks at Ruger tell me they are far from through with new models in the SR1911 lineup. What's next? In large part that's up to you, as Ruger listens to their customers and offers you an opportunity to tell Ruger CEO Mike Fifer what products you're interested in. Go to www.ruger.com, click on News and Resources and scroll down to Tell The CEO to leave a message. Maybe your dream pistol will become a new Ruger product.
For more information:
www.hornady.com
www.federalammunition.com
www.doubletapammo.net
www.ruger.com
About the Author: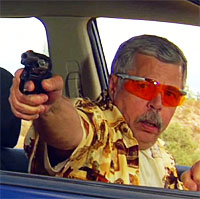 Ed Head is a regular on Shooting Gallery, Gun Stories and Down Range TV. He has worked for almost 30 years in law enforcement, first in the United States Air Force and then with the United States Border Patrol, retiring as a Field Operations Supervisor. During his Border Patrol career, Ed worked in a variety of patrol, investigative and training capacities. Ed has an extensive background as a firearms instructor, having trained thousands, ranging from beginners to police, military and special operations personnel. Having taught at Gunsite for 20 years, Ed first trained there under the world famous shooting school's founder, Jeff Cooper, then later ran the school as the operations manager for more than five years. Ed lives in Chino Valley, Arizona, where he continues to teach and write.