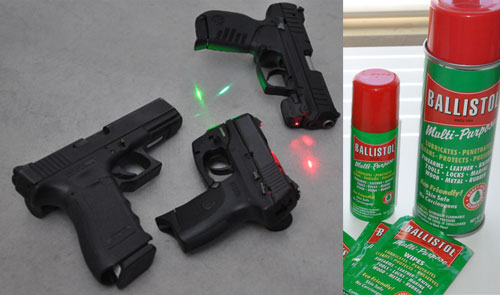 Okay, you already know I like lasers on defensive firearms. Red lasers have been available for some time but green lasers have only recently come out. Because our eyes are more attuned to green than red the green lasers appear to be brighter and I like using them in combination with red dot sights to set different aiming points. Up until now all green lasers have actually been infrared lasers whose beam is converted to green light. This has been a difficult process as converting lasers to green uses more power and makes it hard to fit the necessary components into the same size package as a red laser. Now, for the first time, a pure green pistol laser has been produced – what Lasemax calls Native Green – because the laser is green from the start and not a converted beam. Why is this important? Because Lasermax has solved the problems with size and power usage, made the laser more stable over a broader temperature range and designed a green laser that's the same size as their red guide rod laser. This Native Green laser is bright and pulses (actually, it looks like it's twinkling) to save power but I think the rapid pulsing attracts my attention more quickly than a steady beam.
To back up a little, Lasermax has been in the commercial, scientific and military laser business for 25 years, with their principle firearms laser being their guide rod model. The advantages of a guide rod laser are that the laser and the sights are closer together, the laser is unobtrusive and the pistol isn't altered on the outside so it's going to fit in standard holsters. Lasermax sights the guide rod lasers in at 20 yards, which is perfect for most defensive pistol applications and no adjustment is necessary by the user.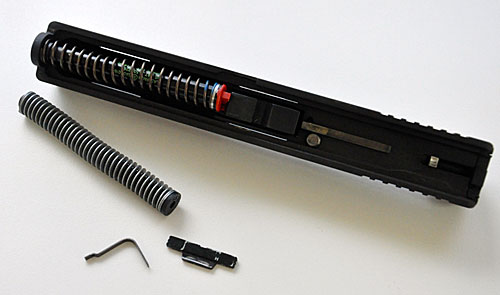 The Native Green laser I've been using is a full-size Glock model. If you can field strip a Glock for cleaning installing this laser is uber-simple; just remove the guide rod, replace it with the guide rod laser and change the slide lock and spring with the ones provided. The included instructions explain this in detail. Once installed, the slide lock becomes a sliding on/off switch. In practice, I activate the laser with my trigger finger and turn it off by pushing the slide lock with my support hand thumb. Lasermax calls this controlled activation. In other words, you make the laser come on and go off when you want it to, not when you grip the pistol. You might wonder why this is important but train in a tactical simulator or practice room clearing and you'll quickly understand that having a laser on constantly gives away your position and lets bad guys know you are coming. Just like a tactical light you want the laser to go on – and off – when you need it.
Lasermax recently introduced several other lasers worth mentioning. I wrote about the Ruger 10/22 red laser in April and had an opportunity to use it recently running a tactical course on steel targets at night. Great fun and highly recommended! Speaking of Ruger, Lasermax makes a green (not native) laser they call their Centerfire model for the LC9/LC380 pistols that Ruger markets as an original equipment option. If you can call a laser cute, the new Lasermax Micro red laser is tiny, can be mounted on anything with a rail and is, well, cute. I really doubt you're going to need it, but Lasermax provides a 5-year warranty with their lasers, the best in the industry.
Ballistol
Why would you want to read about something as boring as gun oil? What if I told you there is a new product on the scene that cleans, lubricates and preserves? Oh, you've heard that before. Okay, what if I said this stuff would lubricate just about anything, preserve metal, wood and leather and will never gum up or harden? What if I mentioned it is biodegradable, completely non-toxic and was designed to have medicinal qualities? How 'bout if I said you can use it to preserve electrical components, clean chrome and shine your car?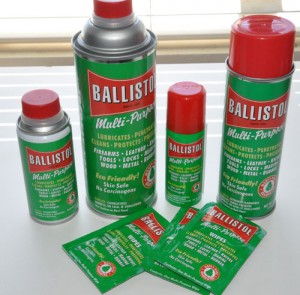 This wonder oil has actually been around for a long time. Invented at the turn of the century – the last century – it is widely used in Europe but was virtually unknown in the United States until recently. When this stuff arrived several months ago I thought, "Great, another gun oil. Just what I need." After all, we're already up to our necks in gun cleaning and lubricating products. But in the interests of science I decided to give this new product called Ballistol a chance to prove itself. I've been using it exclusively for all of my gun cleaning and lubricating chores for several months and I have to tell you it has been doing a great job – as well as any other similar product and better than most. About the only thing I've found it won't remove is that baked on heavy-duty fouling you get on AR bolts and gas pistons, but then again, nothing short of a scraper seems to work on these parts.
Available in small and large cans of liquid and aerosol, the aerosol form is great for wetting a cleaning patch while the liquid can be applied for precise lubricating by means of a small artist's brush, a trick I learned by reading the instructions. Why didn't I ever think of applying lube with a brush before? What a great idea! This is good stuff and highly recommended. Did I mention you could use it to cure dry skin?
So here are two products, one that has been around for 100 years, and the other that uses cutting edge technology. If there's a lesson in this it escapes me; I just know what I like and I recommend you give Ballistol a try and look at Lasermax if you're in the market for a laser.
For more information:
www.ballistol.com
www.downrange.tv/blog/defensive-pistol-lasers/18601/
www.downrange.tv/blog/review-ruger-1022-takedown/22179/
About the Author: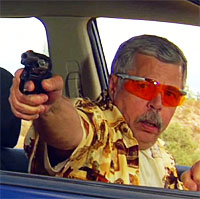 Ed Head is a regular on Shooting Gallery, Gun Stories and Down Range TV. He has worked for almost 30 years in law enforcement, first in the United States Air Force and then with the United States Border Patrol, retiring as a Field Operations Supervisor. During his Border Patrol career, Ed worked in a variety of patrol, investigative and training capacities. Ed has an extensive background as a firearms instructor, having trained thousands, ranging from beginners to police, military and special operations personnel. Having taught at Gunsite for 20 years, Ed first trained there under the world famous shooting school's founder, Jeff Cooper, then later ran the school as the operations manager for more than five years. Ed lives in Chino Valley, Arizona, where he continues to teach and write.