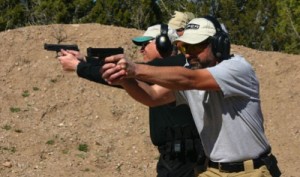 Here we are at the start of June already…where has the time gone?  We're happy to report we will be very busy this month with our regular Gunsite class schedule and a number of new classes for police, military and industry groups.  We have a 250 Defensive Pistol class scheduled for June 14-18 and demand has been such that we have split it and created two classes.  So, if you were thinking of getting out to see us for a pistol class, we have openings.  Oh, and the weather is gorgeous.
We're in the process of building the 2011 training schedule and should have it on the website in a couple of months.  If you have questions about potential 2011 class dates or have suggestions concerning the schedule please let us know.
Our new 2010 challenge coins are in and for sale in the ProShop.  Stop by and see Susan or give us a call at 928.636.4565 to get yours.  This coin bears the inscription, "Draw quickly, shoot carefully." And, "No one has ever been killed by a loud noise."  These phrases originated with our founder, Jeff Cooper, and have been repeated and taught by our staff, most notably Senior Rangemaster Ed Stock, for many years.  Words to this effect have been stated by successful gunfighters for a long, long time, including Texas Rangers, Wyatt Earp, Bill Hickock, Bill Jordan and others.
The point these gun hands were trying to make can be summed up in Bill Jordan's statement that you need to learn to take your time fast, and that once you truly understand what this means you have come of age as a gunfighter.  Wyatt Earp described it as being mentally deliberate but muscularly faster than thought.  So how do we arrive at this state?
Here at Gunsite we approach the problem from a couple of different directions.  First, we insist on performing weapon handling skills in ways that are appropriate in a fight and then doing the number of correct repetitions to make these skills reflexive.  Then, we train to be in the proper mental state for a fight.  We must be deliberate, having made up our minds to get fight stopping hits, and we must have decided well in advance that we will be as aggressive and ruthless as necessary to stop someone from taking our lives or the lives of others we have chosen to protect.
Jeff also taught us that the essence of all combat is speed.  Combining reflexive skills with mental preparation results in speed, allowing us to draw quickly then shoot carefully.  By shooting carefully, even though this only takes a tiny moment in time, we are referring to seeing a flash sight picture, controlling the trigger and following through.  When you know you are fast and can get hits there is no reason to get all excited, panic trying to catch up, and fall apart by jerking the trigger while looking at the threat.  Our objective is to control ourselves, our emotions and our weapon for that fraction of a moment in time necessary to solve our problem.  Knowing that you can do this and can command your environment results in peace of mind; having the ability to go about your life without fear.  Draw quickly, shoot carefully.
For those of you keeping track, Janelle Cooper has just celebrated her 90th birthday.  We hope you will join us in wishing her the best.
DVC,
Ed

Ed is the operations manager at Gunsite. Ed retired as a Field Operations Supervisor with the US Border Patrol in 2001. In his 30 years of law enforcement experience he has served in a variety of patrol, investigative and training capacities and has been a federal and state certified firearms instructor for more than 25 years. Ed has been a Gunsite instructor since 1991 and a Rangemaster since 1997. He teaches Pistol, Carbine, Rifle, Shotgun and Specialty classes.