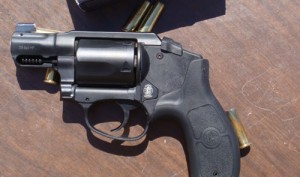 As our seasonal Arizona Monsoon rains continue we're having a good time here at the school entertaining clients, guests and shooting lots of guns. Smith & Wesson came out a couple of weeks ago and we were able to shoot the new Bodyguards, a .380 semi-automatic and the .38 revolver, both with built in lasers, along with most of the S&W product line. Defensive pistols are in high demand these days and the Bodyguards were designed to fill that need. The .380 is like a miniature S&W pistol but the revolver is an entirely new design. A first for S&W, the lockwork is entirely new so the cylinder rotates in the "wrong" direction. The frame is a mixture of metal and plastic and the cylinder latch is on top of the backstrap instead of on the side of the frame, making this little revolver suitable for left or right handed shooters.
Then, this past weekend, we hosted an event that included XS Sights, Surefire, Galco, Smith & Wesson, Colt, Ruger, Kimber, North American Arms, SiG and Corbon ammunition. The idea was to get a bunch of ladies in here and shoot all kinds of guns suitable for concealed or purse carry. We had all kinds of S&W J-frame revolvers, a couple of Kimber CDPs in 9mm, Ruger LCPs in .380 and LCRs in .38 Special, a handful of little .22s from North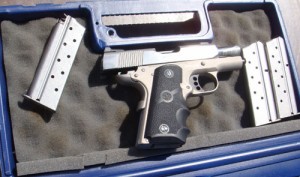 American, the SiG. P238 in .380 and some old and some new pistols from Colt. The Colts included the Mustang and Pocket Lite in .380, which are no longer made but may be coming back, and some new Defenders in 9mm, both in blued and stainless steel. Many of the pistols sported sights by XS, and I have to say the miniature XS Big Dot sights on the tiny little NAA .22s were just plain cute. Galco made sure we had plenty of purses, belt holsters and pocket holsters and Surefire provided their wonderful little light, the Backup, complete with Gunsite raven logo, while Corbon made sure we had plenty of ammunition to shoot. All in all, this was a fun event, but even more importantly, the gals learned a lot from instructors Bill Murphy and Il Ling New and the various company representatives got a lot of feedback from the women on what they liked, what they didn't like and what they would like to see in the future.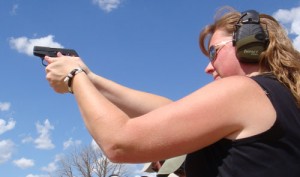 Along the lines of likes and dislikes, some years ago my wife started shooting her own 1911 pistol in 9mm. Thereafter, when presented with various non-1911 pistols for her consideration, she would try them then say that, since her pistol had a better trigger, she preferred to keep shooting it. We discovered something along the same lines this past weekend as all of the women involved preferred the 1911 style pistols, and even preferred the Colt Mustang and SiG to the Ruger LCP when considering a .380.
Women, it seems, do not like pistols that hurt when they shoot them (lightweight .38s and .357s and tiny .380s) and they seem to quickly grasp the value of a good trigger when given a choice. As a result, the two pistols the gals most preferred were the Colt Defender in 9mm and the Colt Mustang in .380. We hope this means that Colt will bring the Mustang back and we applaud them for
coming out with the Defender 9mm. As an aside, the women did not get an opportunity to test fire the Kimber CDP in 9mm as they were not available the day we did the comparison. Had they been able to shoot them I rather imagine this pistol would have been as popular as the Defender.
And, don't get me wrong, I'm not saying the other guns are bad, just reporting what the ladies preferred. All too often women are not given a choice and are provided a pistol that a man has determined is just right for them. Although there is nothing wrong with a lightweight 5 shot .38, such as the S&W J-frames, and the Ruger LCP, handing one to a woman and expecting her to enjoy shooting it is another matter entirely. The smallest of the .380s, like the LCP, are runaway best sellers but, even though they may carry "light", they shoot "hard" and not many women are going to enjoy struggling with the heavy trigger and the bite that follows. So, women should have a choice when deciding upon carry pistols and the best way to make a wise decision involves being exposed to many possibilities and actually shooting more than a couple of rounds. And, you can always give us a call and we will try to offer some knowledgeable advice and instruction to help you with your decision.
DVC,
Ed
**************

Ed is the operations manager at Gunsite. Ed retired as a Field Operations Supervisor with the US Border Patrol in 2001. In his 30 years of law enforcement experience he has served in a variety of patrol, investigative and training capacities and has been a federal and state certified firearms instructor for more than 25 years. Ed has been a Gunsite instructor since 1991 and a Rangemaster since 1997. He teaches Pistol, Carbine, Rifle, Shotgun and Specialty classes.