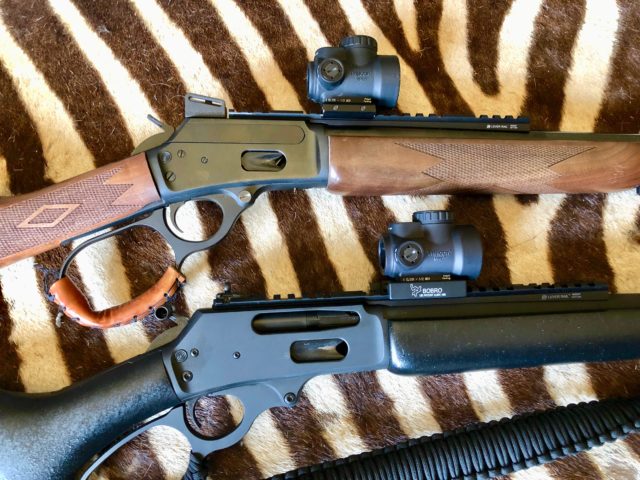 I thought I'd show you guys 2 of my Marlins that I really really like a lot…I believe you can call them "Scouts," should you want to, because their sight is mounted forward of the receiver.
The one on top is a .44 Magnum 1894 as redone by Wild West Guns in Vegas, the gun I used to nail that warthog in Africa you saw me posing with in another post. WWG added their big loop lever, overhauled the trigger, added a "Bearproof" ejector, an aluminum magazine follower, full length rail, a quick release screw for the lever and their Ghost Ring Sight. I'm going to go to a Skinner rear sight because I just like it better.
The leather is Andy's, except for the crummy lever wrap, which is mine…I may do a paracord one like the "Dark."
I did 3 stupid things on this gun:
WWG called me up and asked if I winder it converted to a take-down like their .44 Magnum Co-Pilot. In a fit of weakness, I said no.
Shorten the factory 20-inch barrel to 17 inches? Naw, I said, I'll keep the longer barrel, and,
I HAVEN'T REPLACED THE DAMN STOCK (you can se the crack in the picture), which came busted from the factory. I was sure I could find a replacement on the Internet or from maybe Boyd's. This has proven to be IMPOSSIBLE, sadly, and the cracks is getting worse. I'm going to epoxy the crap out of it and see if I can keep it together. You would think finding a stock for something as boring as an 1894 Marlin would be super easy, but NOOOOOOOOOO…
Gun on the bottom is the Marlin 336 "Dark" 30-30 that you saw in this SGO episode. This is just a great, smooth, fast-handling little rifle! It'll probably be my "Number One" hunting rifle for hogs in Texas later this year and, hopefully, that elusive fallow deer I keep meaning to hunt.
The "Dark" does definitely need a WWG "Happy Trigger," which I'll probably install myself.
I want to talk a little bit about my choice in sights. Both guns wear Trijicon MROs (Miniature Rifle Optics). Having tried many, many dots in many many situations, I decided I really like the MRO on lever carbines for several reasons:
I have never handled a faster-to-acquire sight.
The brightness controls are just about perfect.
They zero easily and hold that zero.
Battery life is excellent and the batteries are easy to replace. My standard, BTW, is to change the battery every time I take the guns into the field…batteries are cheap.
I've never managed to destroy one.
The MRO on the .44 is my old one, which is a red dot. The one on the "Dark" is a new one I bought (a great deal from Dvor) with a green dot. We'll see what I like the best! The bottom MRO is mounted on a Bobro quick release mount, which I think is just about perfect…yes, it's expensive, but quality costs. Factory mounts work fine.
I want both of them to be quick release because the peeps are also sighted in (at 50 yards, as is the dot).
I see both the .44 Magnum from a carbine and the 30-30 as 200, 250 yard cartridges, which are well within the province of a red dot. If I want to push out further, I have guns that can do that!
Aside from the performance reasons I chose the MROs for, I don't think they look nearly as obtrusive on lever guns as some sights do. I'm happy with the peeps on Winchesters and Henry's or the flat-topped buckhorn sights on my Cowboy Action lever guns. but for the Marlins, which were born to hunt, I want the dots.
Both with hang on Rhodesian slings from Brother Andy…I love the paracord sling on the "Dark," but not as much as a the leather from Andy.
Lever guns make me handy, but this weekend is all about getting my 3-Gun rifle cleaned up and ready for another match, as well as some more work with the 10/22 Precision!