It must be part of getting older; as time goes by new things come along and I realize it's something I really could have used at some time in the past. A case in point is the new Leupold Tracker, a small, handheld thermal seeker that lets you see heat sources day and night. I can easily think of hundreds of times this little gizmo would have been really useful to me when I was looking for bad guys. We had large, truck mounted scopes during my Border Patrol days but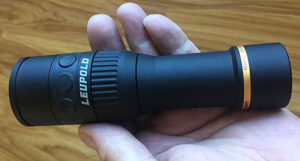 the Tracker would have been ideal as an individual tool for finding people. Leupold says you can see a deer with it at up to 600 yards, and that may be correct under the right conditions, but in my testing at night I would have to say the range is more limited because
you can see heat sources at long distances but it's difficult to know what they are. At closer ranges it works very well in detecting critters and could be useful for tracking or locating game, securing a camp or seeing if anyone is skulking about on your property. A friend just left for an Alaskan bear hunt where they are going to be hunting out of tree stands until dark then walking back to camp. It seems like a scenario made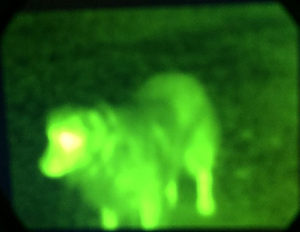 for the Tracker so I loaned it to him. Using a single CR-123A battery the Tracker will run for up to 10 hours. It has a 6X zoom feature and can be cycled through six modes to give you the best resolution, ranging from several versions of white, black, red and green. The Tracker is amazing, affordable technology with a street price of around $600.

Rule 5, Maintain control of your firearms, is a theme being embraced by the firearms industry as a whole. Hornady, makers of ammunition, bullets and reloading tools have been out front in this effort, having created a security division several years ago to develop and sell a line of products best represented by their RAPID Safes. These lockboxes are innovative, as they use RFID technology to ensure firearms are secure while allowing instant access. Wave a fob, bracelet or chip over the sensor and the safe pops open allowing access to the firearm. The safes can be opened with keys, and in some versions, a combination keypad as well. When I saw the new RAPID Safe Gunlocker this year at the SHOT show I knew the product I had been looking for had finally arrived. I wanted a quick access safe for securing a couple of long guns discretely in a closet and this new gunlocker is perfect. It can be mounted horizontally under a bed or in the trunk of a car and be secured in place by either bolting it down or using the included cable. In my case, I mounted it vertically in the closet and bolted it in. It can be opened with one of the included RFID devices or with a programmed four-digit combination, giving instant access to a couple of long guns like a shotgun and a carbine. I have one small gripe; re-locking the safe requires turning a small handle and it takes some effort. I'd like to see a larger handle with a bit more leverage. Other than that, this product has proven to be the answer I was looking for. If you want to secure long arms in the home or in a vehicle this safe is the answer with a street price of about $300.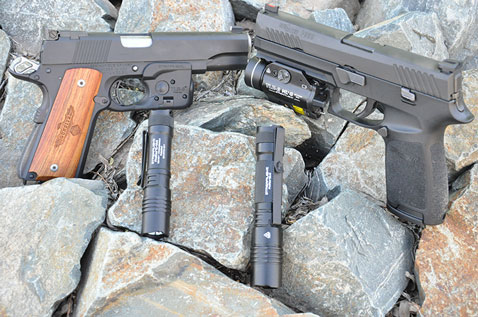 Streamlight continues to amaze me with their new and improved lighting products that are, in my opinion, the best in the industry. They have found a place as my every day carry lights and the ones I pick up as I head out the door when I'm checking things out on my dark, country property. Streamlight is making lights that operate on CR-123A batteries as well as common AA batteries and dual fuel lights that will work with both. They also have a rechargeable lithium ion battery called an 18650 that has dual fuel applications and maintains a charge in storage without draining. New products include TLR-2 weapon lights available with red or green lasers putting out 800 lumens of white light and economical rail mount lights in the PROTAC series in several sizes, some with dual fuel capabilities. The HL-X model puts out 1,000 lumens with a range over 300 meters – and it will run on two CR-123A batteries for an amazing 23 hours. The new TLR-6 weapon light fills a need for all of us who have 1911s without a rail and want to mount a light. Clamping securely to the trigger guard, the TLR-6 has a 100 lumen light and a red laser and can be operated with light or laser only or with both. The PROTAC 1L-1AA is a small, handheld light perfect for every day carry. It's a dual-fuel light that can be powered by one CR-123A, producing 350 lumens for 1.5 hours or it will accept a single AA battery. With the AA light output is reduced to 120 lumens for 1.2 hours. Putting that in perspective, that's twice the light and six times the runtime of my original Surefire tactical light and demonstrates how much these lights have improved over the years. The other new handheld light I like is the PROTAC 2L-X, a 500 lumen powerhouse small enough for pocket carry but big on performance. Also a dual-fuel light, it will run for 2 hours and 45 minutes on two CR-123A batteries or an astonishing 3 hours and 15 minutes with a single 18650 rechargeable battery. This light produces a large, round beam with a center spotlight that easily lights up about a half acre of my yard.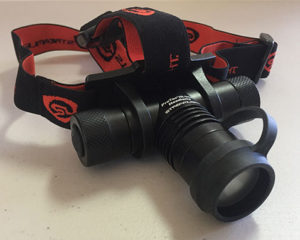 The PROTAC HL is a headlamp with a rechargeable battery that charges off a USB connection. Unlike any other headlamp I'm aware of this light is capable of putting out an astonishing 1,000 lumens in either a spot or flood beam for an hour and a half, 400 lumens for two hours and forty-five minutes and 65 lumens for twenty hours. A robust light, it is reasonably drop resistant and waterproof and might be ideal for activities like search and rescue.
So there you have it, some of my newest favorite things from three of the best companies you can do business with. This is gear I use every day and night and put my faith in. You might want to check it out yourself.
About the Author: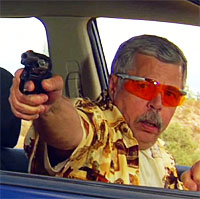 Ed Head is a regular on Shooting Gallery, Gun Stories and Down Range TV. He has worked for almost 30 years in law enforcement, first in the United States Air Force and then with the United States Border Patrol, retiring as a Field Operations Supervisor. During his Border Patrol career, Ed worked in a variety of patrol, investigative and training capacities. Ed has an extensive background as a firearms instructor, having trained thousands, ranging from beginners to police, military and special operations personnel. Having taught at Gunsite for 20 years, Ed first trained there under the world famous shooting school's founder, Jeff Cooper, then later ran the school as the operations manager for more than five years. Ed lives in Chino Valley, Arizona, where he continues to teach and write.