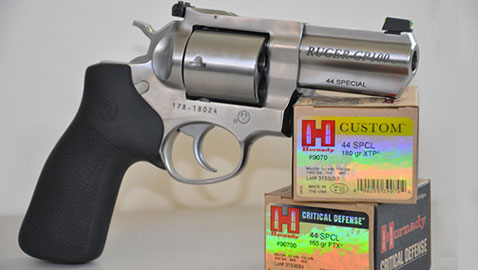 Ruger revolver fans, your long wait is over. The gun you wanted Ruger to make, the one big bore revolver shooters wanted, is finally here. At long last your prayers and lamentations have been answered with the new five shot GP100 in .44 Special. For the rest of you who might not get why this is a big deal, please allow me to explain. The .44 Special is something of a magical cartridge with a devoted but deprived fan base. Enthusiasts know the cartridge is highly accurate, mild to shoot, easy to reload and as versatile as any pistol cartridge you can imagine. From mild target loads to hot stompers rivaling the .44 Magnum in effectiveness, the .44 Special is something of a do-it-all round. Unfortunately it isn't a big seller so manufacturers of guns and ammunition haven't devoted the attention to the .44 Special they have to hot sellers like the 9mm Luger. Devotees of the Special are left to suffer in the wilderness, despairing of having their needs fulfilled. Fortunately outfits like Hornady, Doubletap and Sig Sauer make defensive .44 Special ammunition and every once in a while a gun maker comes out with a .44 Special, usually as a limited edition.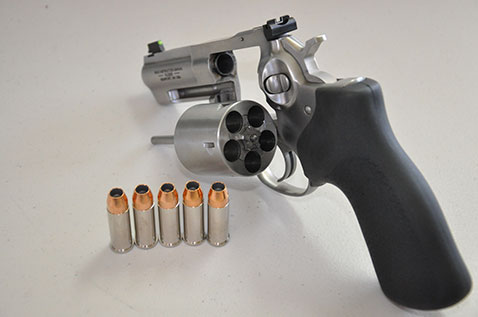 In 1986 when the GP100 was introduced as a .357 Magnum it went head to head in competing with the L-frame Smith & Wesson 686 for a share of the police revolver market. The two revolvers are very similar dimensionally, and as a matter of fact you can use the same speed loaders and holsters for either revolver. While I think the GP100 may be a bit stronger, the 686 can hold up with high-pressure loads, as Smith & Wesson released a 5 shot version in .44 Magnum about a year ago. So where does that leave us with the GP100? I think it will handle any .44 Special load, including some pretty hot handloads. The folks at Ruger must have anticipated this, as they strengthened the cylinder by eliminating the usual flutes. That's not to say I'm recommending the use of extreme loads – they aren't necessary. The "sweet spot", for the .44 Special is flinging big, heavy bullets at moderate velocity. As it turns out, this is exactly what's needed for defensive use against man and most beasts.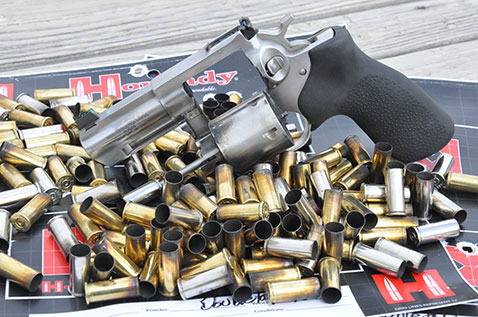 The GP100 I have at hand has a 3 inch barrel. This defines the modern belly gun – a powerful, short-barreled revolver launching big bullets designed to stop fights quickly. These days, with high capacity pistols in 9mm being all the rage you might question the utility of a "low capacity" revolver as a defensive pistol but in my experience you don't shoot things with a .44, you stomp them. Shoot a steel plate and you'll see what I mean; the 9mm goes "ting" and the .44 goes "SPLANG!"

My sample GP100 is equipped with the usual Ruger adjustable rear sight and has a green fiber optic front sight set in a dovetail. In a move I applaud the GP100 is equipped with a Hogue rubber grip that's a bigger version of the one Ruger talked Hogue into making for the LCRx. It's an excellent design that fits most hands, but most importantly provides a solid, recoil taming grip. The trigger is smooth for improved double action shooting and the cylinder locks up like a bank vault with what Ruger refers to as their triple locking feature. The trigger on my sample is a bit on the heavy side but the smooth, consistent double action makes it feel lighter. The double action measures an average of 11 pounds on my Lyman electronic trigger gizmo while the single action trigger breaks at an average of about 4 ¾ pounds. The trigger is usable as is but I can't stand not trying to improve revolver triggers so I've ordered a spring kit from Brownells.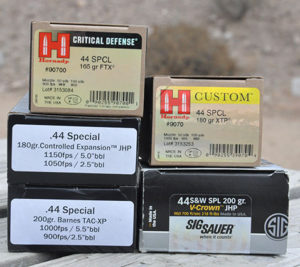 I put in the better part of a day on the range with the GP100 and I expect your sympathy, as it was cold, windy and verging on snow. Firing five factory loads designed for defensive or hunting purposes I shot the usual five, five-shot groups off sandbags. I did my firing at 15 yards as a concession to the short barrel. Throughout this session the GP100 proved comfortable to shoot even with the snappier loads.
Hornady 165gr. FTX, listed at 900 feet per second (fps):
Tested velocity, 934fps \ average group size 2.39 inches
Hornady 180gr. XTP, listed at 1,000 fps:
Tested velocity, 832fps \ average group size 2.64 inches
Doubletap 180gr. Controlled Expansion JHP, listed at 1050fps:
Tested velocity, 1007fps \ average group size 2.56 inches
Doubletap 200gr. Barnes Tac-XP, listed at 900fps:
Tested velocity, 835fps \ average group size 2.46 inches
Sig Sauer 200gr. V-Crown JHP, listed at 700fps:
Tested velocity, 689fps \ average group size 2.56 inches
In case you're a handloader, the all-time great .44 Special load as popularized by the great gun writer Skeeter Skelton is 7 or 7.5 grains of Unique behind a 250 grain hardcast lead semi-wadcutter bullet. I fired a few groups with some of these I loaded twenty years ago and found them to average 825fps in the short-barreled Ruger.
This new Ruger is sure to please the .44 Special crowd as well as introduce new shooters to a really nice combination of cartridge and revolver. Give it a try; you might catch the .44 Special virus.
About the Author: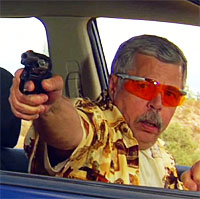 Ed Head is a regular on Shooting Gallery, Gun Stories and Down Range TV. He has worked for almost 30 years in law enforcement, first in the United States Air Force and then with the United States Border Patrol, retiring as a Field Operations Supervisor. During his Border Patrol career, Ed worked in a variety of patrol, investigative and training capacities. Ed has an extensive background as a firearms instructor, having trained thousands, ranging from beginners to police, military and special operations personnel. Having taught at Gunsite for 20 years, Ed first trained there under the world famous shooting school's founder, Jeff Cooper, then later ran the school as the operations manager for more than five years. Ed lives in Chino Valley, Arizona, where he continues to teach and write.