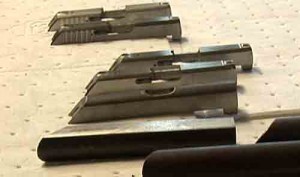 Here we are at the end of June, and you might say that our cup runneth over.  We have been very busy and business has been good, then just today the Supreme Court delivered the decision we have been waiting for in the McDonald case, incorporating the Second Amendment to the states.  This is very good news for all gun owners and freedom loving Americans, coming as it does just a few days before Independence Day.
Are you in the market for a carbine?  If so, we may have what you are looking for.  We have a nice stock Smith & Wesson 15A and 15T carbines and they are presently on sale.  Both are flat-tops with 16" barrels, the 15A has a fixed front sight and standard handguards, and the 15T has flip up sights and a full rail forend.  The 15A normally goes for $1100, and is on sale for $995, and the 15T normally sells for $1500 and is on sale for $1295.  If you have been looking for a Colt carbine, we have those as well.  These are the new LE6940, with flip up iron sights and a full, monolithic rail upper and forend.  Prices on these are $1500.  And, last but not least, we have a small supply of the brand new Ruger SR556C. This is the carbine length (16") barreled version of the SR556 op-rod gun with flip up iron sights. These rifles were very gently used for a day last week during a Ruger product introduction for gun writers.  MSPRP on these carbines is $1900 and we are selling them for $1095, a real bargain considering the Ruger also comes with a nice tactical carry case and three MagPul magazines.
If you are interested in these or other items, call Susan in the Gunsite Pro-Shop at 928.636.4565.
As mentioned above, our friends from Ruger were here again last week.  We toured their Prescott factory, got a look at their production methods, and had a chance to look at and shoot some of their new products.  The factory is impressive with a very streamlined production method designed to produce quality products as efficiently as possible.  This efficiency has allowed Ruger to now produce some 400,000 of their LCP .380 pistols in this plant, and they tell us they expect to hit 500,000 LCPs by the end of this year.  Reaching these production numbers in just a couple of years since the introduction of this pistol is a stunning achievement that also speaks to the demand these little pistols have generated.  Also last week we got a look at the new LCR revolver in .357 Magnum and some new products they have in the pipeline. Go to www.ruger.com for more info.
We have been working on a project with Ruger for a couple of years now, and although I can't yet tell you what it is, they are going to come back to Gunsite in November for another product introduction where "our" project and another surprise are going to be revealed in time for the SHOT show.  Stay tuned.
If you have the opportunity, be sure to celebrate the 4th with the joyful sound of shooting, and throw in a few shots for the McDonald decision while you're at it.
DVC,
Ed

Ed is the operations manager at Gunsite. Ed retired as a Field Operations Supervisor with the US Border Patrol in 2001. In his 30 years of law enforcement experience he has served in a variety of patrol, investigative and training capacities and has been a federal and state certified firearms instructor for more than 25 years. Ed has been a Gunsite instructor since 1991 and a Rangemaster since 1997. He teaches Pistol, Carbine, Rifle, Shotgun and Specialty classes.