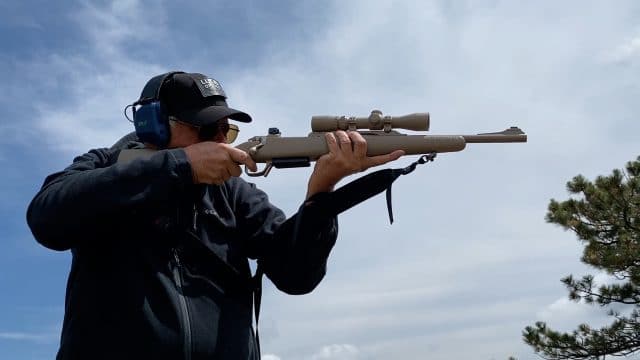 Today I had a chance recently to get out and shoot my Ruger/Robar Frontier Scout Rifle in .338  Federal, which I haven't done in a while.
We needed B-roll for an upcoming TRIGGERED, so I hauled out a bunch of Fusion MSR 185-grainers and cranked it up. Here's the original genesis for the build from back in 2016. Before Ruger rolled out their hugely popular GUNSITE Scout in .308, there was the Ruger M77 Frontier a carbine version of their regular 77 bolt gun that rolled out in 2005 The Frontier was short, light — 16 inch barrel, 6 pounds without optics, 12.5 inch LOP and a quarter rib with Ruger scope mounts machined in to accommodate a forward mounted scope — and unpopular, especially in the heavier calibers. It kicked, doncha know.
Rick Jamison, writing in SHOOTING TIMES, at the introduction said this of the little Frontier:
"The entire Model 77 Frontier carbine is not the typical bolt-action hunting rifle we're used to seeing. It would likely appear odd to someone used to looking at traditional scope-mounted hunting rifles. Yet there are distinct advantages in the forward scope mount design. I am not sure if Jeff Cooper popularized the scout rifle or invented it. And I don't know that it matters because he is identified with the scout rifle. When it comes to firearms, the well-known Mr. Cooper is highly practical, so when he departs from tradition, there is always a good reason for it."
Right about the same time, law enforcement trainer Dave Spaulding stumbled into the Frontier at the 2007 SHOT Show and immediately realized the potential of the gun. Waiting in Tactical Life, Dave said:
"As I walked up and down the aisles of the 2007 SHOT Show in Orlando, I walked through the Ruger booth to check out their extensive line of rifles. On the display, my eyes fell on a compact bolt gun with a forward mounted scope and I immediately thought of the Cooper's General Purpose Rifle concept. I picked it up and decided that this gun needed a bit more investigation."
The Frontier was gone from Ruger's 2009 catalog. We chronicled the birth of the Ruger GUNSITE Scout, the spiritual heir, of the Frontier at great length on DOWNRANGE TV and on the podcast. Dave, Ed Head, Buzz Mills, Ken Jorgensen from Ruger and I had the seminal meeting at GUNSITE to discuss what we would like in a Scout rifle, and Ruger pretty much hit the nail on the head.
I did, however, have a hankering (hey, I'm Southern…cut me some language slack!) for a classic Scout in a heavier caliber than .308, the initial and for a long time the only offering on the RGS…the RGS is now available in .350 Legend and .450 Bushmaster, and if you look around you can find one in 6.5 Creedmoor. I found a As New In Box Frontier on .338 Federal, a caliber I was just taking an interest in, on GunBroker and bought it for a great deal.
To be honest, Billy Wilson of Wilson Combat talked me into the .338 Federal and one of his AR-10 platform Tactical Hunter ARs…this was before Bill had his proprietary calibers. I liked the rifle and I liked the specs on the cartridge. I was asked today if I'd use the .338 Fed for moose and brown bear…yes on moose; no on big big bears. Since I haven't had a chance to take it out into the field yet (and yes, years have passed since I decided to go this route), I thought I'd give you my friend Ron Spomer, who has forgotten more about hunting in the last 20 minutes than I know:
"Shake hands with the 338 Federal. It shoots flatter and harder than a 30-06, produces more muzzle energy than a 7mm Remington Magnum, and recoils less than a 30-06. It will handle not only whitetails, but black bears, elk and moose as far away as anybody is likely to hit them. And it does it with a compact, super-efficient package."
In the end, I talked to my old friend Freddy Blish, who at that point owned Robar. Robbie Barkkman, who founded Robar, built Jeff Cooper's second scout rifle, "Sweetheart," off a Sako action many years back, and I liked the idea of going back to Robar. Robar built the rifle to my spec; as usual, their quality was perfect. The loss of Robar — one of many custom makers/shops that have fallen victim to this horrific year — hurts.
The .338 Scout is an unconditionally great rifle. We used the Ruger rear peep because we were unable to scrounge up a New England custom peep sight, which are rarer than unicorn chastity belts. Good luck on that one. I think we ended up using Pacific Tool & Gauge bottom metal, a Timney trigger and AI mags (the Ruger Scout polymer ones seem to work fine in this rifle). Scope is a Burris 2-7x Scout.
I've been using the Galco Riflemann sling, designed in conjunction with Richard Mann…it's on of the best slings I've ever used, comparing very favorably with Andy's Ching sling (and the Wilderness Tactical version)  and Galco's own Safari Ching sling.
I'd hoped to take the Frontier Scout to Africa for my and Richard's Scout Rifle Safari, but it wasn't ready in time. Here's my Scout Rifle Safari podcast version.
Interesting though…would I do it all over again? Probably not. Frankly, given the success of the RGS, you're pretty much spending a goodly amount of money for only moderate improvements over the out-of-the-box RGS. Secondly, if I wanted to go down a (slightly) less expensive route, I would go with a Ruger American fitted with a Skinner Sights full length rail with a built-in peep sight and an A2 adjustable front post (which required drilling and tapping the barrel, BTW…no big). I have two Americans, one in .450 Bushie and the other in .350 Legend, that I want to try the Skinner rail on. I have the rails, but, as they say, it's in the queue…the damn virus, which shut down my local gunsmith's operation for a while, bogged things down. And I do like the Magpul Hunter stocks, even if they are a bit porky and a bit overpriced. See how easy it is to go down the rabbit hole on aftermarket stuff…
I am thinking that the .458 SOCOM pistol that we'll be building on TRIGGERED early next month might in fact be the basis for the ultimate "Lion Scout," Cooper's name for his "heavy" Scout in .350 Rem Magnum. Short, fast and definitely a thumper. I do acknowledge Kevin Creighton's comments that Jeff Cooper used the optics available at the time, which were nowhere near what we have now. It is likely that I will mount a Trijicon MRO on the .458 pistol, far enough forward to use a magnifier for longer ranges. Given the inherent limitations of the cartridge, essentially duplicating 45-70 ballistics, it's a 200-yard max gun. Yes, Merissa Bishop shoots her .458 bolt guns at 1000 yards, but that's Merissa. The Bishops tell me the latest iteration of the rifles will go to carbon fiber barrels to wring the last bit of accuracy out of a cartridge that was never built for pinpoint accuracy.
I still sort of ponder what I will do with the .338 Scout. It is a masterpiece, but I've honestly drifted toward lever guns for the field. Its not impossible that I may put this one on the block.