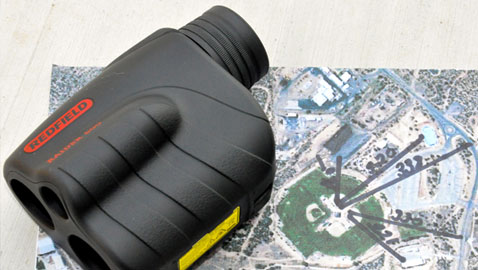 How good are you at judging distance? It's pretty easy on rifle ranges but when shooting in the field at unknown distances guessing the range correctly can be a real problem. Especially at longer ranges, getting the range wrong by as little as 25 yards can be the difference between a hit and a miss. I don't know about you, but I can't tell the difference between 275 and 300 yards using my Mark I eyeball for range estimation. If getting the range right is a problem, a laser rangefinder is the solution. One of the simplest and easy to use is the Redfield Raider 600. At a lightweight 5 ounces and about 4 inches in length, this rangefinder won't weigh you down in the field and fits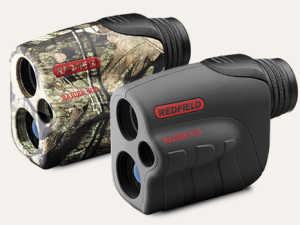 conveniently in a shirt pocket or hanging around the neck with the included lanyard. Looking through the adjustable 6-power eyepiece you only need line up the crosshair with the target, press the button and see the range readout in yards (a Model 600M is available if you prefer meters). Minimum range is 6 yards and maximum is 550, making this little rangefinder suitable for bow, pistol or rifle shooters…and even golfers, I suppose.
Precision shooters (okay, snipers) are trained to make a range card whenever they get in a shooting position. This usually means drawing a diagram of the terrain features they can see and computing and writing in the ranges. Here's an easy way to practice with a rangefinder and make up your own range card: Go online to one of the mapping programs like Google Maps or MapQuest and look up your address. Pick the satellite image and zoom in until you have an area around your house that extends out to 400 or 500 yards and print this picture. Now take your rangefinder and get the range from the front, back and sides of your house to everything you can see and draw in those ranges on your map. For more practice, take the rangefinder with you on hikes and try guessing distances to terrain features then use the rangefinder to see how accurate your guesses are. You'll probably be way off at first but your ability to estimate ranges will improve with practice.
I'm a big fan of things that work well, are simple to operate and don't cost a lot of money. The Redfield Ranger 600 laser rangefinder fits that description. For more information go to www.redfield.com.
About the Author: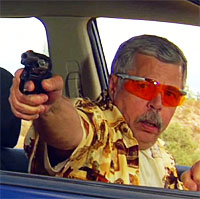 Ed Head is a regular on Shooting Gallery, Gun Stories and Down Range TV. He has worked for almost 30 years in law enforcement, first in the United States Air Force and then with the United States Border Patrol, retiring as a Field Operations Supervisor. During his Border Patrol career, Ed worked in a variety of patrol, investigative and training capacities. Ed has an extensive background as a firearms instructor, having trained thousands, ranging from beginners to police, military and special operations personnel. Having taught at Gunsite for 20 years, Ed first trained there under the world famous shooting school's founder, Jeff Cooper, then later ran the school as the operations manager for more than five years. Ed lives in Chino Valley, Arizona, where he continues to teach and write.