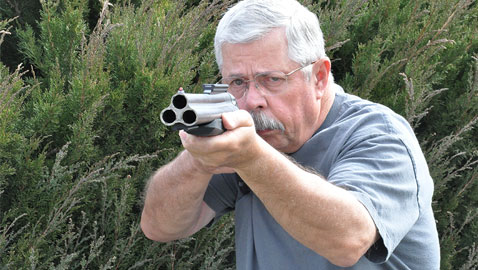 The Chiappa triple-barrel shotgun may be the ultimate "Get off my lawn" or burglar deterrent. After all, what could be more intimidating than looking down the barrel, make that the barrels, of a triple-barreled 12 gauge shotgun?
A couple of years ago Michael Bane, American Rifleman editor Mark Keefe and I had a great time shooting a new triple barreled shotgun from Chiappa. We passed it back and forth, fired three quick shots and laughed our butts off. This gun is pure fun. At the time I couldn't figure out what anyone would do with such a gun, other than have fun shooting it, but time passed and lo and behold, Chiappa came out with a tactical version and the hook was set. Reeled in to the Chiappa booth at SHOT I beheld a short barreled, black stocked, menacing looking triple barrel with not one, but two Picatinny rails. I put in an order and waited in eager anticipation. Eventually the gun showed up but I put off writing because I still couldn't figure out what it was for. After all, a semi-auto shotgun can be fired just as fast, maybe faster, and pumps and semis hold more ammunition. Eventually it came to me: Looking down the business end of a triple barreled 12 gauge shotgun is the definition of intimidation. This is the king of all "get off my lawn" guns!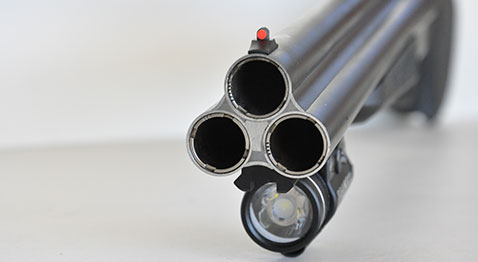 The origins of this gun are a bit confusing as well. Marked as the Chiappa Triple Threat it has a big sticker running down one of the barrels announcing it is a Charles Daly brand. The gun itself is inscribed with the legend "Chiappa USA Ltd, Dayton OH, Akkar – Turkey". The black butt stock and forend are plastic with impressed checkering and there is a thin, hard rubber recoil pad. The barrels are 18.5 inches long, the length of pull is 14.5 inches and the overall length is 36 inches. There is a 7-inch long Picatinny rail atop the top barrel and a 4-inch rail resides between the two lower barrels ahead of the forend. Front and rear sling swivel mounts are included and the safety is a two-position tang mounted style that has to be manually set to "S" for safe. The barrels are finished in matte black and the only color on the gun is the red fiber optic front sight. The gun weighs 7 pounds, 13 ounces empty and the balance is decidedly forward, what with a light, hollow plastic stock and three barrels hanging out front. If you're looking for a serial number it is inscribed under the top lever and can be seen when the lever is pushed left to right to open the action. The gun has an automatic extractor so hulls are lifted up to be plucked out but not ejected. I would like the gun better if the length of pull was shorter – 14.5 inches is ridiculous – and the recoil pad was softer. Unfortunately, there is no easy fix, as a hollow plastic stock doesn't lend itself to shortening and installing a new pad.
If you've ever taken down a double-barreled shotgun you'll be familiar with taking the Triple Threat barrels off the receiver. Remove the forend by lifting up the under-mounted lever, open the action and lift the barrels off the frame. The gun comes with a fitted hard case with sections for the two pieces. While three choke tubes are installed in the barrels, two more and a choke tube wrench are included. The two extra tubes are improved modified and full chokes. The tubes installed in the barrels are improved cylinder in the lower left barrel, modified in the lower right and cylinder bore in the upper barrel. While I suppose it's nice to have five choke tubes available, my preference for a tactical shotgun would be to have all three barrels fitted with improved cylinder choke tubes. As these choke tubes are industry standard it would be a simple matter to buy a couple of extra tubes of your choice from Brownells and get the gun patterning the way you would like with your choice of load. When loaded, the gun fires the right barrel first, the left barrel next and the top barrel last. Considering the way the choke tubes are installed that seems backwards to me – the order is from tightest to widest pattern. Generally, you want it the other way around, going from widest to tightest (as in bird hunting). Trying to figure out a proper defensive choke combination with the tubes provided makes my head hurt so I think I'll stick with my initial conclusion and go with three improved cylinder tubes.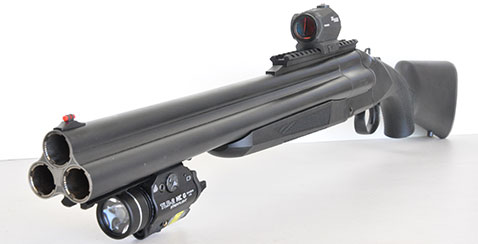 Upon receiving the gun I mounted an excellent Streamlight TLR-2 G light and combination green laser on the lower rail. This 800 lumen light is my absolute favorite weapon light and has sufficient illumination to light up about half my "lawn", that being the front half of my two-acre yard. Green lasers are my favorite as well, especially when combined with red dot optical sights. Towards that end I mounted a Sig Romeo 5 red dot sight on the top rail. This is my favorite "go to" red dot these days, as it is inexpensive, has long battery life and goes to sleep when not in use. If I were inclined to keep this gun as a primary defensive shotgun that's the way I would set it up.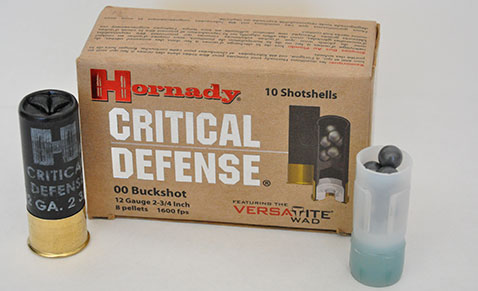 The gun has been completely reliable in my testing and the barrels are well regulated at typical defensive distances where you might employ a shotgun. My best patterns with a selection of 00 buckshot were achieved with two outstanding loads. The first is the Hornady Critical Defense 8 pellet load at an astonishing 1600 feet per second and the other is a Federal Premium Law Enforcement 9 pellet load at 1145 feet per second using Federal's Flitecontrol wad. In this gun, my favorite 14" gun and numerous student guns, these two loads have proven to pattern the tightest.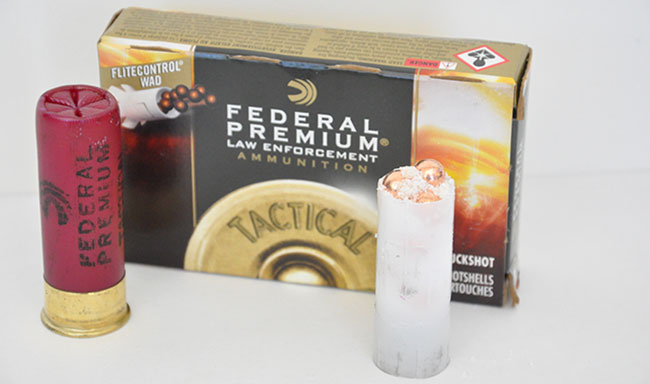 With a suggested retail price of $1995 and a street price of around $1495, if you can find one, the Chiappa Triple Threat is a hard sell to someone who can buy a Remington 870 pump for around $350. Looking at the Chiappa web site lately they list the Triple Threat but the Tactical model can't be found. I don't know if this means it has been dropped from the line or not. Regardless, for the man who wants something different – way different – the Chiappa Triple may be just the thing. There's no denying it's the most intimidating shotgun you can buy.
For more information:
About the Author: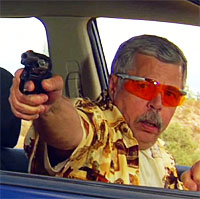 Ed Head is a regular on Shooting Gallery, Gun Stories and Down Range TV. He has worked for almost 30 years in law enforcement, first in the United States Air Force and then with the United States Border Patrol, retiring as a Field Operations Supervisor. During his Border Patrol career, Ed worked in a variety of patrol, investigative and training capacities. Ed has an extensive background as a firearms instructor, having trained thousands, ranging from beginners to police, military and special operations personnel. Having taught at Gunsite for 20 years, Ed first trained there under the world famous shooting school's founder, Jeff Cooper, then later ran the school as the operations manager for more than five years. Ed lives in Chino Valley, Arizona, where he continues to teach and write.