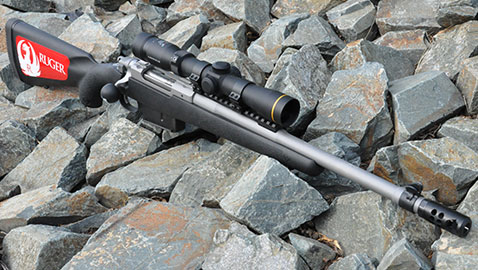 What the world needs now is another bear rifle, right? I mean, everybody has a bear story and everybody has an opinion about what is needed for bear defense, even though most of us have never encountered a dangerous bear in the wild. Shooters and hunters love to argue and extol the virtues of their favorite gun or load and some will argue to the death in support of their preference. It all makes for lively conversation and bringing up bears among a group of shooters will always start a debate.
The folks at Ruger tell me the 450 Bushmaster rifles in their lineup are very popular. Everyone from hog hunters and folks restricted to straight walled rifle cases for hunting are getting into the 450, not to mention everyone needs a bear rifle, right? Ruger has a Ranch Rifle in the American Rifle line chambered in 450 Bushmaster as well as a Scout rifle. I've tested both and found them to be accurate, excellent rifles in all respects. The Scout version first came out as a blued rifle with an attractive walnut stock and now we have a version in stainless steel with a composite stock I'm going to dub the Ruger Alaskan Scout. Well suited to hunting in a wet climate and in a caliber suitable for bears and other big critters, the Alaskan designation seems reasonable to me.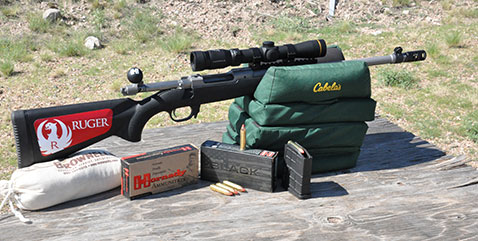 Let's start at the muzzle and work our way back: The rifle has a big 'ol blued muzzle brake screwed onto the threaded barrel. In a powerful caliber like the 450 Bushmaster this really helps to mitigate recoil in a rifle weighing just over 6 pounds. Of course, you can remove the brake if you wish or screw on various brakes, flash hiders or suppressors. The stainless steel barrel is cold hammer forged and free floated in the composite stock. In my experience, this combination provides for excellent accuracy and a smooth, easy to clean bore. Atop the barrel we next find a Picatinny rail for the mounting of scout scopes or other optics such as red dots. Underneath, there's a magazine well for AI style box magazines. The rifle comes with one magazine holding four rounds of 450 Bushmaster ammunition. As it turns out, the 450 Bushmaster and .308 Winchester cartridges share a common case head so the receiver and bolt of the Alaskan are basically a .308 Scout rifle. The magazines interchange so you can use your .308 magazines from AI, Ruger or MagPul in the 450, each with a reduced capacity of one or two due to the fatter case.
The action is pure Ruger Model 77, a slightly modified Mauser style with a huge extractor and semi-controlled feed, two features that might just save your skin when running the bolt hard in a dangerous game situation. The receiver is made to accept the Ruger scope rings that come with the rifle, in this case stainless 1" rings for the mounting of conventional telescopes. As well, the rifle comes with an excellent set of iron sights you can use as back-up sights or primary sights should you wish to keep weight and bulk down; it's an excellent truck gun in this configuration.
Like all the Scout rifles in their lineup, Ruger has included a much-appreciated soft recoil pad and removable spacers to adjust the length of pull. I run my Scouts with all the spacers removed and suggest the shorter the rifle the easier it handles, but you're free to set your rifle up to your preference.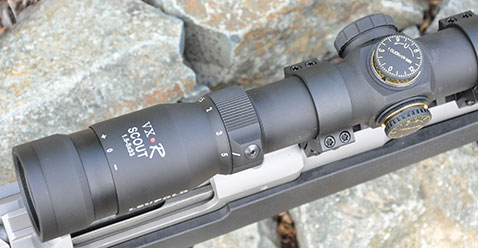 Get a group of shooters together and if you want to start another "discussion" mention scout scopes. They come in a number of varieties from several manufacturers. Considering I am setting this particular Scout up as a Texas hog rifle I chose to go with Leupold's excellent VX-R 1.5-5 intermediate eye relief Scout scope with a duplex Firedot reticle. This is an outstanding scope, one a number of my friends and clients have installed on their scout rifles and hunted with all over the world. I find I have all the advantages of a low powered, forward mounted scout scope while having the ability to dial it up for better target identification and shot placement. Whether on 1.5 or 5 power I can shoot with both eyes open, it's very fast for snap shots and has outstanding clarity and low light capabilities due to the 30mm main tube and Leupold's excellent optics. The Firedot is an adjustable red dot in the center of the reticle that really helps with getting on target  – especially on large, nasty black critters. The dot requires no turning on or off as it goes to sleep five minutes after the rifle is set down and comes back on instantly when it is moved or picked up. Battery life is measured in years, so no worry there. If you're going on safari take a spare just in case but you'll likely not use it.
Until recently Leupold only had 30mm scope rings available in medium height. Since the idea with most scopes, especially scout scopes is to get them as low as possible I'm happy to report Leupold now has 30mm rings in a low height and they work perfectly with this 1.5-5 scope. In order to get a full picture through the scope on 5 power I removed the rear ghost ring sight from the receiver and moved the scope back until it was just right. While some argue that the purpose of forward mounted scopes is to be clear of the ejection port for malfunction clearing or loading single rounds I've found neither of these issues to be a problem with Ruger Scouts. Brass ejects cleanly without hitting the scope and falling into the action, single rounds can be loaded by dropping them into the action with an empty magazine and closing the bolt and the huge, open ejection port provides plenty of room for getting my fingers in there if need be. Too, in the case of a magazine fed rifle like this Ruger, in most cases of a round hanging up, pulling the magazine out will allow the round to fall free. There's no need to get your digits in there and fumble around.

So how does it shoot? As I expected this rifle is a tack driver with a very nice, crisp trigger breaking at a little over 4.5 pounds. While Remington makes 450 Bushmaster ammunition I've never seen any so I've been using the excellent Hornady Black. This pushes a 250 grain bullet at slightly over 2200 feet per second and is very, very accurate. Recently Hornady came out with a 450 Bushmaster load in their Custom lineup, and as far as I can tell it is exactly the same ammunition as the Black. I used both interchangeably during testing and could detect no difference so I assume this is a marketing strategy. I did initial zeroing at 100 yards and the rifle consistently shoots three shot groups of really big holes, often touching in a large cloverleaf. Deciding upon a 150 yard zero, I adjusted the groups to be just under 2 inches high at 100 yards then confirmed the groups were centered at 150 yards. With this setup a hog shooter should be able to hold center, without worrying abut holdover, from right off the muzzle out to about 200 yards and still be in the vital zone of a hog.
Finally, I added two excellent accessories, a Lock-N-Load bolt ball from Hornady and a Rhodesian Sling from Andy's Leather. The bolt ball is nothing more than a rubber ball that fits over the Ruger's round steel bolt handle and makes grasping and running the bolt quicker, more positive and more comfortable. Andy's sling is the best I've ever used, doubling as a carry strap and a shooting sling that is really fast to get into and rock solid. Highly recommended and top quality, Andy's slings come with sling swivels installed.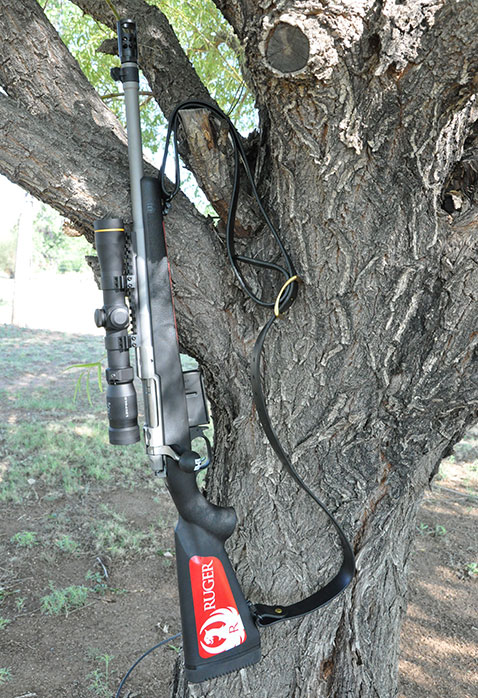 So there it is, the Ruger Alaskan Scout all dressed out and ready for hogs, bears and just about anything in between. With .45-70 power in a bolt-action package it will handle anything on this continent.
For more information:
www.ruger.com
www.leupold.com
www.hornady.com
www.andysleather.com