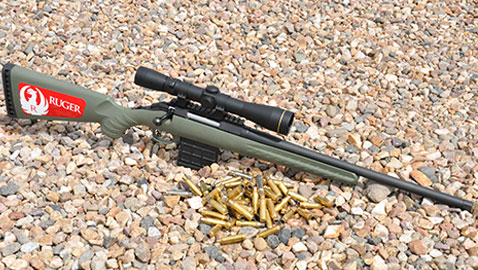 At the risk of repeating myself, have I mentioned Ruger American rifles are incredibly accurate? Not only that, they are nicely featured and affordable as well. What's not to like? When I learned Ruger was making a new version of the Predator in .308 with an improved, stiffer stock that accepts AI style magazines I knew I had to try one.
Let's back up slightly and talk about why the new stock and magazines are important. While the American rifle series have proven themselves they have not been without criticism.  The stocks are said to have too much flex and the forend sometimes presses on one side of the barrel, needing relieving to be free floated. The magazines, holding three or four rounds experienced some growing pains before Ruger got them sorted out but some folks, myself included, wanted the rifles to accept larger capacity box magazines.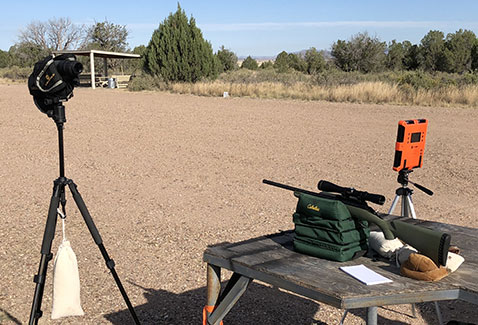 This new rifle solves both these issues while retaining the features that make these rifles so reliable and accurate. The all-new stock may look the same as the previous ones but it is quite different and won't interchange. It not only accepts AI style magazines from Ruger and Magpul but it is reinforced and stiffer. Five and ten round capacity magazines are available and are the same pattern as those used in the Ruger Precision Rifle. Yes, your RPR magazines work in this rifle.
Other features include a Picatinny rail on the receiver, fore and aft sling swivel studs, a medium contour 18" threaded barrel and the excellent Ruger Marksman adjustable trigger that provides a light, crisp let-off and is also the same trigger used in the RPR. The barrels are exceptional, being cold hammer forged. This means the bores are very smooth, require no break in and are very easy to clean. In my experience you can stop using harsh solvents and chemicals designed to dissolve copper and lead and clean these rifles with a mild solvent, a light brushing and clean patches. I use Ballistol and no longer worry about poisoning myself with ammonia and methyl-ethyl bad stuff. Ballistol smells funny but you can use it to treat wounds, clean and lubricate firearms, treat leather and plastic and even drink it, if you like (not recommended). Anyway, my point is, these barrels are really smooth, don't scrape off lead and copper from the bullets to any appreciable extent and account for the excellent accuracy I've experienced with these rifles.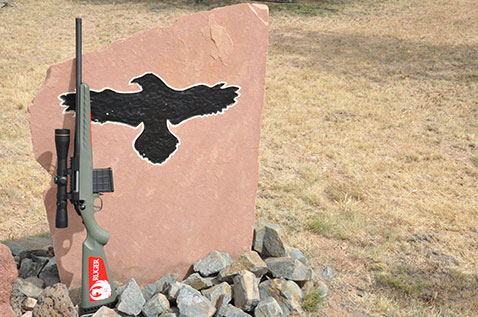 For testing I installed a reliable Leupold 3-9 scope I keep around for such purposes and headed to the York rifle range at Gunsite. While some may not consider it work, sitting in the sun shooting group after group can be trying….I know, stop complaining. The reason I bring this up is because two recent additions to my rolling range bag pickup truck have been a really big help in making life easier. The first is a wonderful Leupold 12-40X60mm HD spotting scope. No longer do I have to trudge downrange, over and over to check targets. The magnification and clarity of this spotter makes seeing little holes in the paper easy and I can't imagine how I ever got by without one. I recently acquired another item I've been lusting for, a Doppler radar chronograph from my favorite parts and gear folks at Brownells. The Labradar chronograph is a huge time saver. It accurately records every shot so I can shoot my groups and record velocities at the same time, no longer having to shoot 10 or more rounds through chronograph screens to get my data. The Labradar records highest and lowest velocity and provides an average. It also does a bunch of other wiz-bang computations I haven't figured out yet that would delight a ballistician.
I tested four brands of ammunition. Hornady's 168 grain Match load gave me an average group size of .54 inches. Federal's 165 grain Bonded soft point averaged 1.34 inches. Sig Sauer's 168 grain Match load averaged .626 inches and the Barnes 175 grain Precision Match load produced a .75 inch average group size. The overall average group size for all groups fired came in at .81 inches and the smallest group I managed was .31 inches with the Barnes load. Any way you look at it, this rifle shoots!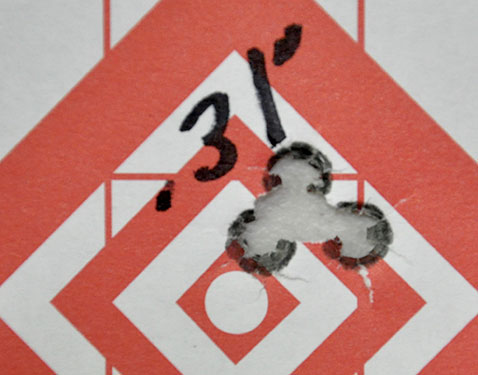 Stay tuned because I plan on creating an economy Scout rifle with this newest Ruger. Back when we designed the Ruger Gunsite Scout rifle we wanted a magazine fed, composite stocked rifle with a tang safety but Ruger wasn't making one and the development costs would have made our project unaffordable. Now that Ruger has this rifle I see it as an ideal platform for a Scout. It weighs a mere 6.2 pounds and has an overall length of 38 inches. If I can persuade someone to make an extended rail (please, Ruger?) as an accessory then anything from intermediate to long eye relief scout scopes could be mounted. As I said, stay tuned; I'm working on it.
In the meantime this is a nice, lightweight, affordable, and above all else, accurate rifle. As my mentor Jeff Cooper would say, I've got mine, the line forms to the right.
For further information:
www.ruger.com
www.gunsite.com
www.leupold.com
www.labradar.com
www.brownells.com
www.hornady.com
www.federalpremium.com
www.barnesbullets.com
www.sigsauer.com
About the Author: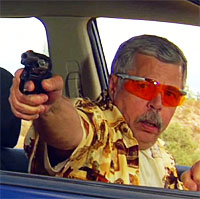 Ed Head is a regular on Shooting Gallery, Gun Stories and Down Range TV. He has worked for almost 30 years in law enforcement, first in the United States Air Force and then with the United States Border Patrol, retiring as a Field Operations Supervisor. During his Border Patrol career, Ed worked in a variety of patrol, investigative and training capacities. Ed has an extensive background as a firearms instructor, having trained thousands, ranging from beginners to police, military and special operations personnel. Having taught at Gunsite for 20 years, Ed first trained there under the world famous shooting school's founder, Jeff Cooper, then later ran the school as the operations manager for more than five years. Ed lives in Chino Valley, Arizona, where he continues to teach and write.