Apparently, there are good reasons why I don't work in marketing for a major firearms manufacturer. I never would have suggested producing rifles in an obscure caliber like 450 Bushmaster and I certainly wouldn't have thought the caliber would quickly become the number one seller. Such is the case at Ruger, where someone had the foresight to produce rifles in this caliber, and now, less than a year later, the 450 Bushmaster is Ruger's number one selling rifle caliber. In fact, Ruger now makes at least four rifles in 450 Bushmaster. First came the American Ranch Rifle, then the Scout Rifle and now, the AR 556. But wait, there's more; you can also get a Ruger #1 in 450 Bushmaster. While I haven't tested the #1 I have tested all the others and each has proven to be excellent in its own way.
The rifle I'm shooting now is a semi-automatic AR 556 that appears to be a 5.56/.223 rifle with a big bore barrel and a slightly modified bolt. Because the bolt has been modified the two parts don't interchange, but otherwise everything else pretty much remains the same as the 5.56 version. The barrel is 18.63 inches in length and is free floated in an M-LOK handguard. The barrel is threaded 11/16"-24 and comes with a Ruger radial port muzzle brake that works quite well. Of course, as is Ruger's practice these days, the barrel is hammer forged chrome-moly steel with 5R rifling. These barrels are extremely accurate and very easy to clean. The pistol grip and collapsible buttstock are from Magpul, giving a length of pull from 11.10" to 14.40". The overall length of the rifle is from 35.60" to 38.90" and it weighs 7.4 pounds empty.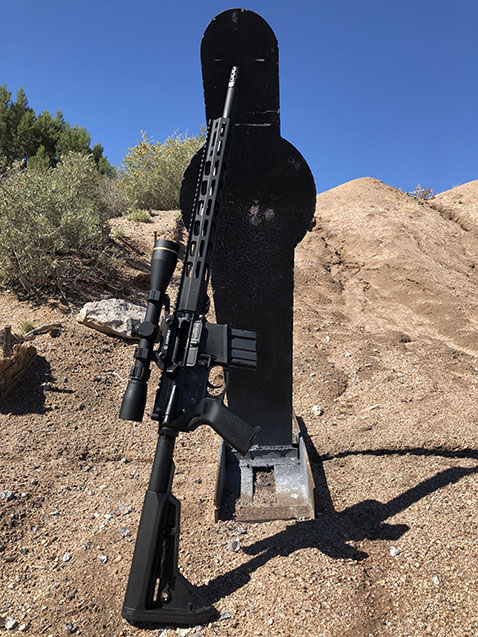 Ruger ships the rifle with one steel magazine holding 5 rounds of 450 Bushmaster. It looks quite a lot like a GI 20 round M16 magazine with a unique rounded follower. Scrounging around in the magazine box I found several AR 20 rounder's from Magpul and a couple of very old military aluminum magazines. First the bad news: Although you can stuff a bunch of 450 Bushmaster rounds in a GI 30 round magazine they will not feed, as the top round ends up pointing up at an impossible angle. And plastic Magpul magazines will not accept 450 Bushmaster rounds as there is a little rail in the front/inside of the magazine that the follower rides on and it doesn't allow clearance for the bullet tip. Now for the good news: GI 20 round magazines will hold 8 rounds of 450 Bushmaster and feed just fine. And speaking of magazines, I found when loaded fully with 5 rounds the Ruger magazines would not seat if the bolt was in the forward position because there is no room for the rounds to compress far enough to lock the magazine in place. Not a problem if the bolt is locked to the rear. I eventually realized the best way to load the rifle is to load the magazine with 4 rounds, cycle the action or let the bolt go forward, then remove the magazine and add one more round. This gives you a 4+1 setup.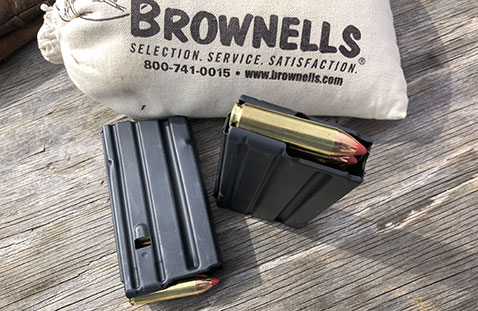 Several years ago Ruger came out with their version of an improved trigger, the Elite 452. At first they sold it as an after-market option while still installing crummy GI style Mil-Spec triggers in their ARs (as does almost the entire industry, by the way). Fortunately, now Ruger ships their rifles with the improved trigger installed so you need not go shopping for another trigger to get the most out of your rifle. The trigger on this sample tested exactly as advertised, being a crisp two-stage design breaking at 4.5 pounds. It's a very good and useable trigger.
I mentioned earlier the bolt on this rifle would not interchange with one in a 5.56 caliber rifle. That's because Ruger tapered the lugs on the 450 bolts to support the larger case head of this ammunition, a move I see as a safety improvement Ruger could have gotten away with skipping, but it shows Ruger's commitment to the safety of their customers.
Getting the rifle ready for testing took a little effort. I had to round up ammunition, both from Hornady and Remington and had to come up with a scope and mount. As I've tested earlier 450 Bushmasters the only ammunition I could lay my hands on was the excellent Hornady Black, consisting of a 250 grain FTX (red plastic tipped) bullet at 2200 feet per second. Now, Hornady markets the exact same ammunition in their Custom lineup as well. The Remington ammunition I obtained is their 260 grain Accutip (green plastic tipped) at an advertised velocity of 2180 feet per second. While I've not tried it, I see Remington now offers a 275 grain Barnes XPB bullet load as well.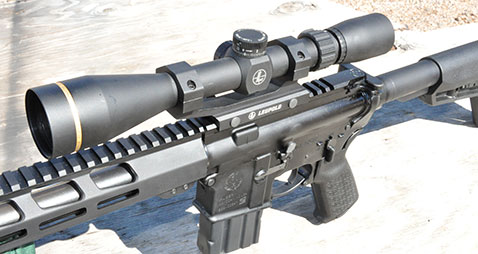 For a scope I went straight to my go-to scope company, Leupold, and grabbed onto a new VX-Freedom 3-9 450 Bushmaster scope in their excellent AR mount. This scope came with a 450 Bushmaster calibrated elevation dial in the turret and Leupold can make you a custom dial for the load of your choice. In this case it was calibrated to the Hornady ammunition and worked great. After zeroing at 100 yards you loosen three little screws, re-adjust the turret to "1" and then you're ready to dial up your yardage. This is the perfect scope for this rifle in my estimation.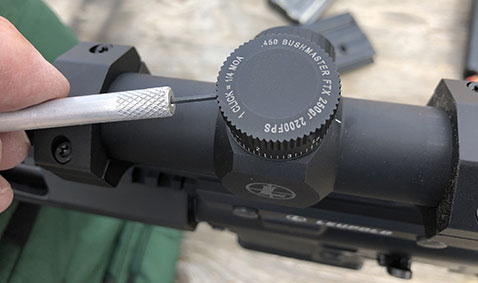 During my testing I used the excellent Lab Radar Doppler chronograph obtained from Brownells. It's an amazing device that can accurately record velocity and compute high and low velocities, the average velocity, standard deviation and more. Here were the results I managed, shooting three shot groups from a sandbagged benchrest at 100 yards on Gunsite's York Range.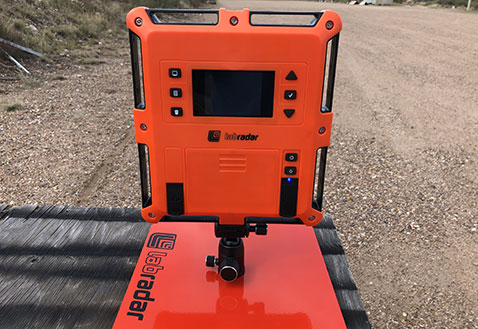 Remington 260 grain Accutip
Largest: 1.51", Smallest: .64", Average 1.076"
Average velocity: 2116 feet per second
Hornady 250 grain FTX
Largest: 1.28", Smallest: .38", Average: 0.77"
Average velocity: 2303 feet per second
If you're wondering what shooting a 450 Bushmaster through a couple of hundred rounds off a Benchrest was like let me say it wasn't as bad as you might expect. While the rifle kicks the recoil is straight back and is more of a push than a sharp blow. By the way, the Ruger chugged along without a single malfunction during my test. If you're looking for a reliable MSR style rifle shooting a powerful cartridge akin to the .45-70 you need look no further than the Ruger AR 556 in 450 Bushmaster.
For further information:
www.ruger.com
www.gunsite.com
www.leupold.com
www.brownells.com
www.hornady.com
www.remington.com
www.labradar.com