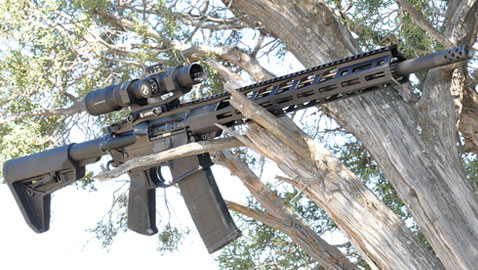 It's hard to believe the AR-15/M-16 design is still with us after some 50 years of military and civilian use. In a world where guns come and go, especially in military service, 50 years is a really long time. How could a rifle conceived so long ago be relevant and in high demand, even today? I think it has to do with several factors, not the least of which is how easy the rifle is to shoot. I first shot the military qualification course and earned an Expert rating with the AR-15 when I was a junior in High School, a very long time ago. Then there's adaptability; the rifle has undergone constant upgrading and improvement and is available in a huge number of variations. I like to think of the AR as the '57 Chevy of rifles – if you want to customize it to your own needs there are gazillions of parts and accessories available. Too, the rifles are easy to take apart and put together. Lots of folks buy parts and build their own unique rifles.
In case you haven't been paying attention, the prices for ARs have tumbled in the last year or so and some very nice rifles are available at bargain prices. A case in point would be Ruger's new AR 556 MSR. As you may recall, Ruger began making high end ARs of the gas piston design several years ago. These rifles are called SR 556s and the gas impingement designs that followed are AR 556s. What's the difference? Some folks think piston guns are more reliable and possibly more accurate but you can't prove it by me. The gas guns use the original AR system where hot gas from the barrel is transferred by a gas tube to the bolt carrier while the piston guns use that gas to operate a piston striking an operating rod that interacts with the bolt carrier. If light weight and low cost are your goals, stick with a gas gun, as piston guns are generally heavier and more expensive.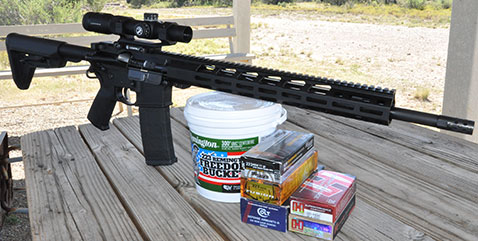 This new Ruger fills a niche in a very competitive and over-stocked market. With a suggested retail price of $899 and a street price of around $550 it's a lot of rifle for the money. Ruger calls it the MPR, for Multi Purpose Rifle and it's designed to fill roles from defense to hunting and competition. It's a bit different than the ARs you are accustomed to seeing.  How so? Well The first thing you'll notice is the barrel is thin and 18 inches long as opposed to the usual thick 16-inch barrels in common use. The barrel is cold hammer forged from chrome-moly steel and has precise 5R rifling to provide exceptional accuracy, is threaded for accessories or suppressors and comes equipped with an efficient muzzle brake. In case you haven't experienced one of these Ruger barrels recently I am totally sold on them, not only for their accuracy but because they are so smooth and polished on the inside there is no break-in needed and they clean up with a few passes of a patch and solvent. The old days of using harsh chemicals and scraping fouling from barrels are gone and I'm using Ballistol, a non-toxic light lubricant and cleaner for all my cleaning chores with these excellent barrels.
The MPR is outfitted with a flat-top receiver with Picatinny rail running the length of a new free float handguard and, since everyone replaces the pistol grip and collapsible stock with the excellent Magpul products these days Ruger went ahead and installed these parts from the start. The rifle ships with one Magpul 30 round PMAG magazine. There are no sights.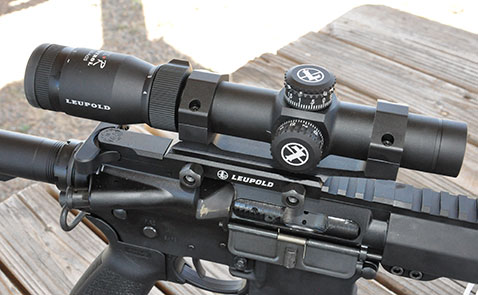 Considering the mult-purpose role of the rifle I think Ruger rather expected customers to set the rifle up with sights appropriate to their needs. That's what I did; I mounted a Leupold 1.25 – 4 VX-R Patrol scope with the Firedot SPR (Special Purpose Reticle) on the rail in Leupold's AR mount. This is an excellent scope for everything from close quarters battle or defensive use out to long range. The Firedot red dot in the center of the duplex SPR reticle is motion activated so it comes on when the rifle is picked up and goes to sleep when the rifle is set down for more than 5 minutes. The reticle can be used for ranging and holdovers and comes with target turrets for easy adjustments. Holdover lines in the SPR reticle allow quick holds out to 850 meters.
The trigger – you have to feel this trigger. Ruger's own Elite 452 trigger has replaced the nasty, gritty military trigger you might have experienced in other ARs. My electronic trigger gizmo shows it breaking crisply at 4 pounds, 4 ounces. Having this trigger installed in a bargain priced rifle is a real bonus, considering these triggers sell for over $150 on www.shopruger.com.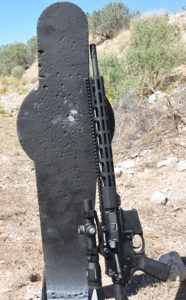 I set the rifle up for a 200 yard zero then went back to 100 yards to shoot some groups. I like a 200 yard zero, by the way, because I can hold center from just off the muzzle out to around 235 yards and still stay within an 8" vital zone without dialing up or using holdovers. At 300 yards I hold on the neck of a silhouette target and at 400 I hold on top of the head to drop shots into the chest vital zone. Shooting off sandbags I used 6 different loads and fired three, 3 shot groups with each one. I then measured and averaged the groups. Now, an explanation is in order: If I had been trying to shoot little, tiny groups I would have used a much higher powered scope and if I had been trying to prove what a wonderful shot I am I would have shot many groups, taken the best ones and averaged them. But I figure you want to know what to expect if you shoot this rifle with this scope so I kept it real. My overall average for 18 groups was 1.43 inches, a respectable average for any AR-type rifle, and my best groups hovered around .70".  Keep in mind this was with a low powered optic and six brands of ammunition ranging from light varmint loads to inexpensive full metal jacket range ammo and premium hunting and defensive loads.
Here are some figures I recorded:
Colt Defense (DoubleTap) 64 gr. bonded, 2861 fps, best group 1.27"
Hornady 75 gr. Boat Tail Hollow Point Match, 2768 fps, best group 1.49"
Federal 62 gr. Fusion, 2843 fps, best group 1.29"
Sig Elite 77 gr. Open Tip Match, 2479 fps, best group .78"
Hornady Superformance Varmint, 35 gr. NTX, 3880 fps, best group .70"
Remington 55 gr. Full Metal Jacket, 3081fps, best group 1.12"
If you want an AR pattern rifle that's reliable, inexpensive, nicely featured and would make an excellent base for setting up a defensive, training, competition or hunting rifle the AR 556 MPR may be for you. I know it's for me; I already sent Ruger the check. This one is a keeper.
For further information: