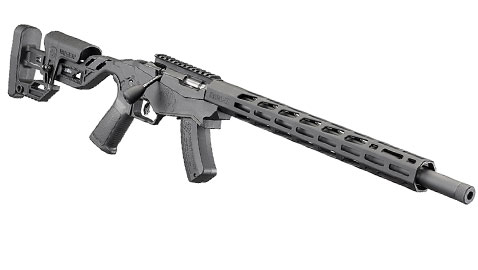 My friend Michael Bane describes it as Ruger disrupting the market. What he's referring to is Ruger's introduction of new products that fill a need, create a new shooting category and launch new ancillary products, ammunition and shooting sports as a result. It shakes up and energizes the market; Ruger creates a huge demand and everybody profits. Recent disruptions have included the LCP .380 pocket pistol, the American Rifle line, the Scout Rifle and the Ruger Precision Rifle.
Let's examine the Precision Rifle as a case in point. Prior to its introduction the competitive Precision Rifle Series was growing slowly with the price of admission being the biggest obstacle for many. Buying or building a precision rifle for competition can easily cost $5000 or more but when Ruger introduced the Precision Rifle shooters could have a very accurate, competitive rifle for around a thousand bucks. Yes, scopes are expensive too, often costing more than the rifle, but you get my point; the cost of admission came down considerably and people flocked to the sport of long-range precision rifle shooting and competition.
As precision rifle competition became more popular another need arose, that being training rifles and rimfires. Ruger produced the Precision Rifle in .223 for a while to address the training rifle need then disrupted the market again with an affordable .22 Long Rifle version of the Precision Rifle. You might ask, what's the point? Well, have you ever heard of NRL 22, a division of the National Rifle League for .22 rimfire rifles? You see, in many places where folks want to shoot there isn't enough space to get out to 1,000 yards or more but you can run a .22 match anywhere you have 100 yards available. Wait a minute, shooting .22s at 100 yards? Oh yes, as a matter of fact I saw a course of fire from a recent competition where the longest-range target was 246 yards. Imagine that! The closest targets are set at 25 yards and are one-quarter inch in size. How's that for a challenge?
Ruger calls it bringing the big-gun experience to the rimfire world. Based upon Ruger's American Rimfire action, the rifle has an 18" cold hammer forged barrel, threaded for the addition of accessories, i.e., silencers. The barrel is free-floated in a M-LOK handguard and the Picatinny rail scope base includes 30 Minutes of Angle (MOA) of elevation that increases the long-range capabilities of the rifle. The bolt throw can be adjusted from a very short, quick throw to one the same as the big brother Precision Rifle should you wish to use the Rimfire as a trainer. Unlike the bigger rifle, the stock doesn't fold, nor does it need to for bolt removal, but the comb height and length of pull adjust in the same way. The bolt handle, trigger, thumb safety and pistol grip are just like the ones on the bigger rifle. And about that trigger… it's fantastic right out of the box but can be adjusted from about 2.25 to 5.0 pounds. On my sample there is a tiny, almost imperceptible, bit of creep then the trigger releases with the classic "breaking a glass rod" snap at about 2.5 pounds. Also like the Precision Rifle, the barrel can be replaced using AR tools and many of the parts such as the pistol grip can be swapped out with off the shelf AR parts.
The rifle ships with one 15 round Ruger BX-15 magazine (except in states where prohibited – in that case you get two 10 round magazines) and can use any Ruger 10-22 magazines. I discovered the BX-15 is just the right length for shooting off bags or a bipod; the 25 round mags are a bit too long and the 10 round magazines are slower to remove and replace. The BX-15 is the way to go.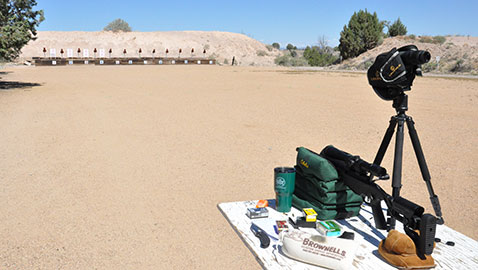 When we first saw this rifle and spent a day shooting it during a Ruger writer's event at Gunsite we used excellent Eley target ammunition. It took me awhile to round it up but I discovered Remington also markets Eley in several flavors so I waited to test the rifle until I could secure samples for testing. In the meantime I pondered scopes. While any good telescope would do, the issue in NRL 22 is shooting those 25 yards targets. So what's the problem? Well, most riflescopes only focus down to 50 yards, and while .22 scopes focus to 25 yards most are low powered – fixed 4 powers and 2-7 or 3-9 variables. NRL 22 competitors like variables with more power that focus down to 25 yards. I settled for mounting a Leupold side focus 6.5-20 and found that setting it on 16 power worked well for group shooting at 50 yards. Shooting off bags from a Benchrest I obtained the following results: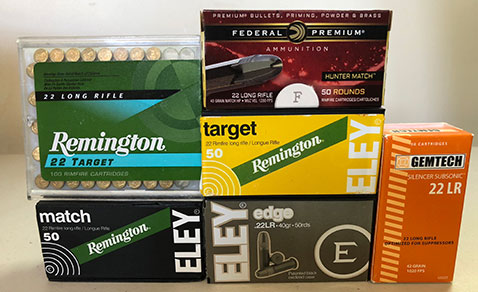 Federal Hunter Match:  Smallest .43"  Largest 1.37"  Average .752"
Eley Edge:  Smallest .35"  Largest 1.38"  Average .74"
Remington Eley Match:  Smallest .55"  Largest 1.1"  Average .738"
Remington Eley Target:  Smallest .13"  Largest 1.33"  Average .872"
Remington 22 Target:  Smallest .58"  Largest 1.19"  Average .866"
Gemtech:  Smallest .14"  Largest 1.16"  Average .842"
Remington Eley Target with Gemtech II Silencer:  Smallest .43"  Largest 1.39"  Average .948"
The overall average for 35 groups with six different brands of ammunition:  .822"
A quick word on silencers: While a semi-auto like the Ruger 10-22 is very quiet with a silencer attached and shooting sub-sonic ammunition (all the target ammo is sub-sonic) the ultimate in quiet occurs when you use a bolt action rifle. With the Outback II silencer screwed on this rifle was spooky quiet… all I could hear was the "sproing" as the sear released the firing pin and a mild "thump" as the bullet hit the backstop.
Whether competing, hunting small game, plinking or using it as a trainer, the Ruger Precision Rimfire has a lot going for it. The suggested retail is $529 and I consider that a bargain for this level of quality and accuracy. As supply catches up with demand you can expect the street price will come down to the low to mid $400 range. That's a real bargain and how Ruger disrupts markets – with quality products at affordable prices that fill or create a shooting niche.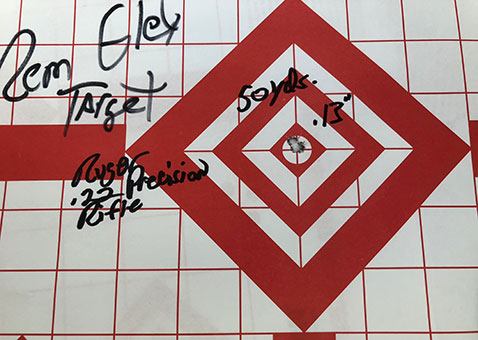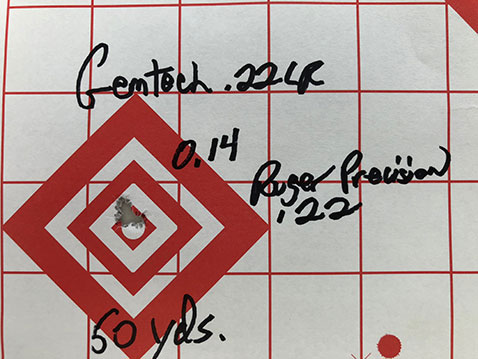 For more information:
About the Author: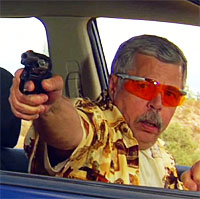 Ed Head is a regular on Shooting Gallery, Gun Stories and Down Range TV. He has worked for almost 30 years in law enforcement, first in the United States Air Force and then with the United States Border Patrol, retiring as a Field Operations Supervisor. During his Border Patrol career, Ed worked in a variety of patrol, investigative and training capacities. Ed has an extensive background as a firearms instructor, having trained thousands, ranging from beginners to police, military and special operations personnel. Having taught at Gunsite for 20 years, Ed first trained there under the world famous shooting school's founder, Jeff Cooper, then later ran the school as the operations manager for more than five years. Ed lives in Chino Valley, Arizona, where he continues to teach and write.