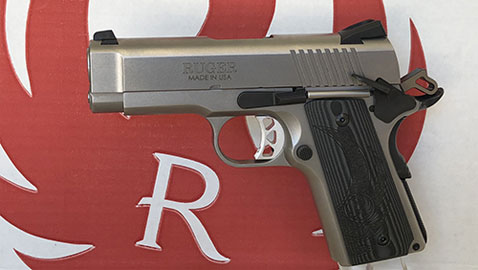 Those clever rascals at Ruger are at it again. Busily plotting and scheming to introduce one new product after another they keep their dedicated fan base panting with desire. Actually, it's a corporate philosophy that new products drive sales and grow the company and you can't argue with that – Ruger has shown they can produce two million or more guns a year.
The Ruger SR1911 line continues to expand with the latest example being the pistol I have at hand, an Officer's Style .45ACP. As you may recall, earlier this year Ruger produced their first Officer's sized 1911 in 9mm and, as expected, one in .45ACP has followed. That's actually clever marketing because, these days, the 9mm is more popular than the .45, chiefly because the ammunition is less expensive and 9mm pistols are easier to shoot. Fortunately, those of us who revere the .45ACP didn't have to wait too long for the little blaster to appear in our favorite caliber.
The origin of the short-barreled Officer's Model dates back to 1975 and Rock Island Arsenal, where they produced a cut down version of the 1911 for issue to general officers. Colt followed this in 1985 with a 3.5" barreled all-steel Officers Model. In 1986 Colt expanded the line with a lightweight aluminum frame version. Since Colt owns the name Officer's Model when Ruger began producing these pistols they called them Officer's-Style. Confused? Don't be. What we're talking about here is a 1911 pistol with a 3.6" barrel and a slightly shortened grip frame.
Getting small 1911s to run reliably can be rather tricky. The further you get from John Moses Browning's original 5-inch barreled design the more likely you are to run into reliability issues. It has to with complicated issues like slide mass versus recoil spring strength and how quickly the magazine presents the cartridge and at what angle. Too, things were simpler back in JMB's day as the ammunition he designed, the full metal jacketed 230 grain .45 ACP round, was optimal for the pistol and the only game in town. These days, the variety of .45 ammunition in various bullet weights and shapes makes getting a small pistol – or any pistol – to run reliably with all of it a difficult proposition.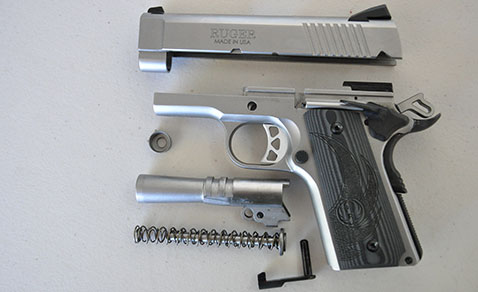 This newest offering from Ruger is composed of stainless steel in a brushed pattern I would call a satin finish. The sights are Novak with three white dots fitted in Novak dovetails making replacement easy. The pistol comes with two stainless steel 7 round magazines, an instruction manual and the usual padlock. Inexplicably, my sample included a barrel bushing wrench, as the pistol has no barrel bushing and uses a coned, ramped barrel. Disassembly is explained in the manual and involves simply unloading the pistol, retracting the slide to the disassembly notch, removing the slide stop and removing the slide forward off the frame. The grey, G10 stocks are thin, attractive and feature a stylized Ruger eagle design.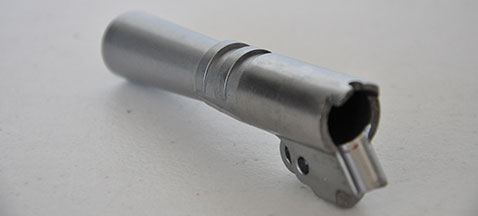 Ruger began using ramped barrels when they started making aluminum framed 1911 pistols. Ramped barrels do two things; they protect the feed ramp portion of the frame from damage and assist in feeding. In the case of this pistol there's no need to protect the steel frame but I applaud Ruger for going with a ramped barrel to ensure reliability.
This little all steel blaster weighs 32 ounces. That puts it about 7 ounces lighter than Ruger's full size SR1911 and a few ounces lighter than their Commander-style stainless pistol. While heavier than Ruger's aluminum framed 9mm Officer's Style pistol, at 27 ounces, the extra weight of the .45 helps greatly in terms of handling and shooting comfort.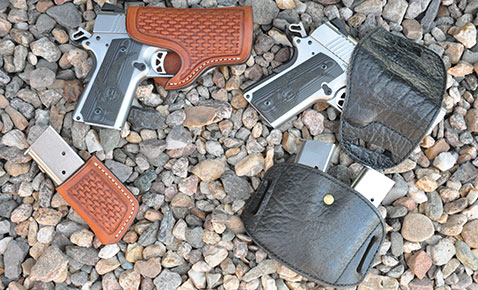 Well-designed concealed carry holsters support and balance a pistol, making for comfortable all-day carry. My favorite concealed carry 1911 holster is a CID design made by Simply Rugged Holsters. A cross between a belt slide and a pancake style holster, my CID is finished in Cape Buffalo, making for an attractive and durable holster. It's comfortable, fast and secure, as the belt cinches the holster down so there's no need for thumb breaks or other retention devices. Another plus: Due to its open design I can carry all sizes of 1911 pistols in this one holster, including this new mini-blaster.
Because they are so retro-cool, I asked Mike "Doc" Barranti to make me one of his Border Ranger holsters for this little pistol. It's an open top design that's very fast to draw from and was favored by many border lawmen, including Texas Rangers. My example is done up in a very nicely executed basket weave design and came with an elegant single magazine pouch. For those who might wonder about the exposed trigger in this design, it originated with single action revolvers then evolved for 1911 pistols long before anyone had dreamed up striker fired pistols without a manual safety. Revolvers and cocked and locked 1911s can be carried in complete safety in these holsters.
The trigger is what makes 1911 pistols easy to shoot well and the trigger on this pistol is exceptional – perhaps the best factory trigger I have experienced right out of the box. After taking up a small amount of slack the trigger breaks cleanly and consistently at 3.75 pounds and without creep or over-travel.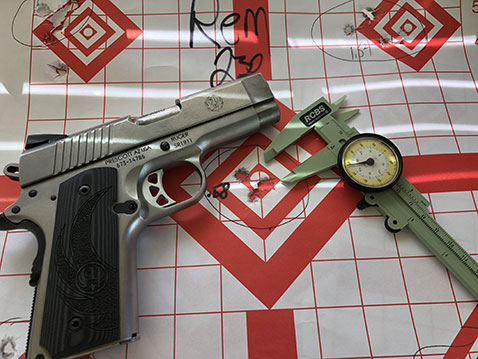 Settling the reliability issue, the mini-blaster ran with a variety of .45ACP ammunition from hardball and wadcutter to various jacketed hollowpoint defensive ammunition. I tested three loads for accuracy by shooting them at 7 yards and recorded the following:
Remington 230gr. Full Metal Jacket
Average velocity 758 feet per second
Average group size 1.18 inches
Winchester 230 grain Jacketed Hollowpoint Personal Protection
Average velocity 853 feet per second
Average group size 1.44 inches
Super Vel 185 grain Jacketed Hollowpoint +P
Average velocity 1073 feet per second
Average group size 1.64 inches
Ruger has put together a very nice compact pistol with this Officer's Style SR1911. It has everything you need, nothing you don't and it works. What more can you ask for?
For more information:
www.ruger.com
www.simplyrugged.com
www.barrantileather.com
About the Author: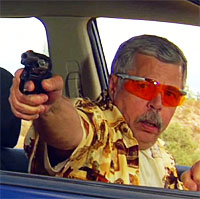 Ed Head is a regular on Shooting Gallery, Gun Stories and Down Range TV. He has worked for almost 30 years in law enforcement, first in the United States Air Force and then with the United States Border Patrol, retiring as a Field Operations Supervisor. During his Border Patrol career, Ed worked in a variety of patrol, investigative and training capacities. Ed has an extensive background as a firearms instructor, having trained thousands, ranging from beginners to police, military and special operations personnel. Having taught at Gunsite for 20 years, Ed first trained there under the world famous shooting school's founder, Jeff Cooper, then later ran the school as the operations manager for more than five years. Ed lives in Chino Valley, Arizona, where he continues to teach and write.