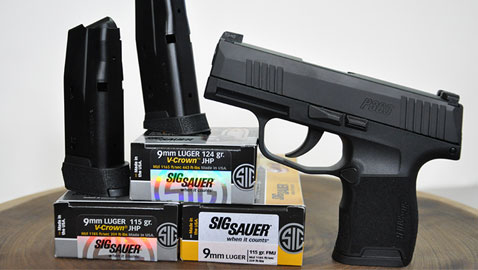 There's no doubt in my mind – Sig-Sauer is out for world domination. Their extensive lineup includes pistols, carbines, scopes, binoculars, "electro-optics", ammunition, accessories and a training academy. They recently secured the contracts to provide pistols to the U.S. Military and a bunch of federal agencies and there seems to be no stopping them. Their customers are fiercely loyal and Sig has a reputation for producing high quality, reliable and well-made products.
The latest Sig to fall into my hands is the Sig 365, a very small 9mm pistol designed for concealed carry. It's the gun everyone was talking about at the Las Vegas SHOT show in January and I'm told it is in high demand among consumers. What makes the 365 special? While there are a number of small 9mm pistols on the market the smallest use single stack magazines and are limited to around 6 or 8 rounds. Sig has managed to carefully sculpt the grip of the 365 and design a hybrid single/double stack magazine that holds 10 rounds while maintaining a thin grip. That means you can have a small, easily concealed 9mm pistol with 10 + 1 capacity, something of a breakthrough in small pistol design. But wait, there's more: If you don't mind a slightly longer grip there is a 12 round magazine available, giving you a 12 + 1 capacity. That's a lot of firepower in a very small package. The pistol ships with two 10 round magazines, one with a flat baseplate and the other with a pinky extension, and the 12 round magazine is available from Sig as an accessory.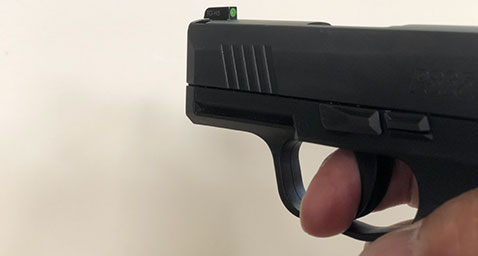 Other features of the little blaster include a very nice set of night sights with the front sight featuring a big green dot for daylight shooting and a trigger with a light pull measuring a bit over 5 pounds. The aforementioned grip is designed to allow easy access to the trigger and the magazine release button is triangular instead of the usual round shape. Other controls include a slide lock and a takedown lever. The slide has grasping grooves cut both front and rear and the almost 1" wide slide is finished in a black meteor proof coating I suspect will let you drag it in and out of a Kydex holster for some time before scratching it up. Thankfully there is no magazine disconnect, so the little shooter can be fired with the magazine removed.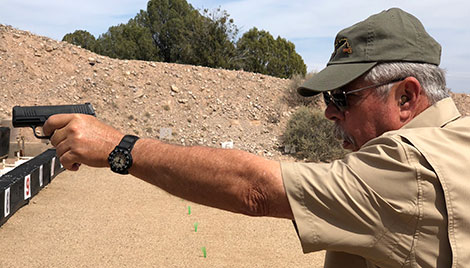 In my experience the carry weight of a pistol is the figure to be concerned with, not the empty weight listed on the manufacturer's website. Here's a comparison of the 365 with some other similar, small 9 mm pistols:
365 10 + 1 rounds 23.2 ounces
365 12 + 1 rounds 24.4 ounces
Kahr PM 9 6+1 rounds 19.3 ounces
Ruger LC9s 7+1 rounds 20.0 ounces
S&W Shield 7+1 rounds 23.6 ounces
The Sig 365 compares favorably with similar pistols while carrying more ammunition; it's neither the lightest nor the heaviest and should be easily carried and concealed.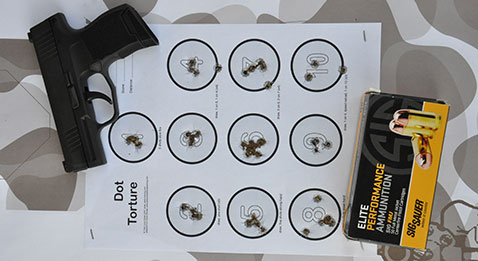 The weight of pull of the 365 trigger tells only part of the story. There is considerable takeup (movement before sear engagement) and as pressure increases the trigger breaks crisply but rather unexpectedly. Reset is positive and, although there is quite a bit of takeup before the pistol fires again it's firmer and not as sloppy as the initial takeup. The trigger is manageable but may take some getting used to. A bunch of folks have fired this 365 and every one of them has commented that the trigger is light but unpredictable. As is my usual practice, I took the 365 out of the box, loaded it with Sig ammunition and fired the Dot Torture drill. Within a few shots I managed to fail Dot Torture by pulling a shot outside the first scoring circle. You see, Dot Torture is a concentration and precision drill requiring 50 rounds and even though it is shot at 3 yards is very difficult to shoot with a clean score – all shots in the little circles. After shooting the 365 a bit I decided the way to shoot the 365, like many small pistols, is with a lot of trigger finger wrapped around the trigger. Trying again, I was able to get through Dot Torture with a perfect score. With hundreds of rounds fired, including Sigs excellent 115 grain and 124 grain V-Crown defensive ammunition, the 365 has been entirely reliable. Recently, gun writer Doug Larsen shot a 365 from a pocket holster in a 3 day concealed carry class I taught at Gunsite and his pistol was utterly reliable as well. That's only a small sample of two but it tells me the Sig 365 will keep on running.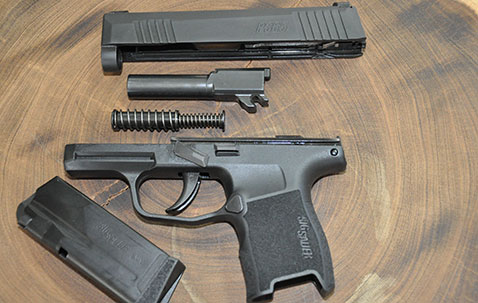 Takedown of the 365 is explained in the manual and I suggest you read it. To field strip the pistol first remove the magazine and clear the chamber. Lock the slide to the rear by pushing up on the slide lock as the slide is retracted then rotate the takedown lever down. Remove the slide forward off the frame, turn it over and lift out the captured recoil spring and barrel and you're done. Reassembly is a tiny bit tricky. When the slide is removed the takedown lever pops back up to its horizontal position and the slide can't be installed until it is back in the vertical position. Pushing up on the slide lock and turning the takedown lever down accomplishes this. The slide can then be reinstalled. Pull the slide fully to the rear and let go of it; if it doesn't fall off the frame the pistol is reassembled correctly.
This is a nice little pistol well suited to its role as a compact, high capacity concealed carry pistol. The only downside is the suggested retail price of $599.99 and the high demand keeping street pricing at, or above suggested retail. Perhaps the price will come down in time but for now budget minded shooters might be put off. Then again, Sig fans are incredibly loyal and I'm sure Sig-Sauer will have no difficulty selling every one of the 365s they can make.
For further information:
About the Author: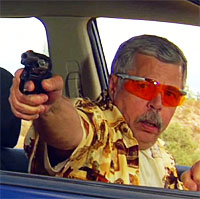 Ed Head is a regular on Shooting Gallery, Gun Stories and Down Range TV. He has worked for almost 30 years in law enforcement, first in the United States Air Force and then with the United States Border Patrol, retiring as a Field Operations Supervisor. During his Border Patrol career, Ed worked in a variety of patrol, investigative and training capacities. Ed has an extensive background as a firearms instructor, having trained thousands, ranging from beginners to police, military and special operations personnel. Having taught at Gunsite for 20 years, Ed first trained there under the world famous shooting school's founder, Jeff Cooper, then later ran the school as the operations manager for more than five years. Ed lives in Chino Valley, Arizona, where he continues to teach and write.