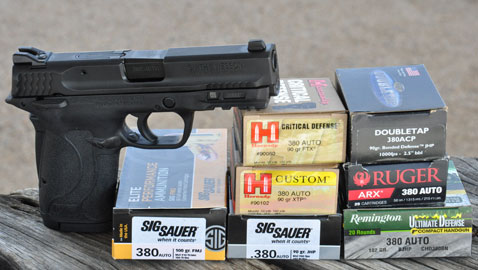 Here's what you need to know about Smith & Wesson's newest offering in the Shield lineup, the .380 EZ: It passes the wife test, it's accurate and easy to shoot. What's the wife test? When I get my hands on a new pistol designed for concealed carry, and especially one marketed towards women, I hand it to my wife and several other ladies I know. I ask each of them what they think about the feel of the pistol in their hands, the trigger, the sights, and most importantly, ask them to remove and replace the magazine, rack the slide and lock the slide to the rear. If my committee of testers can't perform these simple manipulations or don't like the feel of the pistol it fails the wife test. I've been frustrated at times to find expensive, high quality pistols marketed to women that are, essentially, unusable by the targeted market, so it's really nice to see Smith & Wesson produce a pistol with these concerns in mind.
In a market flooded with tiny .380 ACP pistols you might wonder why Smith and Wesson chose to chamber a 9mm size pistol in .380. After all, isn't the 9mm better than the .380? Well, let's see if we can explore that question. For many years the .380 ACP (Automatic Colt Pistol), a round designed by the great John Browning, wasn't given much credence as a round suited to serious social purposes. With a 90 grain full metal-jacketed bullet at moderate velocity the .380 never gained much of a reputation as a fight stopper in the United States. Curiously the round had been a favorite of European police forces…go figure. Anyway, a cosmic convergence of sorts occurred a few years ago when ammunition companies began making really good .380 defensive ammunition and Ruger came out with a tiny pocket .380, the LCP (Light Compact Pistol). Seemingly overnight .380 ammunition became hard to find as an honest gambler and Ruger, and others, churned out pocket pistols by the gazillions.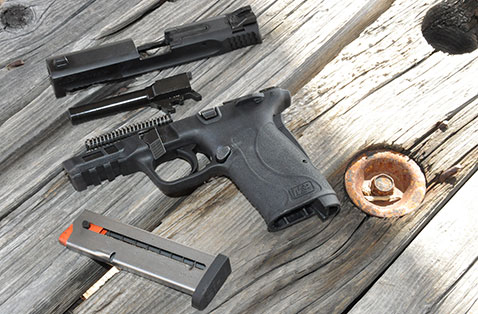 If ever a pistol met the definition of one to be carried a lot and shot seldom the LCP is it. Folks quickly discovered the little blaster wasn't much fun to shoot with defensive ammunition. In due course, shooters sought out 9mm pistols that were a bit bigger than the tiny .380s but a whole lot more comfortable to shoot, leading to the great success of pistols like the S&W Shield series. Realizing the Shield was a bit difficult to manipulate, especially for some women, elderly folks or those with maladies like arthritis, S&W developed the Shield EZ, the topic of this report and, in my estimation, another brilliant move.
Before we discuss the particulars of the EZ a few words concerning .380 ACP defensive ammunition are in order. To make a long story short, it will get the job done if you can make the hits. After seeing extensive testing through ballistic gelatin, windshields, sheet metal and barriers of all sorts I am at a loss to see much difference in the terminal performance of modern .380 and 9mm defensive ammunition. It expands, it penetrates and it is easier to shoot in small pistols than 9mm ammunition.
The EZ I have at hand weighs 18.5 ounces unloaded, has a 3.675" barrel and comes with two 8 round magazines. The sights are white 3 dot, there is a short Picatinny rail for mounting accessories and my sample is equipped with ambidextrous thumb safeties as well as a grip safety. With an 18-degree grip angle the pistol is decidedly 1911-ish.  A visual and tactile loaded chamber indicator sits atop the slide and the slide and barrel are finished in a meteor proof black coating. The trigger on my sample is crisp, breaks at a reasonable 4 pounds, 13 ounces and has a positive reset. There is no magazine disconnect and the pistol can be disassembled for cleaning without pulling the trigger. Make sure it is unloaded, lock the slide to the rear, turn down the takedown lever and remove the slide. It's EZ.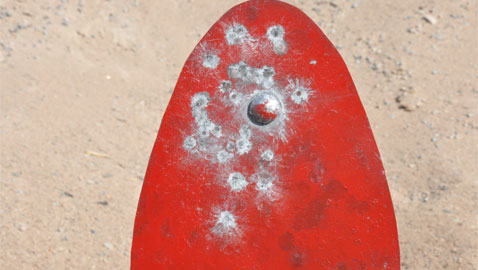 I fired the pistol at 25 yards on a metal plate the size of a human vital zone. Shooting off-hand I rang the plate without fail using a variety of defensive loads. I discovered the sights were set up for a 6 o'clock target hold as most of the loads shot a little high for my combat hold covering the desired point of impact with the front sight. One load shot exactly to my point of aim, the excellent Doubletap 90 grain bonded hollowpoint load, in my opinion perhaps the best .380 defensive load you can get your hands on.
While the pistol ran without a single malfunction I discovered the thumb safety would pop up and lock the pistol if I didn't shoot it like a 1911, as in keeping my shooting hand thumb atop the safety lever. I'm a 1911 shooter so this is no problem for me but I can see it as possibly being an issue for those who aren't used to it. Happily, S&W makes a version of the EZ without the thumb safeties should you prefer that version.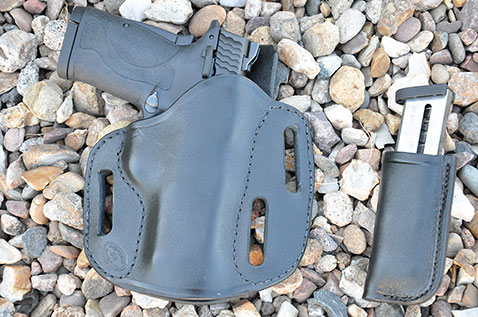 I borrowed this pistol from my friend Rob Leahy, owner of Simply Rugged Holsters. He provided it with one of his excellent Cuda concealment holsters and a single magazine pouch – a perfect combination for concealed carry. While this holster is plain black leather, Rob specializes if holsters finished in exotic hides so you might want to go to his website and take a look at some of the possibilities.
Lastly, I mounted a new compact Streamlight weapon-light on the accessory rail. The TLR-7 is a perfect fit for a small pistol like the EZ and produces an incredible 500 lumens of light from a single CR-123 battery. Weighing only 2.4 ounces this little light has a 1.5 hour runtime and is the perfect accessory for turning the EZ into a bedside pistol.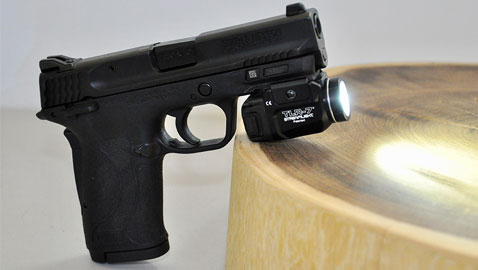 If you're looking for an easy shooting personal defensive pistol that passes the wife test I recommend you give the EZ a look. With a suggested retail price of only $399 it won't hurt your wallet, or hurt your hands when you shoot it. It's EZ.
For further information:
About the Author: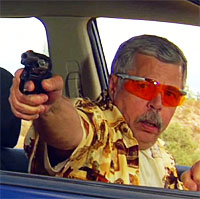 Ed Head is a regular on Shooting Gallery, Gun Stories and Down Range TV. He has worked for almost 30 years in law enforcement, first in the United States Air Force and then with the United States Border Patrol, retiring as a Field Operations Supervisor. During his Border Patrol career, Ed worked in a variety of patrol, investigative and training capacities. Ed has an extensive background as a firearms instructor, having trained thousands, ranging from beginners to police, military and special operations personnel. Having taught at Gunsite for 20 years, Ed first trained there under the world famous shooting school's founder, Jeff Cooper, then later ran the school as the operations manager for more than five years. Ed lives in Chino Valley, Arizona, where he continues to teach and write.