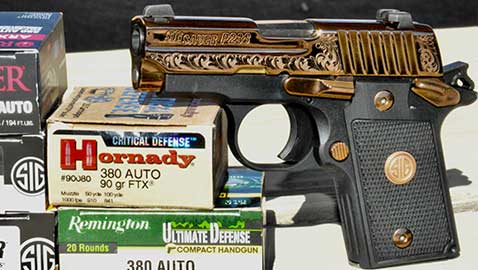 It passes the Wife Test and every woman who sees it wants it. It's the Sig Sauer P238 with an engraved rose gold slide and accents in .380 ACP caliber. I guess that makes it a girl's gun but it's only one of the 20 or so models of the 238 offered by Sig with one sure to appeal to almost any consumer. What's the Wife Test? When I receive a handgun touted as suitable for women's self defense I hand it to my wife and ask her to check it out. If she can't run the slide, lock it to the rear, manipulate the controls and manage the trigger it's probably not suitable. I have several other test subjects as well, like the gals in the office and ProShop at Gunsite. If the women say it's good to go I take their word for it. If not, well, I report that too.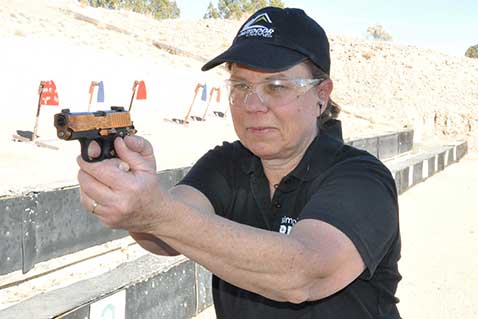 Self defense handguns suitable for concealed carry are the bright light in an otherwise dim firearms sales outlook. Whether you see it as sales returning to normal levels from their overheated highs or a general slowdown, the facts are that sales figures are down for most manufacturers. But wait, small, easily concealed handguns, and especially those appealing to the women's market are selling and selling well. Companies making quality products aimed at this market are thriving with Sig Sauer's P238 being an excellent example of the kind of pistol concealed carriers, and especially women, are looking for.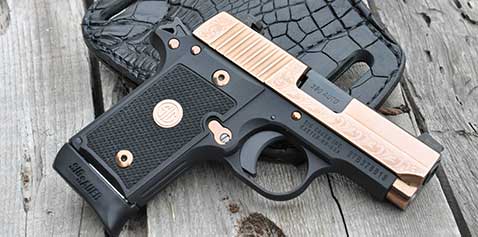 The fancy little P238 I'm testing is a very pretty little pistol and all the women I've shown it to admire it, but none more than Jan Leahy. You see, Jan and her husband Rob own Simply Rugged Holsters and when I took the pistol to their shop to have a holster made Jan took one look and claimed it for herself. The holster is just as pretty as the pistol, being black alligator and very striking. Later on, Jan and Rob helped me put the little pistol through its paces at Gunsite.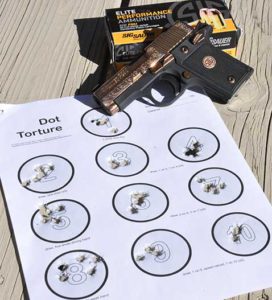 At first glance you might think the P238 is a mini-1911 and, well, it is. A single action, hammer fired pistol with a thumb safety it lacks a couple of the standard 1911 features. There is no grip safety and, while the pistol has a thumb safety it doesn't lock the slide when engaged. Far from being a problem, this feature is actually a "good thing" the larger 1911s could benefit from. You see, with the safety on and blocking the sear the pistol can't be fired but the slide still runs and this allows for loading and unloading the chamber in complete safety. Is the lack of a grip safety a problem? Not as I see it. Way back when, when Saint John Moses Browning created his greatest firearm, the 1911 pistol, there was no grip safety. It was added at the request of the Army and because Browning and Colt wanted the government to buy their guns the Army got what they asked for. Fast-forward and I have a handful of 1911 pistols that have been modified with Wayne Novak's The Answer. This is a solid back strap for the 1911 that replaces the grip safety and mainspring housing with a one-piece unit. If you've ever attempted to fire a 1911 pistol but it failed to go "bang" because you hadn't gotten a perfect grip and depressed the grip safety you'll understand why I've had my pistols made with this modification. Back to the P238, there being no grip safety this will never be an issue.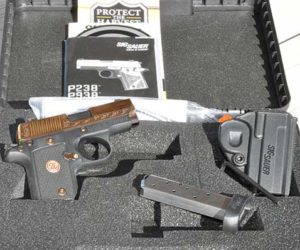 The P238 is small and easily carried and concealed, being 5.5 inches long and a mere 1.1 inches wide. The slide is stainless steel, the frame is a hard coat anodized alloy and my sample is equipped with Sig's excellent SIGLITE three dot night sights. The dots on the sights align correctly and the pistol, in my hands, shoots to point of aim. Weighing an ounce shy of a pound empty the pistol weighs 17.3 ounces with the six round magazine and chamber filled with Sig's excellent 90 grain V-Crown defensive ammunition. The trigger breaks cleanly but it's a trifle on the heavy side, snapping at just over 6 pounds. Rather than pressing the trigger with the middle of my fingertip I found I shot this trigger better by putting more finger on the trigger and pressing straight to the rear with the trigger centered in the first joint of my trigger finger. After firing a few shots to determine the sights were working for me I fired the 50 round Dot Torture drill. Fired at only 3 yards this seemingly easy drill combines a number of different shots – with no time limit – and is quite a test of your trigger control and concentration. It also helps to have a good pistol, and I'm happy to report I was able to shoot the drill clean while Rob and Jan loaded the six round and accessory seven round magazines for me. After that, we shot the pistol with a variety of premium defensive ammunition from Sig, Remington, Ruger and Hornady. Jan did all the defensive ammo testing, both on paper and steel targets and I'm happy to report it all functioned perfectly in her new pistol.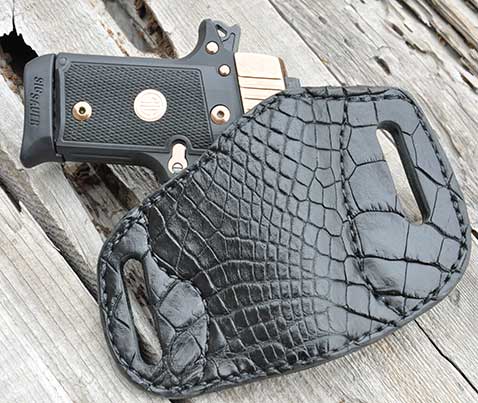 While the Sig P238 comes with one six round magazine I'm going to suggest you go to Sig's website and order a couple more, or better yet, one of their seven round magazines with the extended base plate. The pistol ships with a functional plastic holster but I'm also going to suggest you look at the fine work done by my friends at Simply Rugged Holsters, especially in their beautiful exotic hide offerings. Looking for a small, easily concealed, reliable and easy to shoot concealed carry pistol? The Sig P238 may be just what you need.
For more information:
About the Author: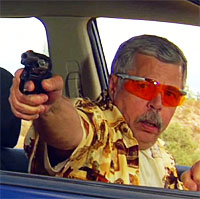 Ed Head is a regular on Shooting Gallery, Gun Stories and Down Range TV. He has worked for almost 30 years in law enforcement, first in the United States Air Force and then with the United States Border Patrol, retiring as a Field Operations Supervisor. During his Border Patrol career, Ed worked in a variety of patrol, investigative and training capacities. Ed has an extensive background as a firearms instructor, having trained thousands, ranging from beginners to police, military and special operations personnel. Having taught at Gunsite for 20 years, Ed first trained there under the world famous shooting school's founder, Jeff Cooper, then later ran the school as the operations manager for more than five years. Ed lives in Chino Valley, Arizona, where he continues to teach and write.