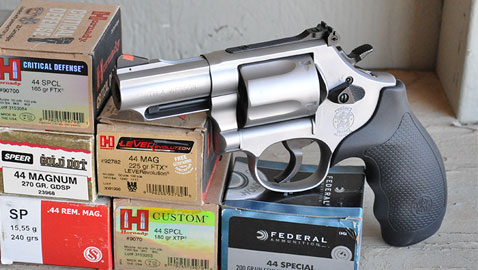 When Dirty Harry announced the .44 Magnum as the most powerful handgun in the world it created huge demand for the big Smith & Wesson revolver. Folks who had no interest in the Model 29 suddenly ran out and bought one and for a long time demand outstripped supply. The .44 Magnum remains a top seller to this day. While folks who live in bear country rightly favor the Magnum for predator defense I rather imagine many .44s are sold to folks who will never encounter a bear in the wild but would like to think they will be prepared. There are also folks who would like to have a .44 for concealed carry and defense but there are few suitable choices. Charter Arms has made a small .44 Special Bulldog model for many years, and back in the ancient mists of time folks took to cutting down large frame Smith & Wesson and Colt .44s and .45s and making them into belly guns. What's a belly gun? It's a powerful revolver, easily concealed, that's quick to get into action at extreme close ranges, as in, shove it in the bad actor's belly and stroke the trigger. And while Smith & Wesson has made a couple of large frame, short barreled, lightweight .44 Magnums these blasters are lethal at both ends. Shoot one a few times with full-house .44 Magnum ammunition and you'll get my meaning.
The idea for a medium frame .44 caliber revolver has been around for a long time. Skeeter Skelton wanted it produced in .44 Special and wrote about it often throughout the 1960s and 70s. I think he would have been pleased when Ruger made their GP-100 revolver in a 5 shot .44 Special but I doubt Skeeter could have imagined that Smith & Wesson would take the concept one step further and make a 5 shot, .44 Magnum in their L-frame sized revolver. I fired this stainless steel revolver, the Model 69 with a 4 inch barrel, at the SHOT show in Las Vegas earlier his year and thought it was a bit brutal when firing .44 Magnum ammunition but might be just the thing when loaded with .44 Special ammo. And then, a couple of months ago, Smith & Wesson released another version of the M69, this one with a short 2.75" barrel – kind of an improved .44 Magnum belly gun.
Being very similar to the K-frame M66 I recently reviewed the M69 is a bit bigger in most dimensions but not nearly as large a the N-Frame Model 29, even those with the abbreviated tubes. That means it's actually a practical size for concealed carry and could make for an easily packed outdoorsman's revolver. With the right ammunition the M69 can provide meat for the pot and defend against all manner of two and four legged predators. And that's one of the very best attributes of the .44 Magnum; the vast selection of ammunition it can fire. Light and heavy bullet loads are available, or can be constructed, in .44 Special or Magnum ammunition to cover any use from plinking and target shooting to hunting and defense.
As with the M66 snubbie, the M69 has a very good synthetic grip that works well in absorbing the energy this revolver is capable of generating. While I was unhappy with the factory trigger on the M66 I'm less so with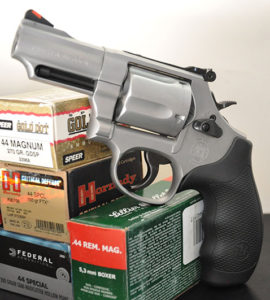 the one on the M69. Running to 11 pounds, 10 ounces in double action and a slightly creepy 6.5 pounds in single action the trigger is usable but can be improved by a good pistolsmith.
The M69 is equipped with the excellent S&W adjustable sights I've used in other revolvers for many years. The rear sight, with a plain, black blade, is adjustable for windage and elevation and the black, ramped front combat sight has the usual red insert. The front sight is pinned to the barrel and is easily replaced if damaged, or should you wish for a different sight, such as a colored fiber optic or gold bead. The barrel is screwed into a shroud and has a minimal barrel/cylinder gap to reduce gas leakage. The five shot cylinder is fluted and there is a crane lock to ensure it locks up tight to promote strength and accuracy. As in all current production S&W revolvers the M69 is equipped with a key lock, a feature S&W traditionalists find to be unnecessary and somewhat offensive.
Perhaps my memory is defective, and maybe the short-barreled revolver has less barrel whip than the 4-inch version I shot earlier, but it seems to me this snubbie is more comfortable to shoot. I fired at least five rounds of every .44 Special and .44 Magnum load I could locate and lived to tell the tale. Even the nastier loads were not that bad. No, I wouldn't want to shoot the 72 round Border Patrol qualification course with the heavy loads but 5 or 10 rounds was tolerable.
Should you roll your own, this revolver is the right launcher for Skeeter Skelton's load, a hard cast Keith 429421 semi-wadcutter over 7.5 grains of Unique in a .44 Special case. Skeeter's favorite load will handle anything you might ask a .44 Special or .44 Magnum to do and will do it without the heavy blast and recoil of the top .44 Magnum loads. I think Skeeter would have been pleased with this revolver. If you're in the market for an easy packing, powerful defensive revolver for home or trail you should give the S&W M69 a look.
For more information:
About the Author: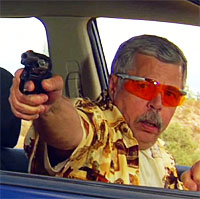 Ed Head is a regular on Shooting Gallery, Gun Stories and Down Range TV. He has worked for almost 30 years in law enforcement, first in the United States Air Force and then with the United States Border Patrol, retiring as a Field Operations Supervisor. During his Border Patrol career, Ed worked in a variety of patrol, investigative and training capacities. Ed has an extensive background as a firearms instructor, having trained thousands, ranging from beginners to police, military and special operations personnel. Having taught at Gunsite for 20 years, Ed first trained there under the world famous shooting school's founder, Jeff Cooper, then later ran the school as the operations manager for more than five years. Ed lives in Chino Valley, Arizona, where he continues to teach and write.