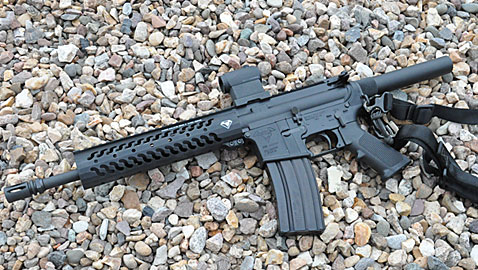 Short-barreled .223 caliber carbines are wonderful. Sure, there's the cool guy/operator factor but that's not what draws me to the abbreviated examples of the breed. Working in and out of vehicles during my law enforcement career, I found the shorty carbines with collapsible stocks were much handier than long barreled, full stocked rifles. Whether climbing in and out of a truck, searching a building or tracking smugglers in the brush, the shorter carbines always seemed to work better for me. Starting with the Colt Commando, a lightweight carbine with 11.5" barrel, and finishing with the Colt M-4 with 14.5" barrel, you might say my LE career was defined by these little carbines.
Unfortunately, there is a bit of a problem associated with rifles and carbines having barrels shorter than 16" in length, because, since the mid-1930s, the federal government has defined them as short-barreled rifles (SBRs). This means if you don't work for a government agency – who can have all the SBRs they want – ownership of an SBR is highly regulated and possession of one of these presumably evil tools is a serious crime without first obtaining permission from the federal government and paying a tax. On the other hand, federal law doesn't specify a minimum barrel length for a pistol but prohibits attaching a rifle stock to one. And that means you can make an AR pistol with any length barrel so long as it doesn't have a rifle stock attached to the buffer tube – hence, the DoubleStar Star-15 pistol that's the subject of this review.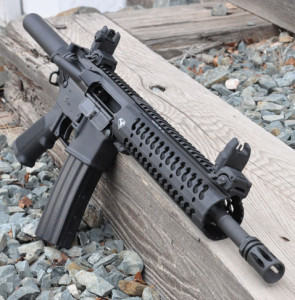 DoubleStar has a solid reputation for making high quality ARs. The company is an outgrowth of J&T Distributing, an outfit that has been supplying rifle parts and AR rifle kits for about 25 years. DoubleStar offers a number of AR carbine, rifle and pistol configurations suitable for sport, law enforcement and competition, and, being under the same roof as J&T, with an amazing number of parts to choose from, I rather imagine they could put together just about any AR you might envision. They are also a very pro-Second Amendment company with a statement on their website saying they will not sell any items to government agencies in states that have prohibited the possession of these items by citizens.
My Star-15 pistol is based upon a standard direct gas AR and has an 11.5 inch barrel. DoubleStar offers pistols with 7.5" and 10.5" barrel lengths as well. The overall length is a short 27.5 inches and the pistol weighs in at 5.7 pounds; very heavy for a pistol but very lightweight for a carbine, which, legally speaking, it is not. It features a free floated, thin contour barrel with a Mil-Spec flash hider in an attractive Samson Evolution 9" handguard and a flattop, full-length Picatinny rail. A set of the excellent Magpul MBUS lightweight, removable, flip-up adjustable sights sit atop the rail. The receiver is straight out of the AR carbine playbook with an A2 forward bolt assist and pistol grip. The buffer tube is 7.25" long and between it and the receiver there is an ambidextrous single point sling attachment plate. The pistol shipped with one aluminum 30 round DSC (Double Star Corporation) marked magazine. The pistol comes with the usual military style trigger and, on my sample, breaks at an average of about 6.75 pounds.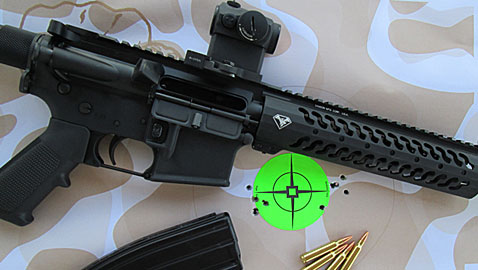 I was pleasantly surprised when I took the Star-15 pistol to the range. This was my first experience with an AR pistol and I wasn't really sure how it was going to handle but it turned out to be just like shooting the Commandos and M4s I was used to. The MBUS sights were zeroed at 25 yards. For accuracy testing I attached an Aimpoint Micro red dot sight in a LaRue mount to the rail and found I was easily able to shoot acceptable groups at 25 yards and make hits on steel plates at 100 and 200 yards. I used 55 grain (gr.) full metal jacket ammunition from Black Hills, 55 gr. jacketed soft point ammunition from Federal and 75 gr. Hornady match hollow point ammunition for my testing. Along with the DSC magazine I used several Magpul 20 and 30 round plastic magazines and a couple of Brownells' aluminum Mil-Spec 30 round mags and experienced not a single malfunction of any sort throughout several range sessions. Considering that short-barreled ARs have long had a reputation for unreliability I think it's worth mentioning that AR evolution has progressed to the point where a well-built short-barreled AR pistol is as reliable as the best of the full size carbines.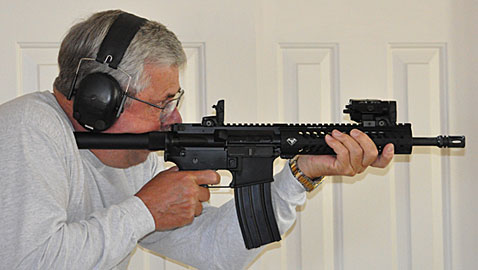 There are several ways to shoot this pistol. Holding it with one or two hands without support is the least accurate and shot to shot times suffer, as the pistol bounces around some even though recoil is negligible. To gain some support I attached a Magpul single point sling and fired the pistol with two hands while thrusting it forward against the sling tension. This stabilizes the pistol pretty well but the best solution is to simply use the short buffer tube like a stock and shoot from the shoulder. It's short but it works well and because of the light recoil there's no need for a butt-stock. As a matter of fact, during carbine training I teach several carbine shooting techniques where the butt of the stock isn't in contact with the shoulder so I don't find the lack of a butt plate on this AR pistol to be an issue.
Why would you want an AR pistol? It's certainly handier than even the smaller carbines. With the Picatinny rail and forend the sighting options are unlimited and the pistol can be equipped with a large array of parts, sights, lights and lasers. As a traveling companion or a home defense weapon the AR pistol has a lot going for it. And even though there is some velocity loss from a shortened barrel the .233/5.56 cartridge retains more than enough energy to get the job done. Considering the home defense potential for this pistol I fired it inside a house (well, a live fire shoot house at Gunsite) to see if the muzzle blast and flash would be a problem with the short barrel. I've experienced thousands of rounds of .223 gunfire in shoot houses and I have to tell you it's LOUD but the Star-15 pistol was no worse than what I would expect from a carbine length gun. My advice to those using carbines for home defense applies to this pistol; avoid torching one off indoors without proper ear protection. As a matter of fact, I suggest keeping a good set of electronic earmuffs handy.
After shooting this pistol and thinking about how to set it up I added an offset rail I found in the Brownells catalog to the Picatinny top rail and mounted a Streamlight TLR-2 green laser/light combination that I think would be ideal for target identification and sighting in a home defense situation. I removed the Aimpoint after deciding that the flip up sights were more than adequate for short to medium range work. Now I need to start looking for a case, maybe like something for a tennis racket that doesn't scream "gun" and I think I'll be all set with an ideal home and traveling carbine…I mean, pistol.
For more information:
www.star15.com
www.aimpoint.com
www.magpul.com
www.brownells.com
www.black-hills.com
www.federalcartridge.com
www.hornady.com
www.streamlight.com
About the Author: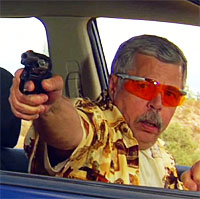 Ed Head is a regular on Shooting Gallery, Gun Stories and Down Range TV. He has worked for almost 30 years in law enforcement, first in the United States Air Force and then with the United States Border Patrol, retiring as a Field Operations Supervisor. During his Border Patrol career, Ed worked in a variety of patrol, investigative and training capacities. Ed has an extensive background as a firearms instructor, having trained thousands, ranging from beginners to police, military and special operations personnel. Having taught at Gunsite for 20 years, Ed first trained there under the world famous shooting school's founder, Jeff Cooper, then later ran the school as the operations manager for more than five years. Ed lives in Chino Valley, Arizona, where he continues to teach and write.