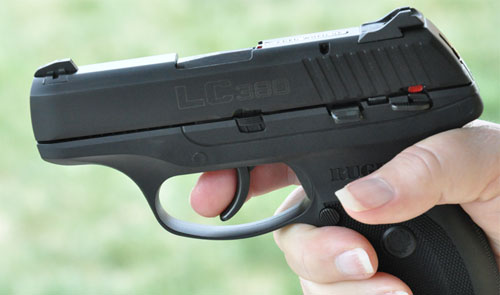 Twenty years ago no one would have predicted the popularity of the .380 ACP (Automatic Colt Pistol) as a defensive pistol round. After all, the cartridge was considered a poor choice for personal defense and, with notable exceptions like the Walther PPK, some of the available handguns chambered in .380 were junk. But that was then.
These days the little .380 ACP is one of the most popular cartridges and .380 pistols suitable for concealed carry don't sit long on dealers' shelves. How did this come about? As laws favorable to concealed carry spread throughout the land demand for suitable pistols increased and manufacturers responded by marketing pistols specifically designed for concealed carry, among them .380s. But the .380 craze didn't take off until Ruger introduced their wildly popular LCP pistol and ammunition manufacturers, realizing the potential impact of the .380 on the concealed carry market, began producing .380 ammo suitable for personal defense. The rest, as they say, is history and shooters can't seem to get enough of little .380 pistols.
There are a couple of problems. Tiny, lightweight pistols may be easy to conceal and carry but they tend to bite at both ends. I've had the opportunity to shoot most of these little cannons and can tell you some of them are a real pain – literally. Then we have the issue of shootability: Is the trigger manageable? Are the sights usable? Can you hit what you're aiming at? Like most things in life there are trade-offs and light weight and concealability don't always lend themselves to shooting comfort and accuracy. Maybe the answer lies in a slightly larger pistol with a good trigger, useful sights and a bit more weight, and that brings us to the new Ruger LC380.
Introduced this January at the SHOT (Shooting Hunting and Outdoor Trades) show in Las Vegas, the LC380 is simply Ruger's LC9 9mm pistol re-chambered in .380 ACP. Except for their markings and a magazine modified for the shorter .380 cartridges, the two pistols look identical. The specifications for both pistols are the same; the LC380 weighs a scant .1-ounce more than the LC9. Here the stats:
Capacity 7 rounds in the magazine, one in the chamber
Barrel length 3.12 inches
Weight, empty 17.2 ounces
Weight, loaded 20.0 ounces
Sights 3 dot white, windage adjustable rear sight
Comparing my LC9 with the LC380, I discovered Ruger has improved the trigger on the LC380. My LC9 trigger is gritty and breaks at 7 pounds, 11 ounces on average. The trigger on the LC380 has a smooth double action, breaks at 6 pounds, 3 ounces and feels lighter because it runs so smoothly. To my mind this is a big improvement that aids greatly in practical accuracy. My LC9 is an early example, and I haven't had the chance to check a recent LC9, but I hope the better trigger on the .380 is representative of newer LC9s as well. Both pistols share the same safety features, those being a thumb safety, firing pin safety, loaded chamber indicator and a magazine disconnect, meaning the pistol won't fire if the magazine is removed. In case you're wondering, both the LC9 and LC380 are on the approved list for sale in California, in no small part due to the abundance of safety devices. It remains to be seen whether future Ruger models, or those of other manufacturers, will comply with the new micro-stamping requirement and be available in California.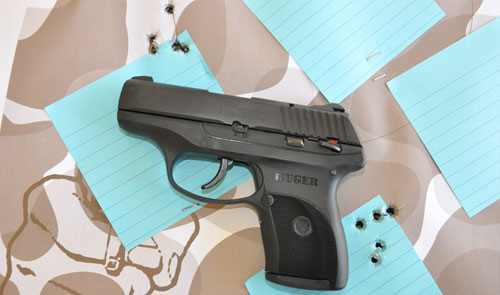 As you may have noticed, defensive pistol ammunition is hard to come by these days so my testing of the LC380 was limited. Fortunately, I was able to round up some of the excellent Hornady Critical Defense ammunition. This ammunition is optimized for use in .380 pistols with short barrels and launches a 90 grain FTX bullet at somewhere between 900 and 1,000 feet per second. I've tested this ammunition on several occasions and the results are uniform and surprising – you don't expect little .380 bullets to penetrate more than 10 inches in ballistic gelatin while mushrooming perfectly, but they do. Too, I have seen this ammunition punch through walls and a car windshield. Does this mean you should give up carrying a .45ACP and switch to a .380 Auto? Of course not, but I think there is some comfort in knowing good defensive ammunition is available for the .380ACP if that's your choice of carry pistol.
And why might you choose a .380, specifically the LC380? Well, this is a great shooting little pistol. It's accurate, has very mild recoil and is comfortable to shoot. Unlike the tiny .380 pocket pistols, such as the Ruger LCP, the LC380 has real sights and is big enough to hang onto. Shooting from a Galco Gunleather holster, I was easily able to make center hits at realistic combat distances. The groups shown in the picture were fired offhand at 10 yards and 7 yards. Note that both groups printed a little high, as I was using a center hold on the 4" X 4" target. I experienced zero malfunctions during my testing with the Critical Defense ammunition.
With the LC380 being the same size as the LC9, accessories and holsters are interchangeable, including frame mounted lasers from Crimson Trace and LaserMax. The LC380 magazine is a modified LC9 magazine, with a filler to accommodate the shorter .380 cartridges. I discovered you can load .380 ammunition into the LC9 magazine and it will function perfectly in the LC380.
The Ruger LC380 strikes a balance between the tiny Ruger LCP and the LC9. If you're looking for a reliable, easy shooting, easy carrying .380ACP pistol it may be just what you need.
For more information, visit ruger.com.
About the Author: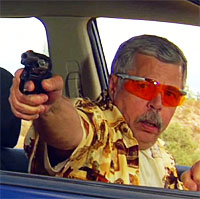 Ed Head is a regular on Shooting Gallery and Down Range TV. He has worked for almost 30 years in law enforcement, first in the United States Air Force and then with the United States Border Patrol, retiring as a Field Operations Supervisor. During his Border Patrol career, Ed worked in a variety of patrol, investigative and training capacities. Ed has an extensive background as a firearms instructor, having trained thousands, ranging from beginners to police, military and special operations personnel. Having taught at Gunsite for 20 years, Ed first trained there under the world famous shooting school's founder, Jeff Cooper, then later ran the school as the operations manager for more than five years. Ed lives in Chino Valley, Arizona, where he continues to teach and write.