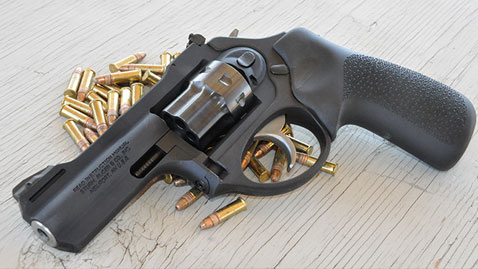 Today we're going to examine Ruger's .22 caliber LCRx, a kit gun if there ever was one. What's a kit gun, you ask? It could be a fishing or tackle box gun used to dispatch snakes and such. It might be a small, handy revolver that's easy to pack when hiking or wandering about outdoors. In these parts some folks I know carry a small revolver when they're walking their dogs, riding their trail horses or working about the property in case of encounters with slithering, four legged, or perhaps, two legged critters. Kit guns are handy, useful and very popular, especially in .22 Long Rifle (LR) caliber. Why a .22? No cartridge is more prolific and versatile than the .22LR, and, while it's not a powerhouse, it's easy to shoot, ammunition is inexpensive and it works just fine for most of the reasons people need a small revolver.
Ruger's LCR revolver line was launched in 2009 and has been steadily expanding ever since. The LCR two inch barreled revolvers with shrouded hammers and fixed sights are available in .38 Special, .357 Magnum, 9mm Luger, .22 Long Rifle, .22 Magnum and .327 Federal. The LCRx models feature an exposed hammer allowing them to be cocked for single action shooting. There are 2-inch barreled models with fixed sights as well as ones with 3 inch barrels and adjustable sights, both available in .38 Special and .22LR. The subject of our examination today is the .22LR LCRx with a 3-inch barrel.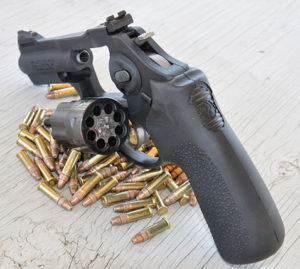 One of the things that sets the LCR lineup apart is the innovative construction, a mixture of polymer and steel parts and their friction reducing cam action making the trigger pull smoother and lighter than most other small revolvers. Unfortunately, the actions on the .22LR models are much stiffer. It's a peculiarity of small, lightweight .22 revolvers that they can't be tuned to have as light an action as the centerfire models and still fire reliably. As it is, my sample revolver has a very stiff double action trigger that defies my trigger pull gauge – being over 12 pounds – and a single action trigger that breaks stiffly but cleanly at a bit over 6 pounds on average. The trigger itself is smooth and curved in such a way the finger rolls over it in double action shooting. The rubber Hogue grip on this revolver is exceptional, being similar to the Jordan Trooper grip designed by Bill Jordan.
The LCRx features an eight shot cylinder that rotates counter-clockwise. The extractor rod is long enough to push empties completely clear of the cylinder. The front sight comes with a white vertical bar that works well in aligning it with the plain, black rear blade. Night sights and various colors of fiber optic sights are available for the LCRx and can be easily replaced thanks to the pinned front sight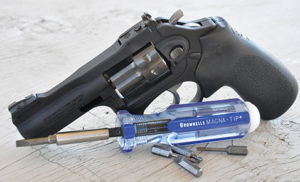 blade. While the rear sight has both elevation and windage screws they are the usual Ruger thin blade design and you'll find common screwdrivers or the ones on your multi-tool won't fit. Fortunately, www.shopruger.com carries a small screwdriver kit made by Brownells with the right bits to fit Ruger sights as well as the bits necessary to mount rails on the Mk 3 and Mk 4 .22 caliber pistols. I had my kit with me when I took the LCRx to the range and used it because the rear sight needed a bit of adjusting to the right and a lot of movement up to get the revolver zeroed.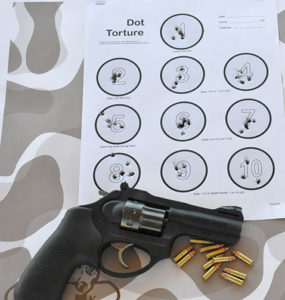 Once sighted in I decided to give the Dot Torture drill a try. Fired at only 3 yards and consuming 50 rounds of ammunition, Dot Torture is shot at small printed circles and involves group, one handed, two handed and multiple target shooting. It's deceptively simple in appearance and very difficult to pass. Did I mention the failing score is a single miss outside any one of the circles? So, not expecting much due to the heavy double action trigger I gave it my full concentration and to my complete surprise passed the test. I guess this means the trigger is okay if you work at it but I would have trouble recommending this revolver to someone with limited hand strength or little experience shooting. As Jeff Cooper often advised us, you need a trigger you can manage and that means being able to press the trigger until the gun fires without moving the sights. My wife can pull this trigger but not without a convulsive jerk that causes the sights to wave all about.
I really like the concept of this small .22 caliber revolver but I'm not going to recommend you run out and buy one until you test the trigger yourself and see if you can manage it. If you can't then you should take a look at one of the centerfire LCR or LCRx revolvers, like one of the .38 Specials, as they have exceptional, light, smooth, double action triggers.
For more information:
For printable targets and Dot Torture instructions go to:
About the Author: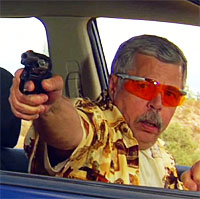 Ed Head is a regular on Shooting Gallery, Gun Stories and Down Range TV. He has worked for almost 30 years in law enforcement, first in the United States Air Force and then with the United States Border Patrol, retiring as a Field Operations Supervisor. During his Border Patrol career, Ed worked in a variety of patrol, investigative and training capacities. Ed has an extensive background as a firearms instructor, having trained thousands, ranging from beginners to police, military and special operations personnel. Having taught at Gunsite for 20 years, Ed first trained there under the world famous shooting school's founder, Jeff Cooper, then later ran the school as the operations manager for more than five years. Ed lives in Chino Valley, Arizona, where he continues to teach and write.