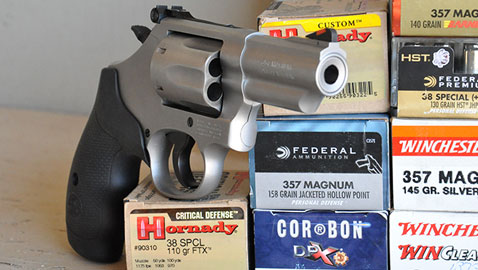 When I left the Border Patrol academy and reported to my duty station in San Diego I was packing an issued Colt Border Patrol .357 Magnum revolver. A version of the Colt Lawman Mk. III, my gun had been rebuilt and re-blued by the academy armorers, but even so, it had seen better days. I couldn't wait to finish my probationary period when I would be allowed to purchase and carry my own revolver. Scraping my pesos together from our pitiful pay I managed to come up with the tariff for a Smith & Wesson Model 29, a .44 Magnum with a four inch barrel. The day I came off probation I submitted my memo asking the Chief Patrol Agent to authorize my new purchase and waited expectantly for his blessing. Unfortunately, the day my .44 was approved the Border Patrol, in it's infinite and inscrutable wisdom, decided to rescind authorization for privately owned duty revolvers in anything but .357 Magnum and .38 Special calibers and I was never able to carry that M29 on duty. In due course I came up with the dinero to purchase a Smith & Wesson Model 66, a stainless steel four inch barreled .357 Magnum and turned in my old Colt. The M66 was eventually replaced by a Model 686 and along the way I purchased a Model 60 .38 Special 5 shot revolver for plain clothes and off duty use but eventually replaced it with a 2 ½ inch M66. Until we transitioned to semi-automatic pistols I was firmly in the Smith & Wesson camp as far as duty revolvers were concerned.
When Smith & Wesson announced two new Combat Magnum short-barreled revolvers, one in .357 Magnum and the other in .44 Magnum, it got my attention. Both have 2.75" barrels, are stainless steel in construction and have S&Ws excellent target style combat sights. Made from a rubber-like material the synthetic stocks are very well designed and help a great deal in making these shorty blasters more comfortable to shoot. Let's take a look at one of them and we'll get to the other in my next article.
Model 66
Like the Model 66s I carried at work this new one is built on Smith & Wesson's K frame. In case you're not up to speed on S&W frame sizes the K frame is the considered the medium size frame and is usually associated with cartridges in the .38 Special and .357 Magnum class. The J frame is the small frame, found in .38 and .22 class revolvers and while longer barrels have been made I imagine most folks associate the J frame with 2" barreled revolvers. The medium/large frame is the L frame, which was first introduced in the 686 (stainless steel) and 586 (blued steel) .357 Magnum revolvers. The large frames are referred to as the N frame. Made famous by Dirty Harry's long barreled .44 Magnum, the N frames are also used for .44 Special, .45 Colt, .45ACP and .357 Magnum revolvers, among others. Lastly, we come to the really big frame, the X frame, reserved for the exceedingly powerful .460 and .500 Magnum revolver rounds.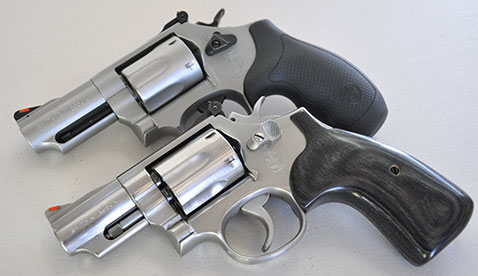 There are a number of differences in the new M66 and my old M66 2 ½" revolver. The barrel is now a two-piece affair that's screwed into what most of us would think of as a conventional barrel, much in the fashion of what you might describe as lining a barrel or covering it with shroud. The fit is excellent and the gap between the back end of the barrel and the face of the cylinder in minimal yet allows the revolver to function perfectly. In another departure from older models this new one has a crane lock reminiscent of the famed S&W Triple Lock. This securely locks up the crane and cylinder and makes for a stronger revolver. Unlike my old 2 1/2" revolver, this new model kicks empty cases clear of the cylinder when the ejection rod is depressed, which I imagine is why S&W decided to lengthen the barrel, and the ejection rod, by a quarter of an inch. Weighing a little over 33 ounces, the M66 is a substantial revolver. Sights are the usual S&W target rear sight with black blade and a serrated, ramped front sight with a red insert. In an improvement over earlier years, the front sight is pinned in place and replaceable. This makes it much easier to change the front sight to one you prefer and to replace it if damaged (if you ever drop a S&W revolver I guarantee it will land on the sights…don't ask me how I know).
Out of the box, the trigger on my sample revolver is pretty bad. The double action trigger pull exceeds the capacity of my Lyman electronic trigger gizmo so I'm guessing it is around 15 pounds. The single action trigger is a stiff 5 pounds, 10 ounces. Unfortunately, the days of receiving a factory revolver with the legendary S&W triggers of old are long past. Requiring extensive hand fitting and giving corporate lawyers fits these triggers are out of the question now. Fortunately, someone who knows what they're doing can tune a S&W to perfection and, if you wish, can remove the key lock that drives traditionalists stark raving bonkers.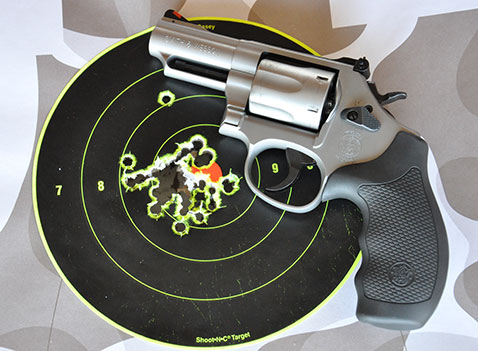 The M66 is as accurate as any revolver I've fired in the past few years and better than some. The only thing getting in the way of shooting it accurately is that damnable trigger so I gave up on accuracy testing and decided to shoot the snub-nosed beastie with a variety of .38 Special and .357 Magnum ammo to see how it handles. Scrounging around in the ammo bunker I came up with a large variety to test, some of it brand new and some more than 20 years old. In terms of functioning, the M66 ate all of it up without complaint and I experienced not a single malfunction or failure to fire. As you might imagine, the lighter target loads feel mild when touched off while the +P .38 Special defensive ammunition has a bit of a kick. Switching to the defensive and hunting .357 Magnum ammunition will get your attention. Perhaps the rudest load in my inventory is a 125 grain Winchester jacketed hollow point defensive load and it produces a huge muzzle blast quite noticeable in full sunlight. Still, shooting this mixed bag I found the M66 to be reasonably comfortable to shoot due to the excellent design of the synthetic grips.
If you're looking for a handy, easy to carry defensive revolver in a powerful fight-stopping caliber you would be well advised to examine the M66. I bet my life on one many times and I have no doubt this new version can be relied upon to protect yours.
About the Author: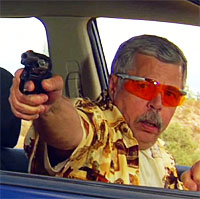 Ed Head is a regular on Shooting Gallery, Gun Stories and Down Range TV. He has worked for almost 30 years in law enforcement, first in the United States Air Force and then with the United States Border Patrol, retiring as a Field Operations Supervisor. During his Border Patrol career, Ed worked in a variety of patrol, investigative and training capacities. Ed has an extensive background as a firearms instructor, having trained thousands, ranging from beginners to police, military and special operations personnel. Having taught at Gunsite for 20 years, Ed first trained there under the world famous shooting school's founder, Jeff Cooper, then later ran the school as the operations manager for more than five years. Ed lives in Chino Valley, Arizona, where he continues to teach and write.