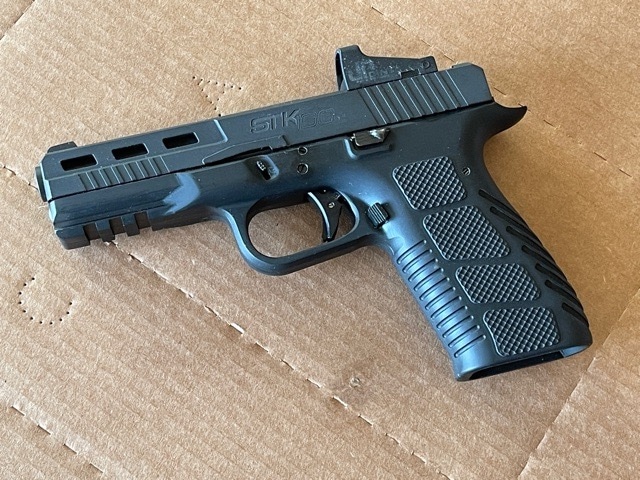 NOTE: WE WILL HAVE A FULL VIDEO REPORT ON THE NEW STK100 THIS WEEK ON TRIGGERED!
Martin Tuason, the head of Rock Island Armory and ARMSCOR, has always relished a good surprise.
When I was in the Philippines in 2019, back before the world blew up, we had been in the sprawling factory — actually a small town in its own right — when Martin and one of his engineers brought in a prototype.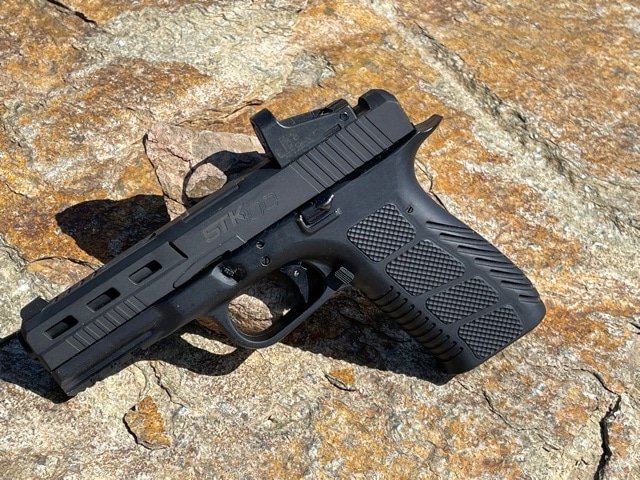 "Check this out," Martin said. "Tell me what you think of it, and tell me how we can make it better when we go into production."
The engineer and I went over the gun. I love being able to talk to the people who actually designed the gun, so I can get a sense of what they were trying to achieve, what problems they faced and how they solved those problems. The gun was a 9mm striker-fired semiautomatic, but the surprise was that the frame was aluminum, rather than polymer.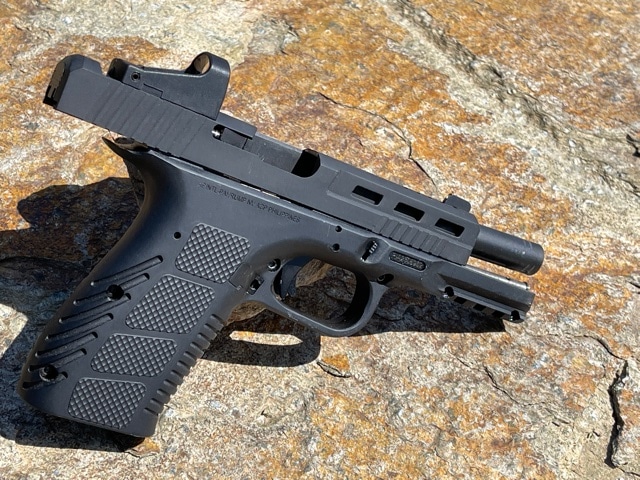 Then we went to the range, and the new — and then secret — gun shot great. The added weight of the aluminum, couple with a masterfully designed beavertail, made the 9mm a sweetheart to shoot.
"We should have it out next year," Martin said in answer to my question. Of course, we know what happened to "next year!" You might have seen our TRIGGERED episode with Martin on the challenges to keep ARMSCOR alive and producing during the pandemic. He had to build dorms for his workers to stay on site, then arrange to make sure their families had all the groceries they needed. It turned out to be a massive undertaking.
A week ago an unmarked box arrived at my FFL dealer. It turned out to be the brand new STK100, finally making it to the market.
First, let's do the specs:
Caliber — 9mm
Capacity — 17 + 1
Weight (unloaded) — 1.8 pounds
Overall length — 7.91 inches
Overall width — 1.25 inches
Overall Height — 5.16 inches
Trigger pull — 3.0 lbs – 7 lbs
Front sight — Tenon cut with retaining screw
Rear sight —  Fixed, integrated on optics plate
Frame finish — Black anodized
Slide and barrel finish — Pakerized
Grips — Aluminum, integrated on frame
My STK100 weighs in at 29.9 ounces; trigger pull on my Lyman digital gauge is 5.8 pounds. As is typical with striker-fired guns, there's a little take-up as you engage the trigger safety, then a crisp break. Reset is very short.
Let's talk about that aluminum frame, which is what sets the STK100 apart from the flood of striker-fired polymer-framed guns on the market, and see if it gives us a hint of where this gun will shine. It always helps me to understand a gun by seeing it in context with similar guns in the market. Weightwise, the STK100 splits the difference between lightweight polymer-framed gun like the Glock — the similar-sized Glock 17 is 22.2 ounces unloaded — and the heavier, designed for competition pieces like the CZ Shadow 2 at 46 ounces. USPSA rules for two of their most popular divisions, Production and Carry Optics, specify a maximum weight of 59 ounces. In IDPA Stock Service Pistol, where the STK100 would likely compete, the maximum weight is 43 ounces with the heaviest magazine inserted (45 ounces in IDPA's provisional Carry Optics division).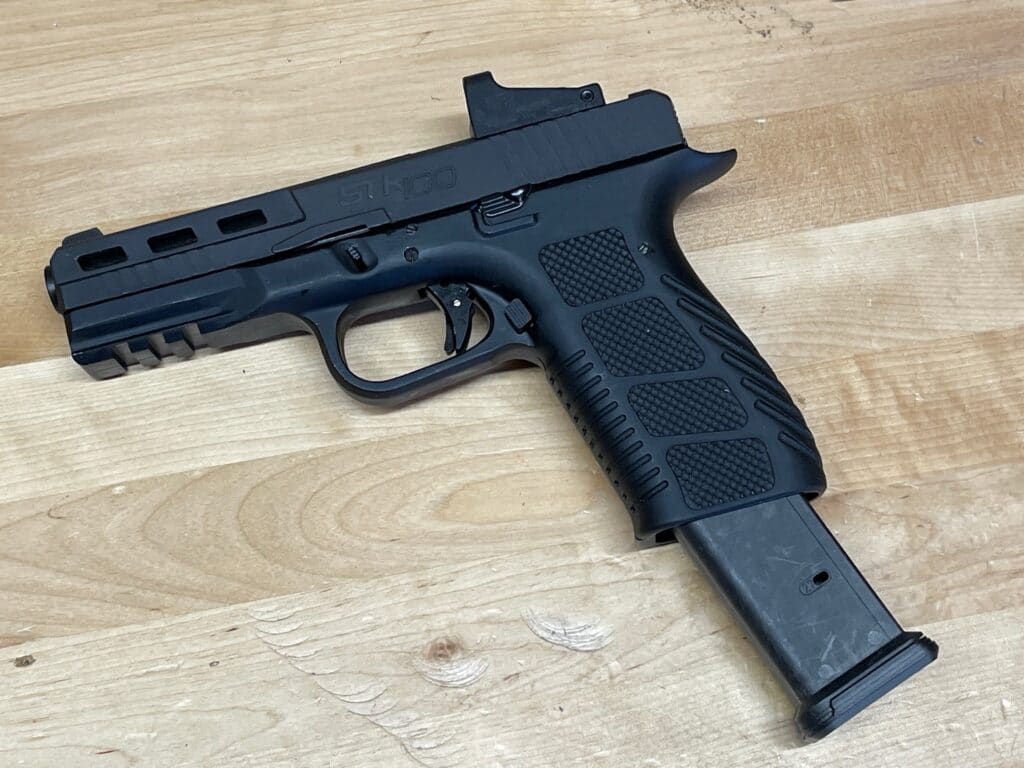 When we talk about carrying a full-sized pistol for self-defense, the STK100's weight is right there in the ballpark — the full-size Sig 320 9mm is 29.6 ounces; the full-size S&W M&P 2 9mm is 28 ounces.
The frame itself is very interesting. It appears to have been made in two halves, then joined by six bolts.  Making a frame in two halves is a method pioneered by Ruger in the late 1940s and carried forward until today. That most important interface — the one with your hand — is excellent. The grip grooved on the backstrap and and front strap, the back in a V-pattern and the front horizontally. The sides of the integral grip have four panel of stippling, for lack of a better word. It's closer to checkering than stippling.
In any case, it works and it works well…crummy stippling is one of my pet peeves. The STK does not offer interchangeable backstops, but more or less follows the backstrap curve of an Gen 3 Glock. At least, my hand falls almost exactly the same on the two guns. Magazine release does not appear to be ambidextrous.  Interestingly, in places where polymer frame guns use pins to secure the chassis, the STK has screws. The trigger guard is undercut to facilitate a higher grip on the gun, and the beavertail is both wide and deep.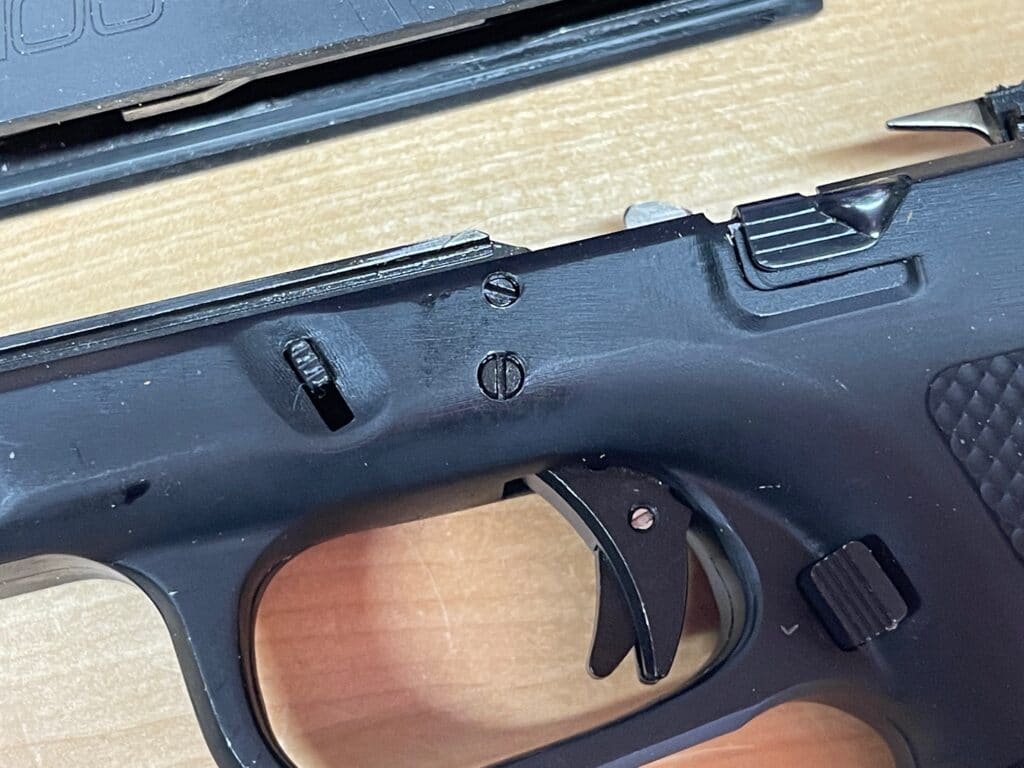 The trigger pull measured an average of 5 pounds, 12 ounces on my Lyman digital gauge. Reset if short and quick.
Disassembly is by what one might call "Glock standard." It requires you to cock the UNLOADED gun, pull the trigger, then move the slide back a fraction of an inch while pulling down on the slide release tabs on either side. The carbon steel chassis has extended rails in the front rather than the shorter rails embedded in the frame that you might see on a polymer-framed gun. The locking lugs on the barrel are a spec beefier than a Glock's; recoil spring is captive on what looks like a stainless steel rod.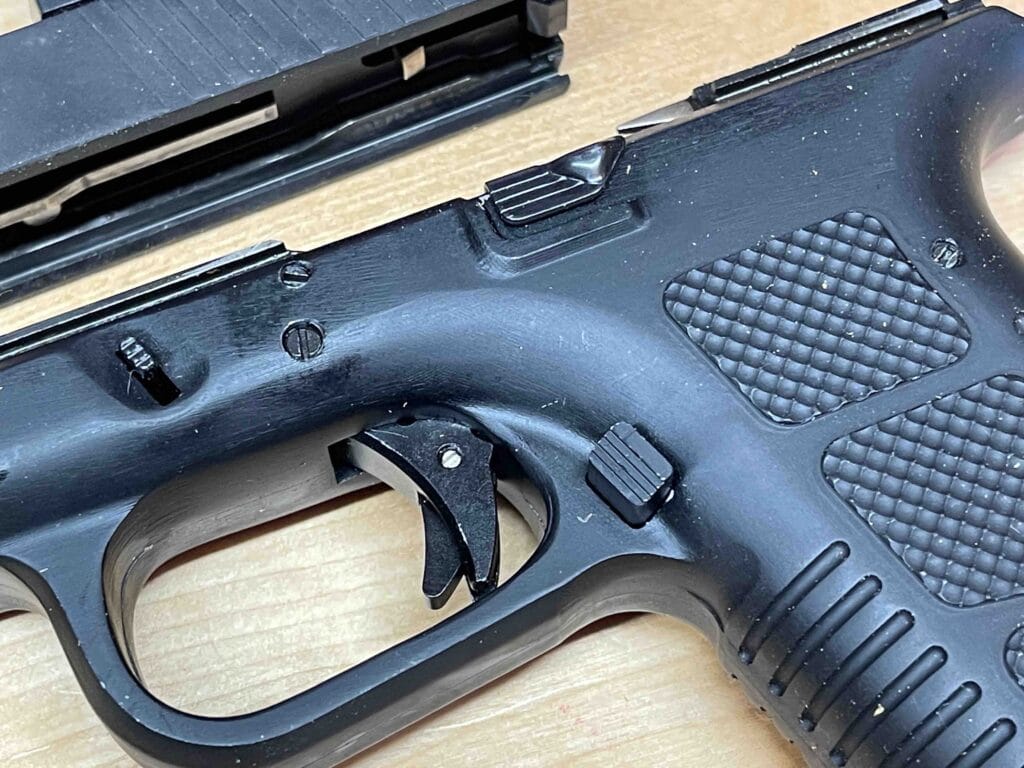 Moving up, the slide is machined from a billet of steel and features six lightening ports, three on each side and one on the top of the frame. There are angled serrations both front and rear to aid in cocking the pistol ; they are plenty sharp and deep enough to work as advertised. The machining on the top of the slide is pretty slick, BTW, and fits well in the overall design of the gun. Front sight has a white dot and seems to be easily replaceable. The rear sight is serrated and DOES NOT have white dots, my little contribution. It is mounted on the cover plate for the optics cut and extends back to the rear of the slide, which gives a superior sight picture…why we bought all those expensive Bo-Mars in the old days.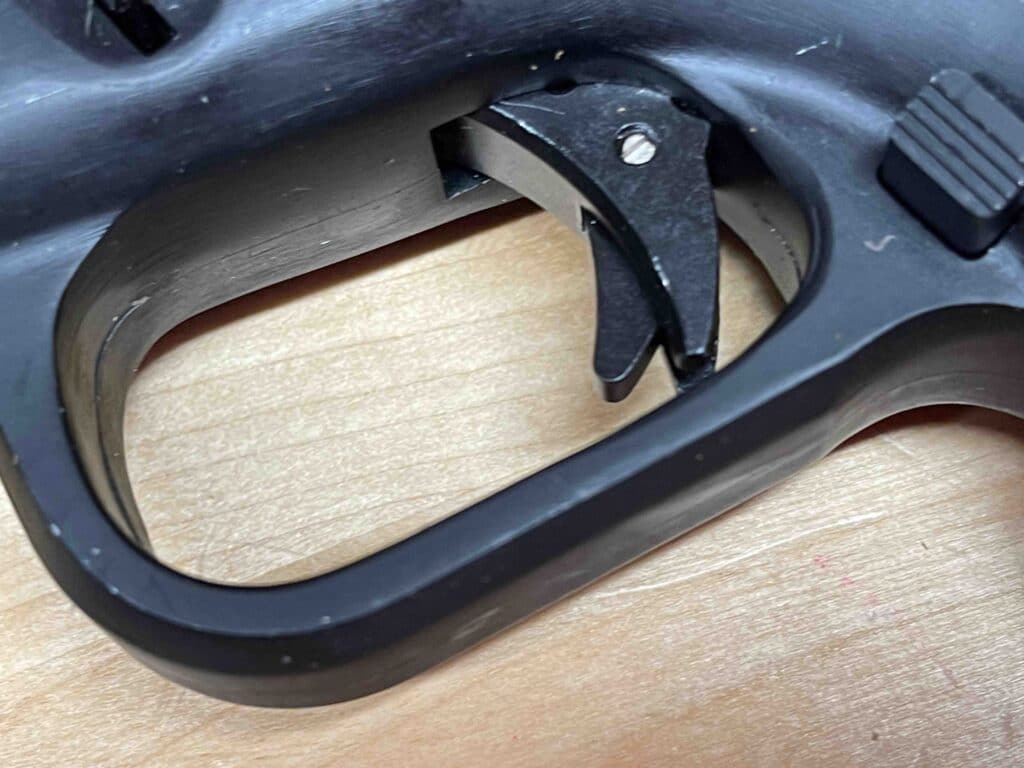 After revolving the plate, the STK (or at least the STK that I have in my hands) is set up for Shield footprint optics, which include (according to Optics-Info.com), which includes the various Shield optics, including the RMS and the smaller RMSc, Leupold Delta Point Pro, Swampfox Sentinel, JP Enterprises JPoint, the Sig Romeo Zero and any other sights with that pattern. According to Optics-Info, the popular Holosun 507k and 407k will fit this patter with some modifications. As I don't have a 507k laying around the shop, I can't verify that.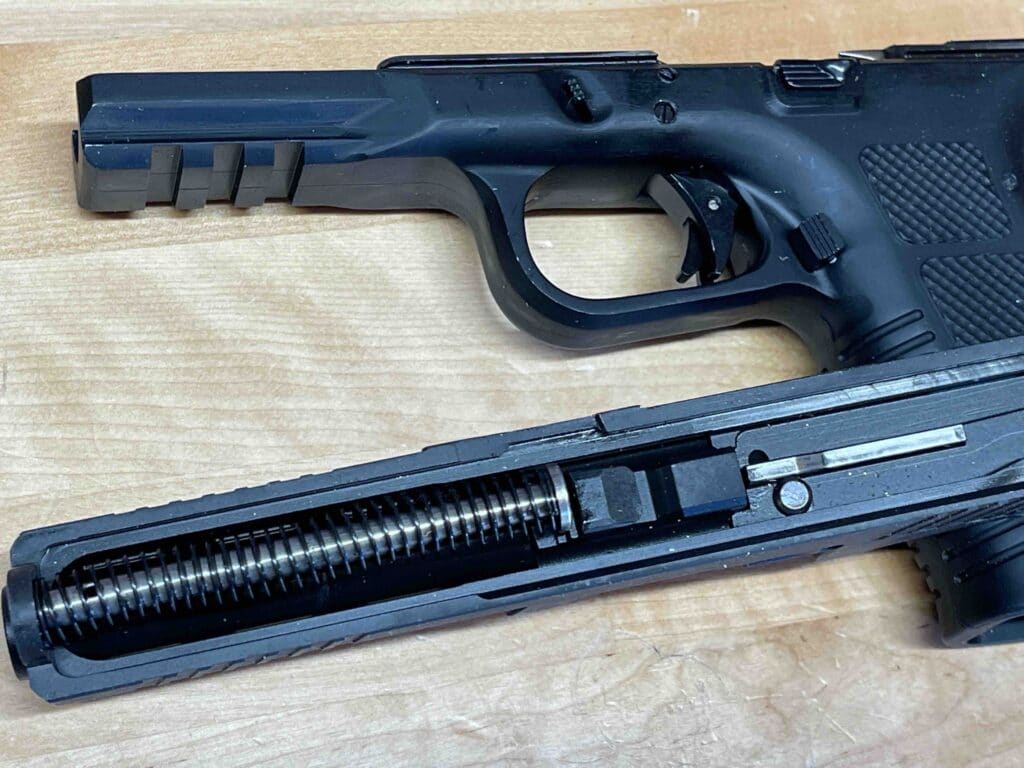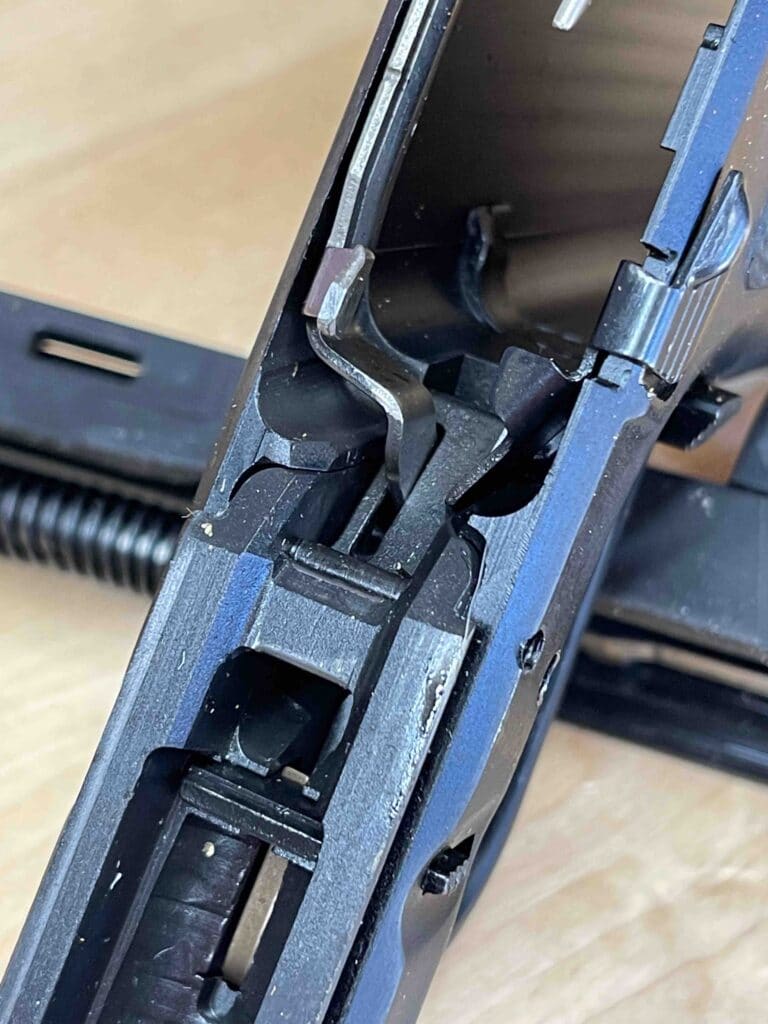 I mounted a 4MOA JPoint on the STK. I've always like the JPoint. It's small, durable and the battery lasts a couple of forevers.The sight "made its bones" on the USPSA and 3-Gun competition circuits and was even used in Iraq and Afghanistan. I have a JPoint on one of my hunting revolvers. You can also get it in an 8MOA, if you can find one. I also have Shield RMSc, Sig RomeoZero and the Swampfox Sentinel. Those last three are the smaller width sights for something like a Sig 365. The Point and Leupold are designed for full-sized pistols.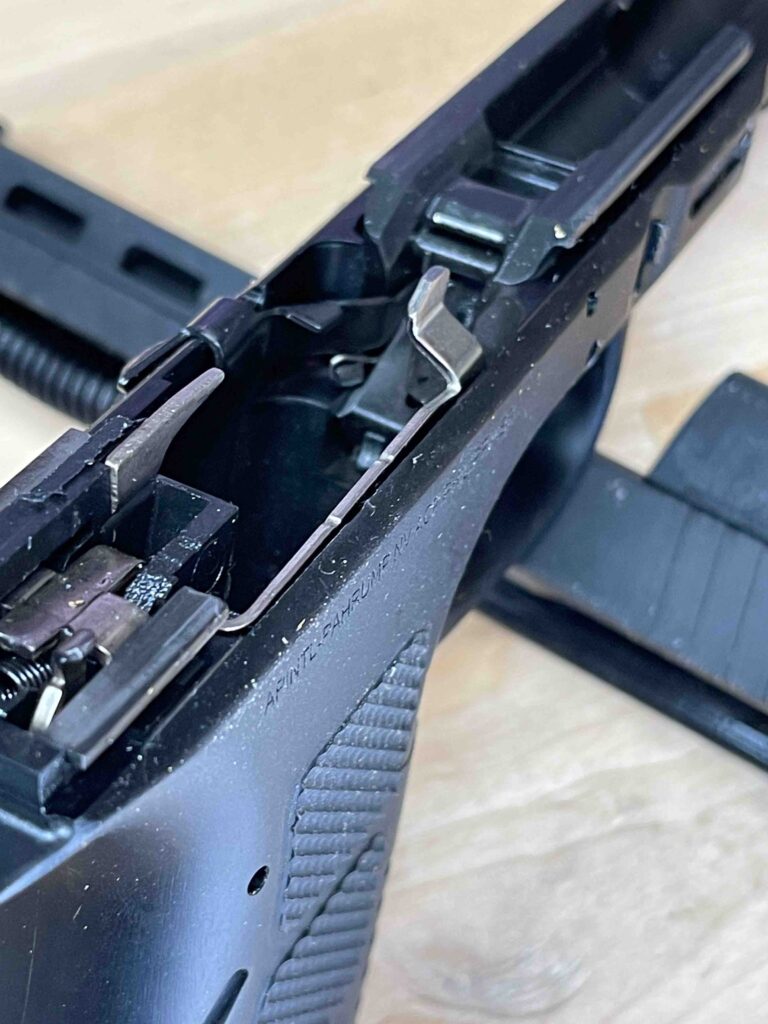 Let's talk magazines. My STK came with a Korean KCI Glock-compatible magazine (10 rounds for the slate states, but available in 17 rounds for what's left of Free America). Note I said "Glock-compatible." I found that some actual Glock magazines and the ETS clear magazines were a very tight fit, nothing, I suppose, that couldn't remedied with a judicial application of sandpaper in the magazine well.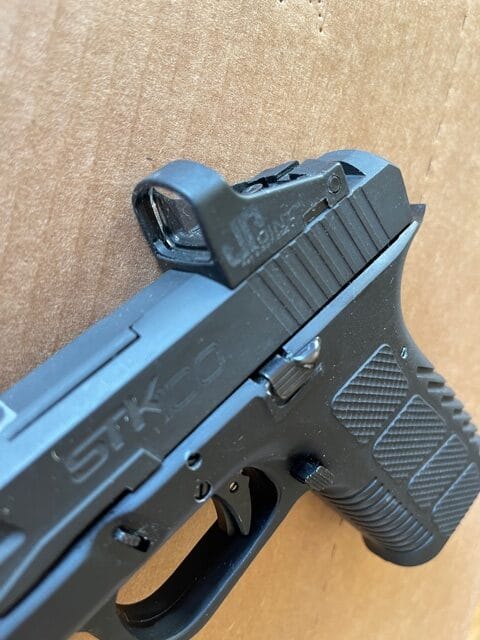 Before you race out to make a sanding block, inexpensive MagPul Glock magazines were a perfect fit — they slip right in, and all the ones I tried easily dropped free. MagPul offers Glock 9mm mags in 17, 21, 27 and 50-round rum capacities. A 21 round mag works for USPSA Carry Optics and Limited; the 27 round magazine for Open Division and the 50-round drums for major zombie attack. (BTW…don't take my word on this! Check the current USPSA rules, which sometimes change like the seasons).
KCI offers 9mm magazines in 17-round, 33-round and a 50-round drum. My experience with KCI magazines has been pretty good, although there are other people who don't share my luck. Years back, I bought 10 KCI magazines for my G19. I basically used them as range magazines, subbing in factory Glock mags when I carried the gun. I still have a bunch of them, and I don't recall any massive failures. Just be aware that your mileage may vary!
SO HOW DOES IT SHOOT?
In a word, great.
To be honest, I've been running Armscor 124-gr ball through it without a hitch. So today I decided to do what every single gun writer on earth does…I cleaned off my desk. In addition to a couple of boxes of ARMSCOR ball, I loaded magazines with every spare 9mm round I could find in my office, which included Federal Syntech 150-gr. red stuff, Sig 115 Elite 115-gr V-Crown, Speer G2 147-gr JHP, Hornady Critical Defense and Critical Duty, some funny-colored ball that I have no idea where it came from and left-over range ammo I had in a bag.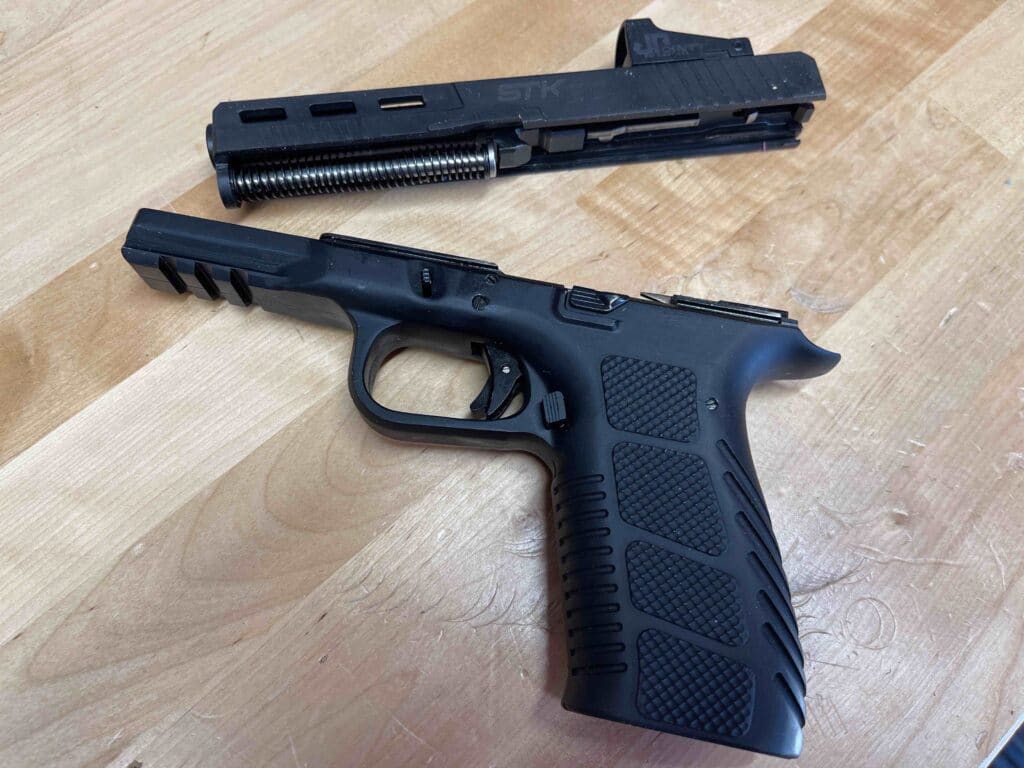 Mixed 'em all up and loaded the magazines.
Then went out to my range and started worrying my Revolution Targets plate rack to death at 10, then 12, then 15 yards. It was actually kinda fun, not knowing which rounds was coming up. The 115-gr. Sigs really spun the plates, though.
No problems whatsoever. It runs with whatever I put in the magazines. I want to emphasize how soft-shooting the STK is, a product of the added ounces and that great beavertail. sighted the JPoint in at 10 yards and then verified at 25 yards, a la Scott Jedlinski at Modern Samuria Project, the Jedi Master of red dot sights. I would take this gun to a USPSA or IDPA match tomorrow, and in better hands than mine I believe it can be competitive out of the box. I haven't run a gigantic holster check on the STK yet, but it fit three of my Blade-Tech Glock holsters, but was too tight in my Comp-Tac competition rig.
So what do we have here? I certainly can't read my friend Martin's mind, but this looks like a new platform for Rock Island. You get the standard-sized gun out there, then start working for options off the platform.
And, since I know you were going to ask, MSRP of $599.99.
[NOTE: As I'm sure you realize ARMSCOR/Rock Island Armory is a longtime supporter of both our broadcast television and our Internet programming, and the Tuason family are close personal friends.]