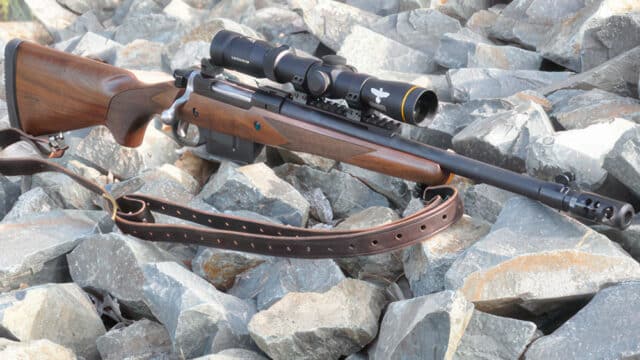 Let's talk a little about Scout rifles and then get into the details of this new version from Ruger. Jeff Cooper began experimenting with what he called a Scout rifle more than 40 years ago. He imagined such a rifle would be, above all, a general-purpose rifle, useful for hunting or fighting and an ideal rifle for a single person, a scout, operating alone. He wanted the rifle to be short, lightweight, chambered for capable and readily available ammunition, to be magazine or stripper clip fed and to have multiple sighting options, to include a means of attaching a long eye relief telescope. As time passed and Cooper refined his concept he added other features like his ideas about slings and carrying spare ammunition to the list of potential features. Bear in mind, when Cooper began this journey many of the elements of the Scout hadn't been invented or hadn't been imagined and some of the features we see on scout rifles these days simply weren't available "back in the dark ages", as Cooper would have said. Eventually Steyr produced the first production Scout rifle and it was followed by examples from Savage, Ruger and Mossberg. all with elements of Cooper's idealized Scout. Cooper also imagined a small, powerful infantry weapon he referred to as Thumper chambered in the .44 Automag round. Something like a sub-machinegun, the Thumper concept never took off. While it has nothing to do with the Thumper idea other than a big bore connection to Cooper, some folks have taken to calling this newest Scout rifle Thumper because it packs a wallop. So, with all due respect to my mentor, I think Thumper is an appropriate name for this rifle.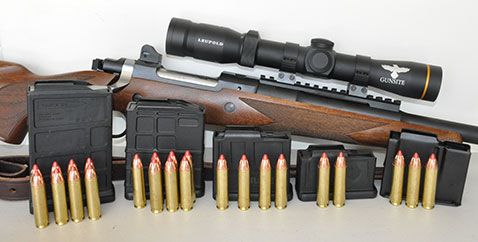 Thumper, Ruger's newest Gunsite Scout Rifle (GSR), is chambered in 450 Bushmaster, a round previously only found in a couple of Remington/Bushmaster AR style rifles. Hornady came up with this round that launches a 250 gr. FTX bullet at a little over 2,200 feet per second and I'm told it is devastatingly effective on wild hogs. As far as I know, only Hornady and Remington are making this ammunition and, while I've found the Hornady ammo to be available, I've yet to find any of the Remington version. You may wonder why Ruger chose to chamber this big-bore Scout in 450 Bushmaster. I believe there were a couple of good reasons. In a number of states bottlenecked rifle cartridges are prohibited for hunting so shooters are left with a few straight walled pistol and rifle calibers to choose from. The 450 Bushmaster round is the right length and has the correct case head to be used with a .308 action and Ruger is, of course, making Scout rifles in .308. And guess what? The 450 Bushmaster rounds fit in .308 magazines made for the Ruger Gunsite Scout but with a reduced capacity. It's a no-brainer to turn the .308 GSR into a 450 Bushmaster.
This new GSR looks a bit different than others you might have seen. The action sits in an attractive brown American walnut stock and there is a large muzzle brake on the end of the threaded, cold hammer forged 16-inch barrel. Otherwise it's pure GSR with the usual ghost ring sight setup, cushy recoil pad and removable stock spacers for adjusting length of pull. Sighting options include shooting the rifle with the ghost ring sights, installing a riflescope over the receiver in the included one inch rings or mounting a scope forward of the receiver on the Picatinny rail. As with all GSR models these sighting options give shooters lots of choices and allow the rifles to be set up for specific tasks or according to individual preferences. Thumper ships with one Ruger metal 5 round .308 magazine that holds 3 rounds of 450 Bushmaster ammunition. The rifle can use Ruger and Magpul plastic magazines as well as AI pattern metal mags. The ten round .308 magazines hold either 7 or 8 rounds of .450 Bushmaster.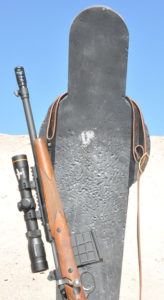 Considering the hog shooting potential of this rifle I set it up with the perfect scope for the task, a Leupold 1.5-5 Intermediate Eye Relief (IER) Firedot. This scope has a 30mm tube that gathers lots of light and along with the red Firedot reticle is ideal for shooting in low light conditions. The Firedot need not be turned on or off; it comes on when the rifle is picked up and goes to sleep five minutes after it is set down. IER variable power scopes generally require mounting further to the rear than fixed power scout scopes yet retain many of the advantages of forward mounted scopes. Among these are the ability to shoot with both eyes open, tracking moving targets and quickly finding the target in the scope.
After mounting the scope I checked to see that the barrel was free-floated in the stock (it is) and torqued the stock bolts. The bolt at the rear of the trigger guard calls for a torque setting of 10 inch/pounds while the front bolt calls for 90 inch/pounds. In my experience, maintaining the correct torque of the front bolt contributes to the accuracy of GSRs by seating the action in the bedding blocks. The trigger on Thumper breaks cleanly at slightly over 4 pounds, and if my experience is any example it will improve with use and end up being about a 3 to 3 1/2 pound trigger.
My last addition to Thumper was adding one of Andy Langlois' Rhodesian slings. This leather carry strap/shooting sling is the finest practical rifle sling I've used and greatly contributes to steadying the rifle and improving accuracy whether shooting groups from traditional prone, sitting or kneeling positions or when shooting from improvised positions and rests during field shooting.
I normally sight in .308 Scouts for a 200 yard zero but after looking over the ballistics of the 450 Bushmaster decided to go with a 150 yard zero. Here's how the trajectory works out:
25 yards 0
50 yards +1.3
100 yards +1.9
150 yards 0
200 yards -4.9
250 yards -13.6
300 yards -26.7
To make that easy, considering a 10 inch target or vital zone, hold center from just off the muzzle to 200 yards, hold about 8 inches above the vital zone at 250 yards and don't risk shots at 300 yards or beyond absent a very steady rest and an exact range measurement.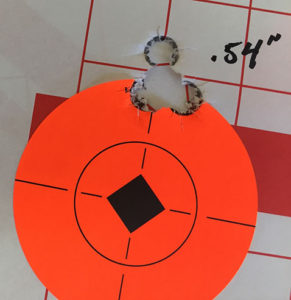 Shooting off the bench at 100 yards Thumper rewarded me with some nice 3 shot groups. My best effort resulted in a couple of groups a little under ½ inch and my overall average for 15 groups came in at just under an inch at 0.8". Getting off the bench I ran Thumper through some field exercises, including a couple of walks through Gunsite's Scrambler, a seven position exercise with steel targets of various sizes placed out to about 90 yards. Rather than run the Scrambler, I strolled it and took all the shots from either standing or kneeling, every one a first round hit and easy as can be with this rifle and scope combination.
I'm keeping this rifle and adding it to my Scout rifle collection. I've always wanted a bolt action rifle with 45-70 power and this rifle delivers. If you need a "Scout Heavy" this is the rifle for you.
For further information: