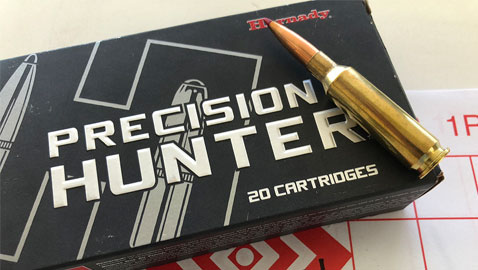 If you're a rifleman and haven't heard about the 6.5 Creedmoor cartridge, I'm going to guess you've been hibernating for the past few years. Perhaps the hottest selling new cartridge ever, Hornady created the 6.5 in 2007 as an improved long-range cartridge. In recent years, as long range precision shooting has taken off, and especially since Ruger came out with their Precision Rifle in 6.5, the round has become very popular. Hornady then took what was already a really good round and improved it further with their ELD-Match and ELD-X Precision Hunter bullets. Seeing the popularity of the 6.5 Creedmoor, most manufacturers are now making 6.5 Creedmoor ammunition.
I have a Precision Rifle and an American Rifle in 6.5 Creedmoor and both are tack drivers, so when I heard Ruger was chambering the Ruger Gunsite Scout Rifle (GSR) in 6.5, I decided to give it a look as well. With an 18.7 inch tube, the barrel of the 6.5 GSR is a bit longer than most of the .308 caliber Scouts. The action sits in a green digital camo synthetic stock and the usual GSR sighting options of a forward Picatinny rail, ghost ring sights or conventional scope rings the rifle is ready to be set up in a variety of configurations to suit the needs of the user. The length of pull can be adjusted from 12.75" to 14.25" by way of adding and subtracting the stock spacers located between the stock and the recoil pad. The 6.5 GSR uses the same magazines as the .308 so the rifle ships with one AI metal 10 round magazine and can also use any of the Ruger or Magpul polymer magazines in 3, 5 or 10 round capacities available for the .308 GSR.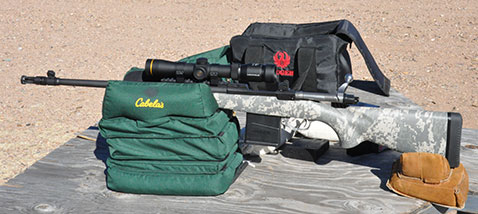 Scopes for scout rifles have come a very long way since Jeff Cooper first proposed the concept around 50 years ago. Cooper wanted a long eye relief scope forward mounted so both eyes could remain open during sighting, so the scope wouldn't smack you in the eye if mounted too far aft and so the scope didn't cover the ejection port because literally every rifle he was considering as a basis for the scout had a blind magazine and needed to be loaded from the top. Back then the only optics with long eye relief that could be forward mounted were fixed power pistol scopes. Eventually, first Burris, then Leupold began selling long eye relief Scout scopes. These days all commercial Scout rifles use box magazines and we're fortunate to have available a number of variable power intermediate eye relief (IER) scopes suitable for scout rifle applications. To my mind, the best of the breed is the Leupold VX-R 1.5-5X33mm with the Firedot Duplex illuminated reticle and that's what I mounted on this rifle. Using motion sensor technology (MST) the Firedot comes on when the rifle is picked up and goes back to sleep after the rifle has been at rest for several minutes. With this feature the rifleman can adjust the brightness of the Firedot and be ready to shoot without having to mess with switches. The 1.5-5 uses a 30mm tube so it gathers a lot of light. This, along with the Firedot, makes it an ideal scope for shooting in low light or shaded conditions. With a retail price of $779.99 this scope can be found with a street price of around $540.
This past year, several of my students and Michael Bane used this scope in Africa for a Scout Rifle hunt with author Richard Mann. Shooting GSRs in .308 and using Hornady ELD-X Precision Hunter ammunition they were successful in taking a variety of plains game. Michael managed to make a shot at a little over 500 yards and I want to comment on that. Normally I don't recommend attempting shots on game at much over 300 yards but if you're well trained and experienced and know your rifle you can make some pretty amazing shots. I've discussed this shot with Michael and he shares my reservations about long-range game shots. He is well practiced and experienced and felt confident in his ability to make that remarkable shot, proving this combination of rifle, ammunition and scope could do the job.
The other piece of high end gear I used when testing this rifle is something I have been wanting and needing for a long time, but have not felt justified in getting, that being a high quality spotting scope. The Leupold GR 12-40X60 HD is a remarkable piece of kit and the spotting scope you will most often see in use by Gunsite instructors and long range rifle students. It has all the bells and whistles like being water and fogproof and uses what Leupold calls an Xtended Twilight Lens System with their proprietary DiamondCoat 2 lens treatment. Along with saving you a lot of time walking back and forth from your target – because you can easily see bullet holes with this scope – it is also the tool of choice for spotters working with long-range riflemen. This spotting scope is pricey, with a suggested retail of $1689.99 but I've seen them online for around $1299.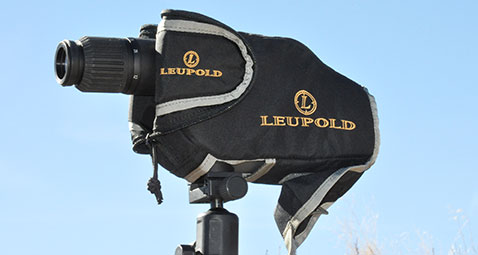 Equipped with these excellent optics, I headed to Gunsite's York Range to do some group shooting at 100 yards. I usually shoot 3 shot groups, because I reckon if I shoot 5 shot groups the odds of me screwing up multiply, and I think you're more interested in what a rifle and ammunition might have the potential to do rather than what a crummy shot I am. I shoot five groups with each load, shoot quickly and don't let the rifle cool down. I average the 5 groups, good or bad, and don't keep shooting trying the cherry pick the best groups:
Hornady 143gr. ELD-X Precision Hunter, largest group 1.58", smallest group .24", average group size .81".
Hornady 140gr. ELD Match, largest group 1.93", smallest group 1.07", average group size 1.36".
Federal American Eagle, 140gr. Open Tip Match, largest group 1.64", smallest group .96", average group size 1.29".
Hornady American Whitetail 129gr. InterLock, largest group 2.0", smallest group .57", average group size 1.33".
Federal Premium Big Game, 120gr. Trophy Copper, largest group 1.15", smallest group .86", average group size 1.05".
Considering this isn't a target rifle and shooting with only a 5 power scope, I think this 6.5 Creedmoor did very well. The average for all groups fired comes in at 1.17" and that's good for any rifle, much less one I'm trying to shoot. If you like scout rifles, especially the GSR, and like the 6.5 Creedmoor caliber this is your rifle. You can find it at the Gallery of Guns and have it sent to your local dealer.
For more information:
About the Author: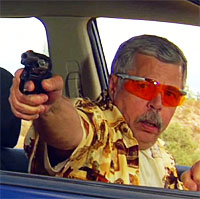 Ed Head is a regular on Shooting Gallery, Gun Stories and Down Range TV. He has worked for almost 30 years in law enforcement, first in the United States Air Force and then with the United States Border Patrol, retiring as a Field Operations Supervisor. During his Border Patrol career, Ed worked in a variety of patrol, investigative and training capacities. Ed has an extensive background as a firearms instructor, having trained thousands, ranging from beginners to police, military and special operations personnel. Having taught at Gunsite for 20 years, Ed first trained there under the world famous shooting school's founder, Jeff Cooper, then later ran the school as the operations manager for more than five years. Ed lives in Chino Valley, Arizona, where he continues to teach and write.