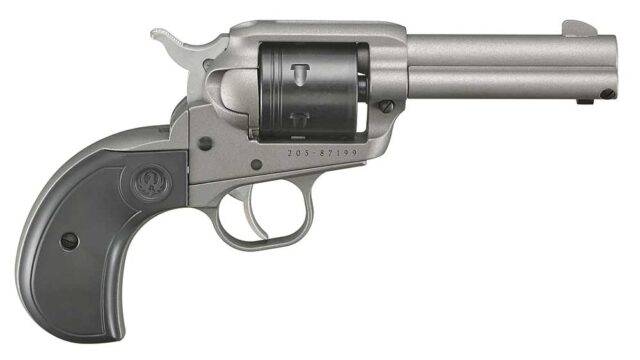 Sturm, Ruger & Company, Inc. (NYSE: RGR) is proud to introduce three new models to the Wrangler® line of single-action revolvers. These new models feature a 3.75″ cold hammer-forged barrel and Ruger® Birdshead-pattern grip frame, creating a compact and affordable firearm. Chambered in .22 LR and offered in three attractive Cerakote® colors – black, silver and burnt bronze – these Wrangler revolvers complement Ruger's rich history of producing quality, rugged, reliable single-action revolvers.
Each Wrangler features a blade front and integral notch rear sight, with standard black grip panels that can be swapped for aftermarket Ruger Birdshead-pattern grips. The revolver will fit in Single-Six® style holsters that accommodate a 3.75″ barrel. All Wranglers feature a transfer bar mechanism and loading gate interlock that provide an unparalleled measure of security against accidental discharge. The attractive price, combined with the affordability of rimfire ammunition, make this revolver ideal for learning to shoot, introducing friends or family to the sport, or just experiencing the fun of single-action shooting.
With the introduction of the Single-Six in 1953, Bill Ruger pioneered the use of modern investment casting in firearms manufacturing to usher in a new level of affordability in single-action revolvers. Through the use of modern CNC-machining methods, lean manufacturing techniques and a new aluminum alloy cylinder frame, the Wrangler continues this tradition and sets a new bar for affordability while maintaining the rugged reliability that is the hallmark of Ruger firearms.
Single-action revolvers in .22 LR offer a safe and fun way to introduce new shooters to the sport, and can serve as a reminder to even the most experienced shooters that range time can be just plain fun. Whether it's your first gun or your next, time at the range with the Wrangler promises to be well spent.
For more information, visit ruger.com.