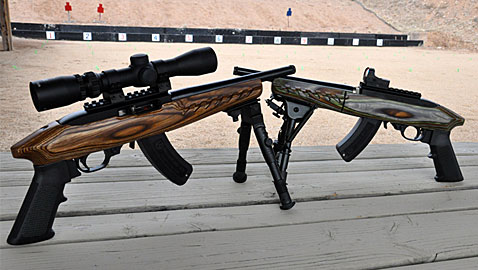 If you've been shooting for some time there are certain truths you have probably accepted as unshakeable beliefs. Among them would be that pistols are not as accurate as rifles, pistols are harder to shoot well than rifles, .22 caliber guns have a definite preference for one kind of ammo and match ammunition is always more accurate than standard or high velocity ammo. Well, if my experience with Ruger's new Charger pistols is any guideline, none of these assumptions are true. What's a Charger pistol? In this case it is a reinvention of a concept Ruger tried several years ago with limited success, that being to install a short barrel and pistol stock on a 10-22 rifle action, provide it with a bipod and make something of a bench-rest pistol for plinking and varmint shooting. After the original failed to catch on Ruger let the project die for several years as they created new models of the 10-22 and added features to them that appealed to their customers. Perhaps the most radical of these ideas was the 10-22 Takedown, a rifle that can be quickly broken down into two parts and carried in a backpack-like gun case. With the wide acceptance of suppressors, Ruger has been threading the barrels of many of their rifles and pistols, not the least of which is the 10-22. Wood laminate stocks that are durable and can be made in almost any color scheme are another feature Ruger has added to the 10-22.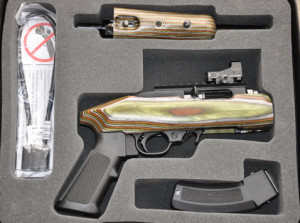 The new Charger pistols combine these features and more. Available in two models, the Charger Pistol has a brown laminate stock, and the Charger Takedown Pistol, sports a "Green Mountain" laminate stock. Both pistols feature Picatinny rails for installing sights, barrels threaded at ½" – 28 that are suppressor ready and A2 style pistol grips that can be interchanged with any of the many aftermarket AR style grips. The cold hammer-forged free floated barrels are 10 inches in length and the pistols come with a new BX-15 magazine. Any of the Ruger 10 round and 25 round magazines will work in the Charger pistols but the 25 rounder is a little long when shooting off a bipod, hence the new 15 rounder. Both pistols come with bipods and carrying cases; the standard Charger has a soft case and the Takedown comes with a hard case with a fitted foam insert for the magazine, barrel and receiver when the pistol is taken apart. Very James Bondish, I think.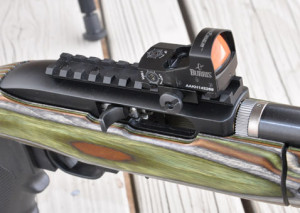 Having both pistols to test, I thought it might be a good idea to set them up with two of the sighting options shooters might choose. I ordered two scopes from Burris, the first being their conventional 2x-7x-32mm long eye relief handgun scope, and the other a Fastfire III red-dot reflex sight. Both scopes were easily installed on the Picatinny rails, the 2-7 on the standard Charger with a set of one-inch scope rings and the Fastfire on the Takedown with the built-in mount. Both of these optics worked as advertised, offering an excellent sight picture and clearly marked adjustments that made zeroing at 25 yards easy.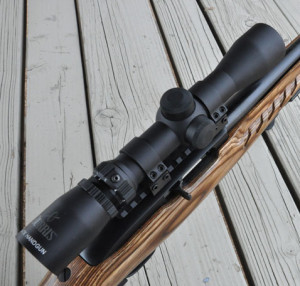 Because both Chargers come with a bipod I dragged a picnic table to the 25 yard line and shot them off the table using the bipods with my only concession to bench rest shooting being the addition of a sandbag under the pistol grip.  Initially, I fired two, three-shot groups from each of about a dozen brands of .22 Long Rifle ammunition, some of it dating back to my Border Patrol days and some brand new. Although .22LR ammunition is becoming more available, finding a selection of factory fresh ammo is difficult so I searched through the dark recesses of the ammo bunker and dragged out whatever .22LR ammunition I could locate in the horde. After shooting the initial groups I chronographed some of the loads both with and without a Gemtech Outback II suppressor then fired some of the more promising loads with the suppressor on the Charger with the 2-7 scope. Here's what I discovered: First, at least with these pistols, the "fact" that different .22 ammunition will shoot to different points of aim couldn't be proven. Once zeroed, all of the ammunition shot to within less than an inch of all the other ammunition. The least accurate ammunition I fired, CCI Green Tag Match, is generally considered to be the gold standard in accurate .22 ammunition but it didn't work out that way in my test. Why? I don't know, as this is usually some of the most accurate ammunition I have tested. The Green Tag chronographed about 125 fps slower than standard out of the short 10" barrels of the Chargers, so maybe the bullet was unstable at this velocity and it affected the accuracy.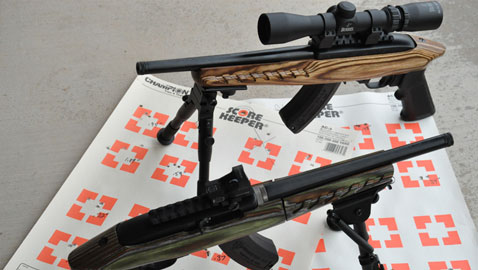 Comparing all of the groups fired, I threw out the worst group (1.89") and the best group (.34") and averaged the rest. I figured the worst group was my fault and I must have gotten lucky for the best group. Still, the overall average for all groups fired with all brands of ammunition came out to .599". When I was doing my job both pistols, with either sighting system, easily delivered groups well under one-half inch. So much for pistols not being as accurate as rifles. Attaching the suppressor to the pistols didn't seem to make a noticeable difference in accuracy or velocity; some ammo ran at the same velocity while some ran just a little bit faster. Standard velocity .22LR ammo runs at sub-sonic velocities when fired in pistols, even pistols with 10" barrels, so sub-sonic ammo isn't necessary if you want to minimize noise with a suppressor. High velocity ammo still gives off a sonic crack despite being fired through the can. I shot four brands of ammo advertised as sub-sonic including a new brand from Gemtech designed for use with their suppressors that proved to be the most accurate in my test. What's the role of these pistols? At first blush they seem a little silly and you might wonder if they are going to sell well or go the way of the earlier Charger. If my experience is any indication, they are going to sell like hotcakes, as everyone I have shown them to wants one and I have people standing in line offering to buy my samples. As a plinker, a fun shooting pistol that can be customized with your favorite 10-22 accessories, a kid gun or a light varminter or truck pistol, I think the Charger has a lot going for it and I predict this time Ruger has a winner on their hands.
About the Author: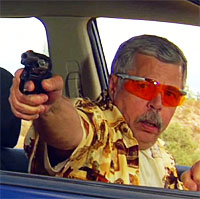 Ed Head is a regular on Shooting Gallery, Gun Stories and Down Range TV. He has worked for almost 30 years in law enforcement, first in the United States Air Force and then with the United States Border Patrol, retiring as a Field Operations Supervisor. During his Border Patrol career, Ed worked in a variety of patrol, investigative and training capacities. Ed has an extensive background as a firearms instructor, having trained thousands, ranging from beginners to police, military and special operations personnel. Having taught at Gunsite for 20 years, Ed first trained there under the world famous shooting school's founder, Jeff Cooper, then later ran the school as the operations manager for more than five years. Ed lives in Chino Valley, Arizona, where he continues to teach and write.