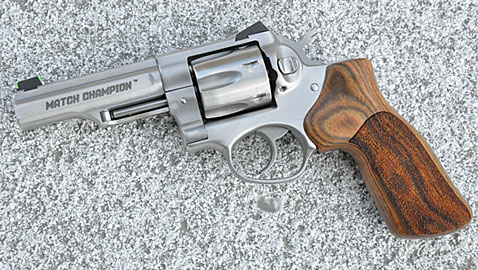 In my experience there are few problems of the violent interpersonal nature that can't be solved with a good .357 Magnum revolver – usually with one round. Having carried a revolver for many years with the U.S. Border Patrol I never felt poorly armed with a 6 shot .357 Magnum on my hip and have a nagging suspicion I shoot one as well as any other handgun. Double action revolvers have a number of things going for them. They're inherently safe, robust, can be chambered for very powerful cartridges and are highly accurate. As to accuracy, our Border Patrol qualification course extended to 50 yards for score and we routinely shot at 100 yards or more with our 4 inch barreled revolvers and flat shooting .357 Magnum ammunition. Our work being of the outdoor nature, it was comforting to pack a sidearm that could handle any problem from just off the muzzle to way out yonder.
 The GP 100
The GP 100 has been in the Ruger lineup since 1986. Although it's received minor updates throughout the years, a new version is now available called the Match Champion and it's a big departure from the norm. This GP100 has a number of distinctive features that set it apart in both looks and performance from previous models. To begin with, let's talk about the sights – they're Novak combat sights – arguably the best combat pistol sights but not what you would expect to find on a revolver.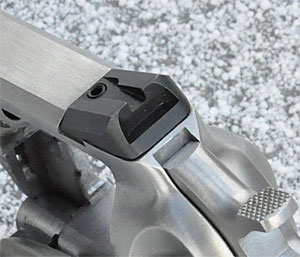 The rear sight is a Novak Lo-Mount dovetailed into the topstrap of the frame and the front sight is a Novak green fiber optic dovetailed into a slot in the barrel. These sights give the Match Champion a distinctive look and provide an excellent sight picture. My sample arrived with two front sights; one installed on the barrel and the other marked .38 Special. As you know, .357 Magnum revolvers can fire lower powered .38 Special ammunition as well as ammunition in both calibers using bullets weighing anywhere from around 95 grains to 200 grains. Points of impact vary depending upon bullet weight and velocity and the two front sights of different heights can be used to set the revolver up for a particular load. The Lo-Mount rear sight can be moved to compensate for windage after loosening a setscrew. When adjusting a rear sight for windage, move it in the direction you want the bullet to go, for example, if your group is to the left of your point of aim, move the rear sight to the right.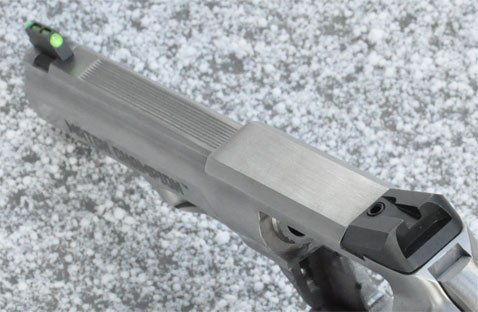 The Match Champion barrel is just over 4 inches long, topped by a grooved rib to reduce glare and both sides of the barrel are milled flat with the Match Champion lettering on one side and Ruger GP100 on the other. The muzzle is recessed into what's called a target crown. This protects the end of the barrel from nicks and dents that can have an adverse effect on accuracy. The revolver is made of stainless steel and weighs 37.5 ounces empty. The trigger group and action of the GP 100 can be removed from the solid frame in one piece without the use of tools, making it one of the strongest of all double action revolvers while being the easiest to disassemble. Ruger's website includes a short video that shows how to take the revolver apart and the procedure is described in detail in the instruction manual. This ease of disassembly is a really important feature. Back when I was racing about on an All Terrain Vehicle during my Border Patrol days the amount of dust, sand and crud that got into our revolvers was incredible, necessitating that we completely disassemble and clean them, sometimes after every shift. Anyone who has worked on a Colt or Smith & Wesson revolver knows that disassembly is a complex task that shouldn't be undertaken by anyone without armorer's level training and proper tools. Not so with the Ruger GP 100, as anyone can learn to disassemble the revolver in minutes. Back to the frame, it's designed to accept a variety of grip sizes, meaning that the revolver can be fitted to an individual hand with the installation of the right sized grips. The wood grips on this Match Champion fit my hand and are some of the best I've seen on a factory revolver. Made by Hogue they are both functional and attractive, featuring stippled panels for a secure grip, a semi-rounded, slightly flared butt and just a hint of finger grooves. The trigger on my sample revolver breaks crisply at just over 4.5 pounds in single action firing. I was unable to measure the weight of the smooth double action trigger pull as my gauges only measure up to 12 pounds, but I'm guessing it goes about 14 pounds. The trigger is easily manageable but if you want to lighten it up a bit you can find replacement spring kits for the GP100 in the Brownells catalog.
Training Tip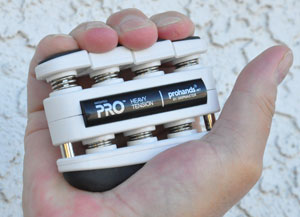 Before I get to how the Match Champion performed on the range, let me say a few words about training with a double action revolver. The idea when shooting double action is to stroke the trigger – not pull or jerk it – all the way through its arc of motion. This takes some practice and hand strength. For years I have exercised my hands with a product designed specifically for strengthening the grip and trigger finger. Called Prohands these handy exercisers can be used anywhere and are available in different strengths – highly recommended.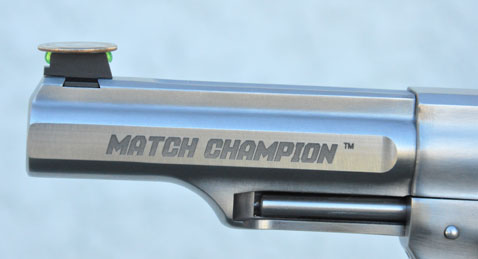 To perfect your double action trigger stroke try balancing a dime on the front sight as you practice working the trigger. Start slowly and concentrate on keeping the dime from falling. In time you will be able to stroke the trigger quickly without dropping the coin. Why go to all this trouble? Because once you accomplish this you will understand how to work any trigger without disturbing the sight alignment or pulling the front sight off target. You'll be a much better shooter for it, regardless of what you shoot.
httpvh://www.youtube.com/watch?v=BAbiKocoSQo
Range Time
Before heading to the range I dug around in the ammo bunker and pulled out an assortment of .38 Special and .357 Magnum ammunition. As I expected, the Match Champion fired all of it without complaint. If you want plenty of power, blast, recoil and velocity in the .357 Magnum the hot 125 grain (gr.) bullet loads are the way to go. Being off my rocker, I chose to test two of the very hottest in the Match Champion. The first load is by Federal Cartridge and it launches a jacketed hollow point bullet at around 1400 feet per second (fps). The other load, by Hornady, is even hotter and sends a 125 gr. XTP bullet screaming out of the muzzle at some 1500 fps. The weight of the Match Champion and the design of the grips go a long way towards making the experience of shooting these loads bearable but after shooting 20 of each I admitted defeat and gave my jangled nerves a rest.
As for accuracy, I fired some Federal .38 Special Match Wadcutter ammunition and this mild load proved to be extremely accurate in the GP100. Although the wadcutter ammunition printed to my point of aim that wasn't the case with the hot .357 Magnum ammo. Both loads printed high – as much as 6 to 8 inches high at 15 yards. I had hoped to test the Match Champion with this high velocity, flat shooting ammunition at 100 yards or more but discovered I had to hold a foot or so low at 50 yards to get hits on a 10 inch plate so I stopped there. I really like the idea of a revolver with Novak combat sights – they look great and the sight picture is terrific – but lacking an adjustable rear sight kept me from being able to dial in the loads I chose to test. The key to adjusting this revolver to a particular load will be to fit a front sight of the proper height.
If you're in need of a .357 Magnum revolver for defensive, hunting or competition purposes the GP 100 Match Champion may be for you. It's a completely modern update of the classic .357, and one I wish had been around back during my revolver toting law enforcement days.
For further information:
www.ruger.com
www.brownells.com
www.prohands.net
www.federalcartridge.com
www.hornady.com
About the Author: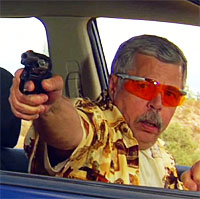 Ed Head is a regular on Shooting Gallery, Gun Stories and Down Range TV. He has worked for almost 30 years in law enforcement, first in the United States Air Force and then with the United States Border Patrol, retiring as a Field Operations Supervisor. During his Border Patrol career, Ed worked in a variety of patrol, investigative and training capacities. Ed has an extensive background as a firearms instructor, having trained thousands, ranging from beginners to police, military and special operations personnel. Having taught at Gunsite for 20 years, Ed first trained there under the world famous shooting school's founder, Jeff Cooper, then later ran the school as the operations manager for more than five years. Ed lives in Chino Valley, Arizona, where he continues to teach and write.