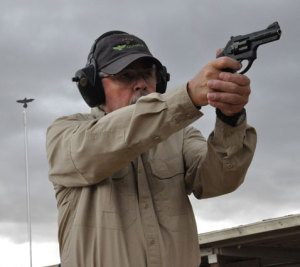 Do you like revolvers? I sure do and I want to tell you about two new ones that should appeal to all shooters, whether they are experienced revolver types or those who have been considering trying them. Both of these revolvers are Ruger LCRs but they are really quite different. What's a LCR? It's a Light Compact Revolver that first debuted several years ago as a lightweight, short barreled, five shot .38 Special revolver well suited to concealed carry. The LCR featured a smooth, light trigger pull and lightweight construction achieved through the blending of polymer, aluminum and stainless steel parts. Since introducing the LCR Ruger has expanded the line with models chambered for .357 Magnum, .22 Long Rifle and .22 Magnum, the LCRx models with an exposed hammer and Crimson Trace Lasergrips as factory options.
Ruger LCR-9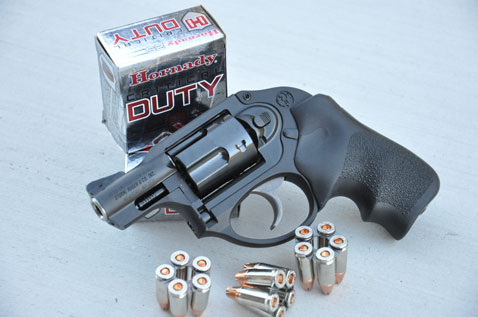 The LCR-9 is based on the .357 Magnum model of the LCR. Unlike the rest of the line with an aluminum frame, the Magnum model uses a steel frame for added strength. A .38 Special LCR with the aluminum frame weighs 13.5 ounces while the steel version in .357 Magnum or 9mm weighs in at 17.1 or 17.2 ounces. The extra strength provided by the heavier frame is needed to handle the higher pressures of these rounds and the added weight helps make the revolver easier to handle – trust me on this, you would not enjoy shooting .357 Magnum ammunition in a 13 ounce revolver – at least I don't.
The LCR-9, being a 5 shot, 9mm Luger (or Parabellum, if you like) revolver built on the heavier frame is capable of handling any factory 9mm ammunition, including all of the defensive ammo designed for 9mm semi-automatic pistols. But there's a problem: Because 9mm ammunition is designed to feed in semi-automatic pistols the cases are rimless and won't normally extract from revolver cylinders without a little help. That help comes in the form of light metal clips that hold the rounds together. The clips facilitate loading, by acting like a speed loader to allow loading all 5 rounds at once, and hold the empties together allowing the revolver extractor to kick them out of the cylinder. You can load and fire the revolver without the clips but each fired case will have to be removed by plucking them out individually.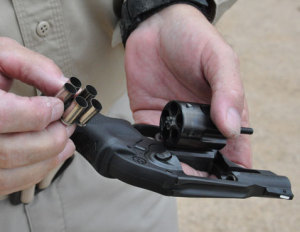 Unlike clips I've used in the past that required tools or twisting of the cartridge cases, the clips for the LCR-9 are easy to use. You simply push the cartridge straight in and pull the empty case straight out. Twisting or prying will bend the clip and I bent one before reading the instructions and using it correctly. Fortunately, the clip was easily fixed when I placed it on a flat surface and tapped it with a hammer. The revolver ships with three clips and additional ones can be purchased from Ruger.
Like other LCRs I have tested, the LCR-9 has a smooth double action trigger pull that runs just over 10 pounds on my Lyman gauge. The revolver was reliable and comfortable to shoot with half a dozen types of ammunition, including the excellent Hornady Critical Duty and Critical Defense ammunition that are ideal for defensive use in this revolver and it fits in the Galco Gunleather and Simply Rugged Holsters I have been using with other LCRs.
Ruger LCRx-3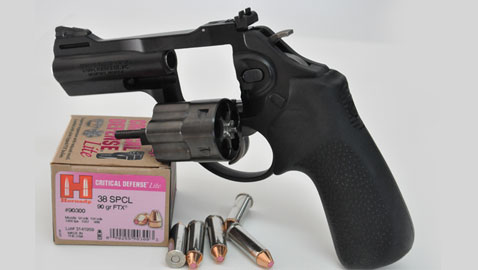 Honest, I didn't know Ruger had a kit gun version of the LCR in the works when I concluded my article on the LCR .22 Magnum by suggesting, "Wouldn't it be cool if Ruger made one with an exposed hammer like the LCRx and a 3-inch barrel, adjustable rear sight and fiber optic front sight?" As it turns out, the revolver I was thinking about was already in development and I saw them being manufactured when I visited Ruger's Newport, New Hampshire factory a few weeks later. Initially offered in .38 Special with a 3 inch barrel and the standard white stripe, replaceable front sight and fully adjustable rear sight, the LCRx-3 can be fired double action by pulling the trigger or single action by first manually cocking the hammer. Like the other LCRs in the lineup, the LCRx-3 has a light, smooth double action measuring at about 10 pounds and the single action trigger on my sample breaks at a little over 4 pounds. The LCRx-3 uses the lightweight aluminum frame and weighs a couple of ounces more than a 2" LCR at about 15.7 ounces. Like all the revolvers in the LCR line the 3"  has a pinned front sight that can easily be replaced by a night sight such as the XS Sights white dot or a Novak's fiber optic sight.
When Ruger came out with the LCR they wisely included a Hogue Tamer Monogrip rubber grip. Of the boot grip design, with an abbreviated butt for concealment, the grip fills the hand and helps greatly in controlling recoil and making the little revolver comfortable to shoot. For the LCRx-3 Kurt Hindle, Ruger's revolver product manager, went back to Hogue and asked them to design a new grip. Hindle wanted a slightly longer grip without finger grooves and a gentle curve on the rear surface. This new Hogue grip is terrific – easily the best rubber grip I've used on a revolver – and aids greatly in the comfort and handling characteristics of the 3" LCR. And, in case you're wondering, the smaller and larger grips are interchangeable on any of the revolvers in the LCR lineup. I have a Defcon 3 holster made by Simply Rugged Holsters for the LCR that can be used as a strong side or cross draw belt holster, or an inside the waistband holster, and happily, the LCRx-3 fits perfectly in this rig.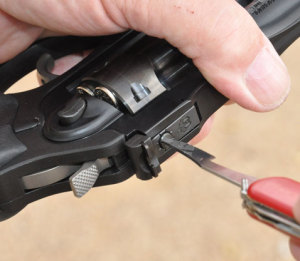 While the LCR-9 is focused towards the personal defense and concealed carry market the LCRx-3 should appeal to a broader range of interests from defensive use to backpacking or as a training revolver. With the adjustable rear sight the revolver can be sighted to shoot the full range of .38 Special ammunition from mild target loads to the hot +P defensive ammunition in various bullet weights. I have one small gripe concerning the Ruger adjustable rear sights. The top elevation screw and the side windage adjustment screw are two different sizes and the small windage screw takes a tiny screwdriver blade size I usually don't have handy. This has annoyed me for years and I wish Ruger would replace the tiny screw with a larger one. By the way, Colt's adjustable sights used to have the same problem but since they don't manufacture revolvers these days I guess I can't complain. Okay, rant off.
The LCRx-3 shoots as well as you might expect. So far I've found it to be reliable, accurate and a pleasure to shoot with a variety of different .38 Special loads. It also passes my "Wife Test", where I hand it to my wife and other women and ask them for their opinion. In all cases they have said the same thing: "Oh, it's so light! And I like the way it fits my hand. Can I keep this?" That pretty well sums it up; the 3-inch LCR is a keeper.
Although I don't know what Ruger has in mind next for the LCR line, I can tell you they are far from finished and there is more to come. If they haven't made the Light Compact Revolver you've been hoping for stand by, it's probably on the way.
For more information:
About the Author: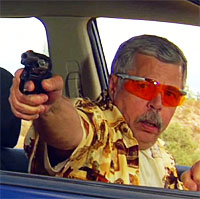 Ed Head is a regular on Shooting Gallery, Gun Stories and Down Range TV. He has worked for almost 30 years in law enforcement, first in the United States Air Force and then with the United States Border Patrol, retiring as a Field Operations Supervisor. During his Border Patrol career, Ed worked in a variety of patrol, investigative and training capacities. Ed has an extensive background as a firearms instructor, having trained thousands, ranging from beginners to police, military and special operations personnel. Having taught at Gunsite for 20 years, Ed first trained there under the world famous shooting school's founder, Jeff Cooper, then later ran the school as the operations manager for more than five years. Ed lives in Chino Valley, Arizona, where he continues to teach and write.