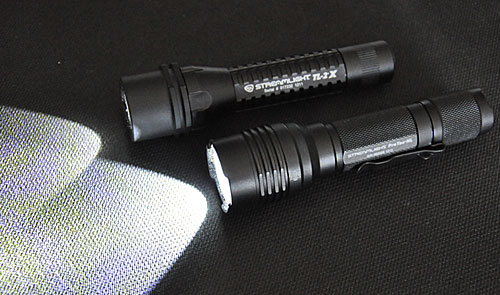 As the smuggler led his group through the dense foliage of the Tijuana River valley he was confident they would get to their pick-up point without detection. He reasoned, it was a pitch-black moonless night and the hated Migra rarely ventured into the jungle.
I could hear them. Even though they were trying to be quiet, 60 people make a lot of noise when they move together. They were coming towards us, creeping along the path where my small ambush team and I lay hidden. Before the coyote could step on me, I leaped up, flashed him in the eyes with my light and yelled, "Border Patrol". The group panicked and broke in all directions, some right into the arms of my waiting colleagues, and some knocking themselves senseless running headlong into trees. In a minute or so it was all over; my team had rounded up the entire group. Afterwards, I asked the smuggler what he thought was happening when I flashed the light in his eyes, because he had screamed and fallen to the ground. He told me he thought he had been shot. When the light hit his eyes from inches away he said the pain was intense and he was sure he had been blinded.
The light I used that night many years ago was a brand new combat light putting out about 60 lumen of light. It was very expensive – a serious investment for a poorly paid government cop – and I had to use it sparingly as the batteries were costly and would run the light for only 20 minutes. As far as flashlight technology is concerned it was state of the art but we have come a long, long way since. If I were offered a chance to go back in time to chase aliens again, the one thing I would most want to take with me would be a modern flashlight.
Light, Lumens and all that
We used to talk about lights in terms of candlepower. More candlepower was better. The hand-held flashlights we used didn't seem to have a lot of candlepower packed into them, as using them for illumination was about as effective as wandering around with a candle. When compact combat lights were introduced we started hearing about lumen as a better way of measuring light output. I'm not going to bother trying to explain what a lumen is, as it has something to do with light, mathematics, and science. Bottom line: More lumen are a good thing, especially if the light beam is focused and free of dark spots.
As advancements in flashlight technology have moved forward we have seen the light output move steadily upwards. Today lights producing 500 to 600 lumen of brilliant light are available and affordable. The advent of LEDs (Light Emitting Diodes) and micro computer chips has produced the most profound improvements in tactical lights. In realistic terms, the LEDs are unbreakable and last forever, provide greatly extended battery life and produce a high quality white light. For example, it isn't uncommon for a 250 lumen light to have a four hour run-time and a low light setting in the 25 lumen range that will burn for 12 to 20 hours or more. Modern lights can be set to blink in patterns, strobe, or shine at various light levels.
If more lumen are better, does that mean a 600 lumen light is better than a 500 lumen light? Not always. For example, a 250 lumen light with a tightly focused spotlight beam may look brighter to your eyes than a 500 lumen light with a wider floodlight beam. You may prefer one to the other depending upon your needs. We use lights defensively to identify threats, and offensively, to blind and disorient aggressive animals of the four legged and two legged variety, forcing them to close their eyes and look away. Lights in the 100 – 250 lumen range will get the job done and 500-plus lumen light output is almost impossible for man or beast to fight through.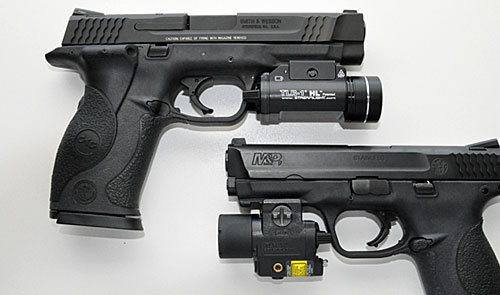 Streamlight
For as long as I can remember, Streamlights has been a mainstay in law enforcement and emergency lighting. Their current product line of combat lights and weapon lights are top quality and include a light for every need. Some I have been using include several TLR weapon lights. The TLR-1 series project a focused 300 lumen beam and have a run time of about 2.5 hours. The TLR-1 HL lights are more than twice as bright, with an output of 630 lumen. In the same light series, the TLR-2 and TLR-2 HL lights have 300 and 630 lumen outputs respectively and also incorporate a built in red laser. The TLR-3 is a smaller weapon light designed to fit on the shorter rails of compact pistols. Light output is a sufficient 110 lumen. The TLR-4 is the compact light/laser combination. If you like green lasers, Streamlight offers the TLR-2 G, a 200 lumen light with a 1.5 hour run time. Unlike the previous TLR red laser series, where the laser projects from a module below the light reflector, the green laser beams through a hole in the reflector next to the LED. I really like green laser combat lights because they are more visible than the red lasers and I can distinguish the green laser dot from the red dot on optical sights like the Trijicon RMR.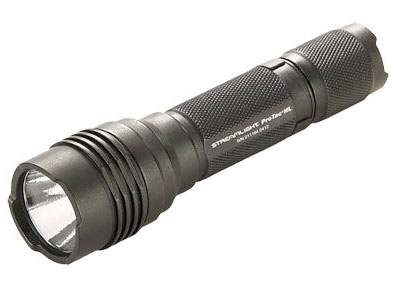 Hand-held lights I've been working with include the TL-2X and the Pro-Tac HL. Both lights have high power, low power and strobe functions controlled by the tail cap switch. Pressing the switch briefly cycles from high, to strobe and then to low power. A light touch activates the light and a harder push allows the switch to click and stay on the selected setting. The TL-2X shines for 2.5 hours on the high setting at 200 lumen, an astounding 50 hours at 10 lumen on the low setting and will strobe continuously for 6 hours. The Pro-Tac HL is my new favorite tactical flashlight. Output is a blinding 600 lumen of focused white light for 1 hour and 15 minutes on the high setting and 33 lumen for 18 hours on the low setting. Set on strobe, the light will go for 6 hours.
These lights have capabilities I never imagined back when I was ambushing groups down on the border. I wonder what that smuggler would have thought had I been able to flash him with 600 lumen at close range?
For more information on Streamlight products, visit www.streamlight.com
About the Author: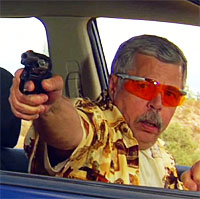 Ed Head is a regular on Shooting Gallery and Down Range TV. He has worked for almost 30 years in law enforcement, first in the United States Air Force and then with the United States Border Patrol, retiring as a Field Operations Supervisor. During his Border Patrol career, Ed worked in a variety of patrol, investigative and training capacities. Ed has an extensive background as a firearms instructor, having trained thousands, ranging from beginners to police, military and special operations personnel. Having taught at Gunsite for 20 years, Ed first trained there under the world famous shooting school's founder, Jeff Cooper, then later ran the school as the operations manager for more than five years. Ed lives in Chino Valley, Arizona, where he continues to teach and write.