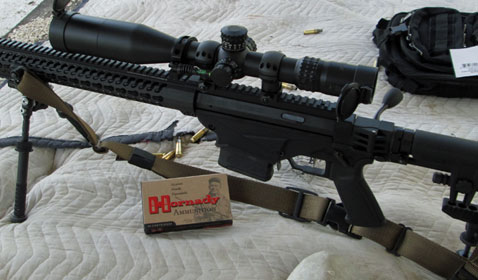 Flying from Nashville to San Antonio after the NRA annual meeting I rented a car and drove northwest for a couple of hours to arrive in the vicinity of Barksdale, Texas and FTW Ranch to join the folks from Ruger who were introducing us to their new Ruger Precision Rifle chambered in 6.5 Creedmoor. The rifles were set up with Atlas bipods and Burris XTRII 4x-20x-50mm first focal plane scopes with 34mm main tubes and G2B Mil-Dot illuminated reticles. The rifles were zeroed at 100 yards with the Hornady 140gr. A-Max Match load we would shoot over the next three days and we were provided with range cards matched to the rifle and load that included come-ups and wind holds out to 700 yards. Each day we shot and made adjustments to the cards based upon shooting results and received updated range cards at breakfast. At the end of the class we were given laminated cards with our final data.
A quick word about the instructors at FTW: Two of them were former sniper trained Navy SEALs with vast experience in long range shooting and hunting and they did a terrific job of coaching us, spotting and giving us wind calls. Equally adept at spotting and calling wind were our two guides, or assistant instructors, and we rotated through jumping in a jeep and going off to shoot with all four of them throughout the three-day class. Speaking of calling wind, once we had the rifles zeroed we dialed up for the various ranges we shot while relying on our spotters to give us wind holds in mils. We never touched the windage knob on the scopes after zeroing and relied on holding off according to the wind call using the mil-dot reticles. The folks at FTW think this is quicker and more precise than dialing in the wind, especially in rapidly changing conditions. Many of the places we shot had wind swirling up a canyon in one direction while the wind at our shooting position on a ridge was going in a different direction. Wind picks up and stops and a good spotter can call this and give you the holds. Even when shooting at considerable ranges, I discovered that if my first shot was a hit the best thing to do for a follow-up shot was to run the bolt and fire quickly before the wind changed. Rapid fire at 1,000 yards? Whooda thunk it?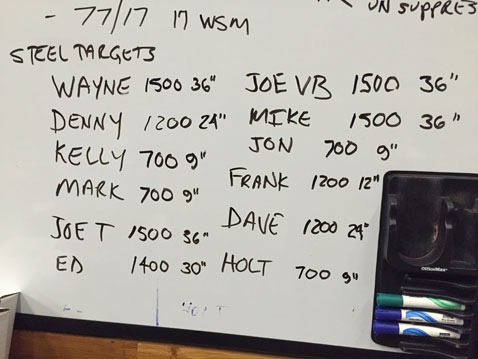 Before we were done at FTW we fired a number of challenging courses at ranges from several hundred out to 1500 yards. As a group, our crew of writers and industry folks broke a couple of course records, proving that a handful of experienced shooters who know how to pull a trigger can get the hits if they are smart enough to listen to their spotters. Personally, as far as long range is concerned, I managed to get first round and consecutive hits at 513, 520, 600, 875, 1,000, 1,200 and 1,400 yards but ran out of up on my scope and missed at 1,500 yards. A couple of the folks in our group, including Ruger CEO Mike Fifer, managed to make the 1,500 yard shots. I think we proved this new rifle and the 6.5 Creedmoor round have what it takes to shoot at "way out there" ranges. When we were getting ready to leave FTW the folks from Ruger offered to ship us new rifles for test and evaluation or send us the ones we had shot during the past three days. I opted for "my" rifle because it was dialed in and I had the data for it.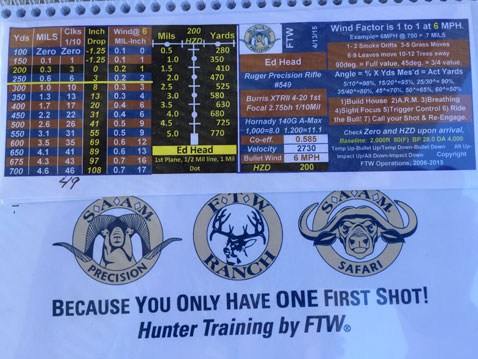 Back home in Arizona I ordered ammunition and cleaned the rifle while waiting for it to arrive because we hadn't cleaned the rifles at FTW. Now, precision shooters who like to clean the bore after a handful of shots are going to cringe but the folks from Ruger wanted to see how the rifles would hold their accuracy if we didn't clean them for several hundred rounds. Firing groups at 100 yards on the last day at FTW and comparing them to the groups I fired on the first day, if anything, my rifle (or I) was shooting better. I have been doing something else that might make the precision riflemen wonder if I'm crazy or just plain stupid, and that is, instead of using one of the usually recommended bore cleaners I decided to clean the rifle with Ballistol. Along with being an excellent lubricant, Ballistol is supposed to be a bore cleaner so I decided to experiment with it. Another reason I decided to try Ballistol is because the cold hammer forged barrels Ruger makes have very smooth bores and clean up quickly and easily in my experience and I wanted to see if a mild, non-toxic cleaner would work – and it does.
So far I have fired five different 6.5 Creedmoor loads from Hornady and Doubletap off a bench rest on Gunsite's York Range at 100 yards. I use the bipod and support the butt with a sandbag, and despite hating to shoot 5 shot bench rest groups – and I don't think I'm very good at it – the Ruger Precision Rifle has proved to me it will shoot. I'm abusing the rifle and breaking another rule of precision shooting because I run through the group strings quickly and the rifle gets very hot and never cools down. Thus far my smallest group is 0.41 inches, fired with Hornady's 120gr. A-Max Match, just edging out my best group with the 140gr. Hornady load of 0.55 inches. The worst group I've recorded (and I'm sure it was me, not the rifle or the ammunition) measured 1.51 inches. An overall average for 36 five shot groups with five different 6.5 Creedmoor loads has thus far produced a 0.912" average; that's 180 rounds of mixed ammunition staying under one inch. Five shot, five group strings, or 25 rounds, are typically averaging around eight tenths of an inch when I manage to do my part well.
I couldn't be happier with this Ruger/Burris combination and the 6.5 Creedmoor round. It's a terrific long-range combination that proved itself to me at FTW and on the range at Gunsite. If you're looking for an affordable, accurate long range setup, you need look no further than these new offerings from Ruger and Burris.
www.ftwoutfitters.com
www.ruger.com
www.burrisoptics.com
About the Author: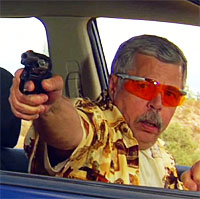 Ed Head is a regular on Shooting Gallery, Gun Stories and Down Range TV. He has worked for almost 30 years in law enforcement, first in the United States Air Force and then with the United States Border Patrol, retiring as a Field Operations Supervisor. During his Border Patrol career, Ed worked in a variety of patrol, investigative and training capacities. Ed has an extensive background as a firearms instructor, having trained thousands, ranging from beginners to police, military and special operations personnel. Having taught at Gunsite for 20 years, Ed first trained there under the world famous shooting school's founder, Jeff Cooper, then later ran the school as the operations manager for more than five years. Ed lives in Chino Valley, Arizona, where he continues to teach and write.