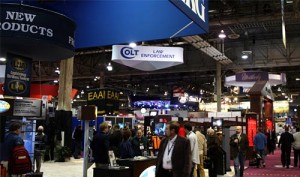 Time sure seems to fly when you're having fun, and here we are, already, at the end of January having just finished up with two major trade shows, SHOT and SCI.
The Shooting Hunting and Outdoor Trades show in Las Vegas was very well attended with over 58,000 participants this year, just short of a show record. Although the show was in a new venue and most of us were a bit confused by the layout, all you really needed to do was pick your spot, stand there, and pretty much everyone you knew would come by at some time or another. I seem to have spent a lot of time with our friends at Smith & Wesson and Colt, who were kind enough to let me hang around and have people meet me in their booths. One of the things I like about these big shows is that you are in the belly of the beast, so to speak, hanging out with 50,000 like minded people and all of your friends in the industry.
Speaking of friends in the industry, two who I was able to spend quite a bit of time with at SHOT were Wayne Novak, and his #1 man, Charlie Pulit, of Novak Sights . For all types of gunsmithing, but especially for sights and custom pistol work, there is nobody better than Novak's. My Novak pistols are the finest I have ever had the pleasure of shooting and I recommend Novak's to you without reservation.
While some of us were at SHOT, we had another crew in Reno at the Safari Club International show. SCI was somewhat lightly attended this year because both big shows were scheduled at the same time and the weather (blizzards and rain?) made travel between the two locations very difficult. Let's hope the scheduling gods gets this sorted out next year.
For those of you keeping track, the four gun Perazzi shotgun set was being advertised at SHOT for $405,637. The shotguns are gorgeous, with all manner of gold and engraving, but like the annual Victoria's Secret diamond bra, you would have to be a potentate in order to afford them. Anyway, since Jeff Cooper always liked keeping track of the Perazzi prices, I thought I should fill you in, and now you know.
These shows are all about what is new in the industry, and to be sure, there were all sorts of new products and accessories, but, concerning new and different firearms, there wasn't much to report. Smith & Wesson introduced a couple of new Bodyguard pistols, one in .380, and the other, an all new .38 Special J-frame revolver, both with built in lasers. In particular, the revolver is entirely new and shares no parts with any current or past S&W revolvers. Best of all, it has a really nice double action trigger pull, right out of the box, so, much like the Ruger LCR, you can be good to go without having to get a trigger job.
Colt is coming out with a variety of pistol configurations, including, a double action only .45ACP about the size of a Commander. I have to admit being a bit skeptical about this, but Colt assures me this is what the market demands. We will soon see, as I'm told we will have some specimens for testing in the near future. Colt is also bringing back the Concealed Carry Officer's, this being an Officer's Model frame with a Commander slide. These make really nice carry pistols…maybe we can talk Colt into making our Gunsite version again. And, as for 1911s, although Colt is making a number of models, my favorite remains the Colt Gunsite. As Colt has been shipping them to us regularly, we have both blued and stainless pistols in stock and we have them on sale at $1195. Try as you might, I don't think you will find a better 1911 pistol for the money.
Everybody is making an AR15/M16/M4 type rifle these days, and so many people are making op rod guns it has stopped being news. Whether a Colt, S&W, Ruger, Armalite, Rock River, Bushmaster, etc., etc., there is a carbine out there for everybody, and there are more than enough accessories to be able to completely customize them.
At SHOT, Gunsite was fortunate to have been honored by the National Shooting Sports Foundation as the shooting range of the year. Everybody knows we have one of the best shooting facilities in the world, but this award was aimed more towards the work we have done within the shooting industry and we appreciate the recognition.
I spend a lot of my time here speaking and corresponding with people who want to skip our prerequisites and move on to our intermediate or advanced level classes. Some of these folks are in police or military fields and some are shooters who may or may not have been trained in other places. As an example, people often wish to skip the 250 pistol class and go into 350. For the most part, those who have been trained elsewhere will have no problem keeping up in 350 on the square range. The trouble is, most shooters who have not trained here have not had the opportunity to train in live fire tactical simulators. We do two indoor and two outdoor simulators in 250, go into more advanced simulators in 350, and then begin doing them at night. Anyone, regardless of their square range training level, who has not been properly instructed in live fire simulators, is going to have a problem doing 350 level simulators and may even be a danger to themselves or others, especially during low light work.
Firearms instructors will also question whether they have to take the "basic" class. To me, the 250 is absolutely essential for firearms instructors as it contains all of the core doctrinal information upon which we base our training. I usually tell instructors with good training backgrounds that they can come take the 350 if they want to shoot and have fun, but if they want to learn how and why we teach what we do, they need to come to the 250 class.
We hope your are keeping up with your practice and are planning on coming back to see us soon. Please let us know if we can do anything for you, or if we can answer any questions.
DVC,
Ed

Ed is the operations manager at Gunsite. Ed retired as a Field Operations Supervisor with the US Border Patrol in 2001. In his 30 years of law enforcement experience he has served in a variety of patrol, investigative and training capacities and has been a federal and state certified firearms instructor for more than 25 years. Ed has been a Gunsite instructor since 1991 and a Rangemaster since 1997. He teaches Pistol, Carbine, Rifle, Shotgun and Specialty classes.