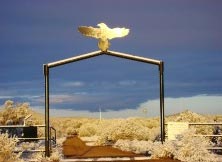 Time sure flies when you're having fun, or staying busy, and here it is October already.  At Gunsite this is our time for perfect weather, the annual alumni shoot match and many classes on the schedule.  In addition to our regularly scheduled classes, this October we also have two classes of Marines coming in for training.
We enjoy the relationship we have with the military and I'm not sure if the military students or the instructors who work with them receive the most from these classes.  Surely, it's the military students who receive top level training, but it's the instructors who get the most from the relationship on a personal and emotional level.  We hear, over and over, from our military students, that the training they have received here is the best they have had since joining the military and we also hear from many of them who call or write to thank us for providing the training that saved their lives or the lives of their buddies in combat.  We regret that our soldiers aren't always getting the best training but we do our small part and are deeply gratified to hear that our contribution has made a difference.
Jeff Cooper would sometimes comment that what we do here at Gunsite is probably not possible in public agencies.  My own experience working in the federal system, and working with military and police organizations, have led me to the same conclusion.  Due to a combination of our training doctrine, the Gunsite facility, and the skill and background of our instructors, what we do here is unique and all but impossible to implement in bureaucracies large and small.  Gunsite is a special place doing very special things that have a profound impact on people's lives.
As far as we can tell the demand for firearms has peaked and seems to be tapering off but there appears to be no end in sight to the demand for ammunition.  Some calibers just seem all but impossible to find, most notably .380ACP.  We have plenty of ammunition on hand for classes, so don't let the ammunition shortage keep you from signing up.  We also have a good supply of AR-15 style rifles, as well as Smith & Wesson M&P pistols for sale.  Call Susan, at the ProShop for pricing (928.636.4565).
This week we're having the latest in a series of industry classes and "writer romps" we have done this year.  This class is a carbine class sponsored by Smith & Wesson, Trijicon, Crimson Trace, Black Hills ammunition, Brownell's, SureFire and, of course, Gunsite.  We have 23 writers and industry representatives here, and the idea is for all of us to become familiar with the gear and guns and to then have lots of articles written for the various publications represented.
One of the newer things to come out of this class is the Smith & Wesson AR style rifle in .22LR caliber.  It's, well, cute.  Lightweight and working exactly like the "real" AR type rifles, it should be an economical and fun way for folks to practice with their carbines. It comes with a rail system so hanging any of your favorite accessories on it should be easy to accomplish.  So, if you have run out of things to spend money on…
In a follow-up to our discussion last month on small, easily concealable "pocket pistols", we had gun writer Wiley Clapp out here testing eight different .380 pistols.  He made a noble attempt at trying to satisfy the NRA testing protocol of 5, 5 shot groups at 25 yards but the effort was a failure.  These little guns, with their terrible triggers and generally useless sights (if they have any at all) do not lend themselves to group shooting at 25 yards.  At more realistic ranges good hits can be made with most of them but there are a couple of precautions you should take before betting your life on one of these little pistols, as either a primary or back-up weapon.  In our experience, they are very ammunition sensitive, so you must be certain that your pistol is going to work reliably with the ammunition you intend to carry in it.  If one brand of ammunition does not work well, try another.  Then again, we found that a couple of the representative pistols hardly worked at all, with several brands of ammunition being tried.  Make sure the gun works.
Another issue with these little pistols is that some of them are just plain uncomfortable to shoot.  As a matter of fact, a couple of them really hurt.  Due to the small size, light weight and, in some cases, poor design, even the little .380 can cause some real pain to the hand when you fire a couple of these.  Finally, in my opinion, if you want a little .380 pocket pistol, get either the Ruger or the Kahr and shoot Hornady Critical Defense ammunition in it.  Oh, and the Rohrbaugh works well, but do you really want to spend $900 for a pocket pistol?
Stay in touch, and hope to see many of you at the GAS Match.
DVC,
Ed Head
Operations Manager