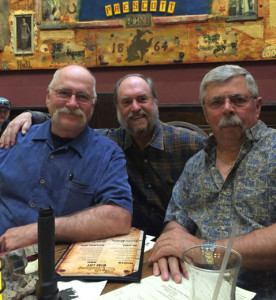 Once upon a time, not too long ago, Jean (hereafter referred to as the Domestic Goddess, or DG, for short) and I were having dinner with an old Border Patrol buddy, Steve Osgood, and Streamlight's Jeff Orr in the historic Palace Saloon in Prescott. Jeff had made the trip up the hill from Phoenix to hand deliver to me the one and only new Streamlight Protac HL-4 in all the Arizona territory, a flashlight producing an astonishing 2,200 lumens of blinding, eyeball melting pure, white light. Having seen the light at SHOT and begged and pestered Jeff to get me one ever since, I was ecstatic to finally have this marvelous flamethrower at hand, until the DG spoke up and said, "What do you want that for, the house is full of flashlights already." "Yes, but this one is special; it has super powers, dearest. Why, you could bring down satellites with this thing or melt zombies in their tracks," I pleaded. "Uh huh……..", said she. Seeing I was foundering and in need of immediate assistance, Jeff leapt to my aid, produced a tiny light and handed it to my beloved. "Ooooo," she cooed, "I like this. It fits my hand and fits in my purse. When can I get one?"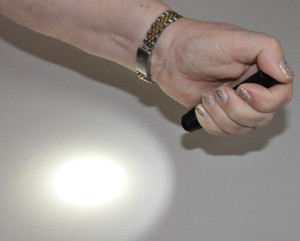 In due course a package from Streamlight arrived with, not one, but two small lights. The Goddess promptly secreted hers and told me I could have the other, slightly larger light. And then it happened – we were out for dinner with friends just this week when someone dropped a valuable item under the table into the darkness. In a flash the DG had whipped out her light, illuminated the lost treasure and saved the day. Smugly returning the light to her purse she said, "I like my new flashlight; everyone should have one of these and carry it with them all the time."
And there you have it, the rationale for always carrying a small, handy light and my lust for the biggest, brightest thing I can get my hands on. Let's start with the small lights and move on to the Mega-Blaster. The light my sweetie likes is the Streamlight Protac 1AAA. As the name implies it uses one AAA battery to power a single high output LED at 70 lumens for 30 minutes, or, on the low setting, 5 lumens for 11 hours. When you consider that the first of the small tactical lights produced 60 lumens for only 20 minutes and used two, 3 volt CR-123 batteries, it's astounding that a tiny, single cell light can be this good. LED bulbs and digital switching have made this possible. Like all the other lights in Streamlight's Protac line, the 1AAA has a programmable Ten Tap switch allowing it to be set up to the user's preferences. The default setting of high, strobe, low works fine for me. Tapping or clicking the rear pushbutton switch once gives you full power, twice is for strobe and three times takes the light to the low power setting.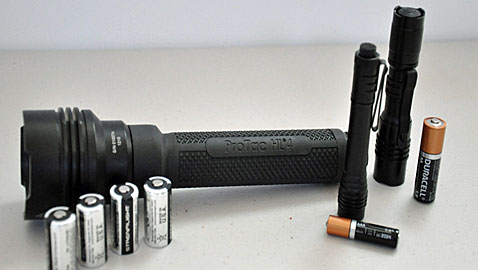 The Protac 1AA is just a little bit bigger and uses a single AA battery. It produces the same 70 lumens on high but will go for an amazing 2 hours and will run on low, at 5 lumens, for 32 hours. On the low setting the light can be used to see your way or light up a tent and will glow for several nights on one battery. The LED bulbs are essentially unbreakable and will last, pretty much, forever, so you can keep one of these lights going for a very long time with a handful of inexpensive batteries. For someone who remembers stumbling around in the dark trying to arrest people with a pitiful light that broke a bulb every time I dropped it, these little lights are amazing.
And speaking of amazing, we have the Protac HL-4, a light that should have been named Godzilla. Powered by four CR-123 batteries, or Streamlight's new Lithium Ion 18650 rechargeable batteries, the HL-4 uses the same digital Ten Tap switch to cycle through modes. On high the light has an initial output of 2,200 lumens and will run for 1.5 hours with the CR-123 batteries or 1.75 hours with the 18650s. Note that I said the light has an initial output of 2,200 lumens; if you turn it on and leave it on it will produce that amount of light at first and gradually reduce the level before eventually running out of juice. The light can be set up to run on a medium setting, where it will produce 600 lumens for up to 4.5 hours and on low it will run at 60 lumens for up to an incredible 43 hours. Do you remember I said the original "must have" tactical light could only put out 60 lumens for 20 minutes?
Lumens aren't the whole story when we talk about tactical lights. It's a measure of "brightness" we can use to compare various lights but how the beam is designed is just as important. A beam of light can be focused, like a spotlight, or can be wider, like a floodlight. Most of the tactical lights I have used have a center bright spot with a larger "flood" area of illumination. The beam on the HL-4 is different. It produces an incredibly bright, wide, spotlight type beam without bright or dark spots. The beam is consistent, almost from edge to edge, yet still bright enough to light up far objects. For example, when I walk out my front door at night the HL-4 illuminates my entire front yard, an area almost an acre in size. My gate, 70 yards away, is clearly illuminated. Walking up to the gate, I can fire up the HL-4 and illuminate the entire 2.5 acres of property I own out in front – all of it, from edge to edge and side to side, without having to wave the beam around. Streamlight says the beam will reach out 346 meters and I believe it. So, not only will the HL-4 get way out there, it also has a very wide, bright beam that allows me to see anything walking or crawling on my little ranchero.
As a tactical light, the HL-4 excels. Nobody can look into this beam at close range without involuntarily shutting their eyes and turning their head away. I don't see how it's possible to fight into a light this bright. You can use it defensively, to see everything you need to see – think hands and weapons – or offensively, to completely disable someone's or something's vision and prevent them from fighting into the light. As an experiment, I walked out to my gate and had the DG stand at the front of the house. She happily obliged me by shining the HL-4 into my eyes and, from 70 yards away I was unable to see anything past the light, you know, like my house? I walked towards the light and found I could look into it until I got to about 10 or 12 yards, at which point I had to close my eyes and look away. I'm hoping the flashing spots I'm still seeing will go away with time.
If you were under the impression I like these lights you would be correct. The HL-4 has a suggested retail of a ridiculously low $175, with a street price sure to be considerably less. Why do I think this price is low? Because, back when I was hunting bad guys in the dark, I would gladly have paid any price for a light this good. Kudos go to Streamlight for making these lights, and to Jeff Orr for keeping the DG happy. Thanks buddy!
For more information:
About the Author: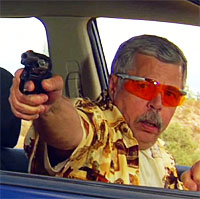 Ed Head is a regular on Shooting Gallery, Gun Stories and Down Range TV. He has worked for almost 30 years in law enforcement, first in the United States Air Force and then with the United States Border Patrol, retiring as a Field Operations Supervisor. During his Border Patrol career, Ed worked in a variety of patrol, investigative and training capacities. Ed has an extensive background as a firearms instructor, having trained thousands, ranging from beginners to police, military and special operations personnel. Having taught at Gunsite for 20 years, Ed first trained there under the world famous shooting school's founder, Jeff Cooper, then later ran the school as the operations manager for more than five years. Ed lives in Chino Valley, Arizona, where he continues to teach and write.