You might say I have a thing about flashlights. So much so, that a neighbor lady once asked my wife, "Is your husband afraid of the dark?" after seeing the collection of tactical lights on one of our kitchen counters. It's not that I'm afraid, but we live out in the country and it gets pretty dark in these parts. That's my story, and I'm sticking to it.
The reason I'm a flashlight junkie has to do with my experiences during many years of working with inadequate flashlights and always being on the lookout for a better one. Fortunately, these days we're living in something of a Golden Age concerning tactical flashlights and the new Streamlight Pro Tac HL 3 is state-of-the-art. With an output of 1,100 lumens (or, if you prefer, 36,000 candela) this light produces an incredibly bright, blinding beam. Using three CR-123 lithium batteries to power the Cree C4 LED (light emitting diode) the Pro Tac can project a usable beam out to more than 300 meters. The close-up output of this light is simply paralyzing to any foe, whether man or beast.
The Pro Tac HL 3 has what Streamlight calls a Ten Tap digital programmable switch. The default program is set to deliver full power on the first press of the tail cap, strobe on the second and low power on the third. On high power the light will run for one hour and thirty minutes at 1,100 lumens and at low power it will run for thirty-six hours at 35 lumens before the batteries need replacing. The LED has a life of some 50,000 hours and under normal use it is pretty close to unbreakable. The light is reasonably shockproof and waterproof but I wouldn't recommend throwing it or taking it SCUBA diving.
This is a powerful, versatile light that has quickly become my favorite for checking out things that go bump in the night or lighting up a couple of acres at a time. List price is a reasonable $155.00 with a street price considerably lower. This is a lot of light at any price. Try one – regardless of what light you've been using, the Pro Tac HL 3 will quickly become your favorite too.
For further information got to www.streamlight.com.
About the Author: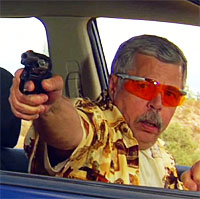 Ed Head is a regular on Shooting Gallery, Gun Stories and Down Range TV. He has worked for almost 30 years in law enforcement, first in the United States Air Force and then with the United States Border Patrol, retiring as a Field Operations Supervisor. During his Border Patrol career, Ed worked in a variety of patrol, investigative and training capacities. Ed has an extensive background as a firearms instructor, having trained thousands, ranging from beginners to police, military and special operations personnel. Having taught at Gunsite for 20 years, Ed first trained there under the world famous shooting school's founder, Jeff Cooper, then later ran the school as the operations manager for more than five years. Ed lives in Chino Valley, Arizona, where he continues to teach and write.