This week Michael gets to puts some rounds through the Hamilton Bowen-built Lipsey's/Ruger 38-40/10mm Blackhawk "convertible" before the snow closes in. Plus you don't want to miss a controversial interview with Jeff Gonzales of Trident Concepts!
This week we have a few more thoughts — and products — from SHOT 2022.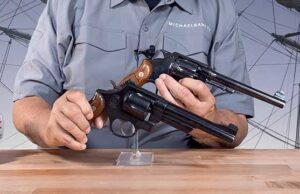 00:17:36
Triggered
This week we delve into S&W revolver history with the Second Model Hand Ejector in .455 Webley and a custom piece, a 1960's vintage .357 Highway Patrolman turned into a 38-40 masterpiece by legendary gunsmith Hamilton Bowen.