With test and evaluation of the Military Armament Corporation MAC 2 under way, Michael wonders about the ideal defensive shotgun for this autumn's Van Comp Thunderstruck shotgun training event.
This week we start working with the Anaconda, Colt's strikingly good looking .44 Magnum. And it shoots as well as it looks…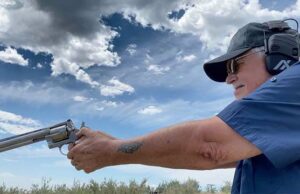 00:16:25
Triggered
Today Michael takes on Colt's biggest snake gun, the 8-inch Anaconda. Also, an interview with "Jedi," Scott Jedlinski of Modern Samurai Project busting red dot myths!
This week Michael reviews his trip to Tom Given's Tac-Con, the most important gathering of trainers for the year. He also outlines Ed Monk's groundbreaking work on active shooters.