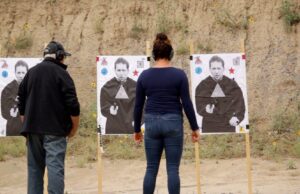 00:03:14
Shooting Gallery
With over 8 million new gun owners in America, a good concealed carry course is essential in filling the gap between shooting skills and all the ancillary support skills every CCW holder should know.
This week, Michael talks about the implications of a market where red-dot sight on handguns are moving towards "standard". He also touches on the increasing non-permissive environments for concealed carry holders.
If you carry, or if you're considering to carry, a concealed firearm for personal defense and protection, heed this list of common mistakes – concealed-carry don'ts – to avoid; they are deadly sins because some of them could get you seriously injured or even killed.
Ed Head addresses the concealed carry mindset that ensures success in remaining your firearm undetected.
if you're going to carry a concealed weapon you need to adopt a way of living that will eventually become habitual.
A reasonable practice exercise which takes you from close to long range with your handgun of choice for concealed carry.
Pointing guns at people you have no intention of shooting to force compliance with your demands is poor business. What are you going to do if they don't comply? Shoot them?
Finding the right combination is a never-ending process and there is no one best holster or gun for concealed carry.